408 horse power under my butt – With the new E-Class to Sylt and back
"Which one is our car?" My co-driver Björn says something in a language I don't speak. "I mean: which colour?". Success, mission complied. I had to borrow this cliche. From now on they will take me seriously. Ha. I'm standing in Hamburg in the middle of a group of car blogger and car journalists, all invited by Mercedes-Benz for a test drive of the new e-class convertible and coupé. Me: "is there also a pink version?" just to assure them I was joking. They're laughing. But sadly I really have no idea when it comes to cars. I managed once to change a car battery! And I can tell which is which car, well the big company names… Apart from that. I have no idea.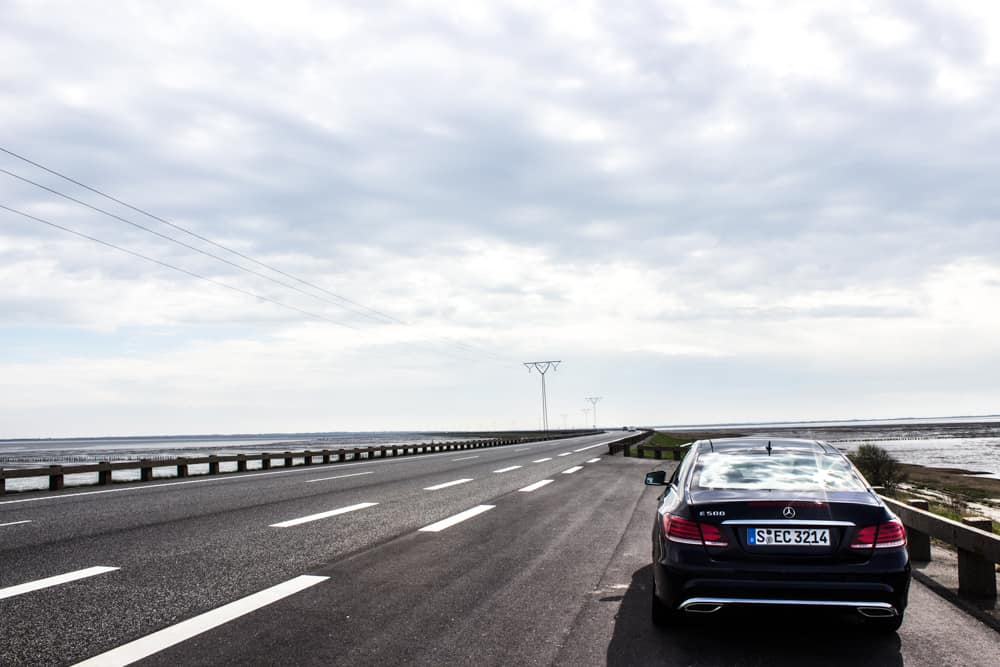 But I fancy cars. Pretty cars, sexy cars, cars I look good when sitting inside. Besides this I love Paul to death (which probably happens soon). Paul is my dirty as old black VW Lupo (with folding roof!) and well, I think he's metro-sexual. But I cheated on him. And it felt good. With a Mercedes-Benz. Actually with two. A E400 cabriolet and a E500 coupé. But I only know this because my co-driver told me so. For me these were two damn sexy blue cars. And at least one of them had 408hp, he told me. That's what I remember.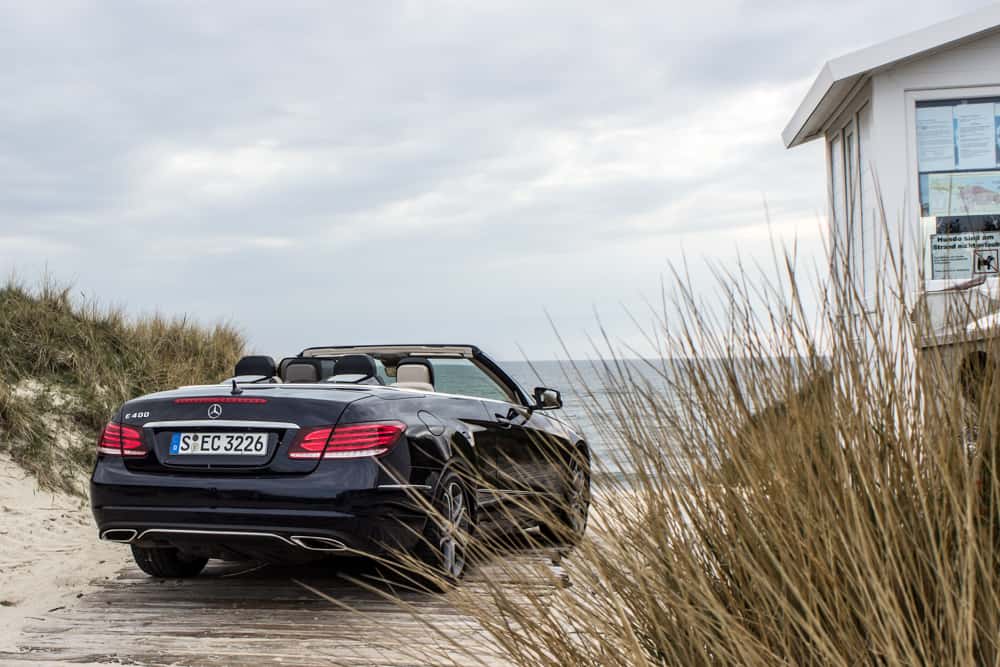 Honestly: I have no idea how much horse power Paul has. He was always there when I needed to get from A to B. And with tailwind and downhill he is driving up to 160kmh. And it's a fact, that he has cost me my driver license for four weeks. Yes, I was too fast. Yes with a Lupo. But he never made me feel like my "new" one did. Best described with: ALTER! IST DAS GEIL! (can't use English words for this). And while I was speeding with 240kmh over the Autobahn I suddenly knew why everyone is giving me this look when I'm driving with Paul on the left lane. (BUT I ALSO HATE IT TO BE CAUGHT BEHIND THE TRUCKS)
But I also got these looks in the Mercedes, probably because they thought: What is this girl doing behind the wheel of THIS car? I understand. Actually: I liked it! Ha. They don't have to know that Björn had to tell me how to handle this car (jeez where is all this technics coming from?). Yes, I also had to ask how to turn it off. They also don't have to know that I don't speak car. And they definitely don't have to know that I didn't dare to drive faster than 240kmh.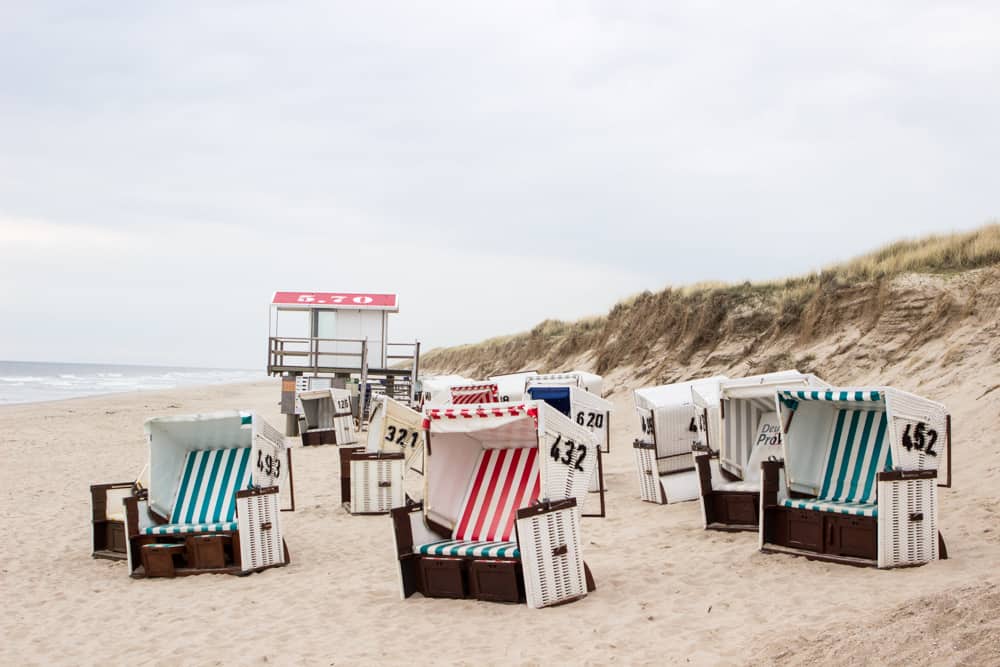 And then we reached Sylt. I always wanted to go there. Why? Because I wanted to compare Sansibar with Zanzibar. Especially the sunset. But there was no real sunset at Sansibar (… the weather…). But it is as beautiful. But different. And the sand is nearly as fine and white. And the food there was really good. While the food in Zanzibar was well, so so.
The next morning we took the ferry to Denmark and then drove back to Hamburg. And while I was all the time like "Oh my god, look over there, how beautiful!" Björn tried to explain the car to me. He meant it well, but besides the hp number I don't remember anything. He pressed a lot of buttons and tried to show me what's the difference between normal and sport mode. I never had that many horse power under my butt and just wanted to speed. And listen to music. I really liked this: via bluetooth you can connect your iPhone with the car. Paul needs a cable for this. Roadtrip baby!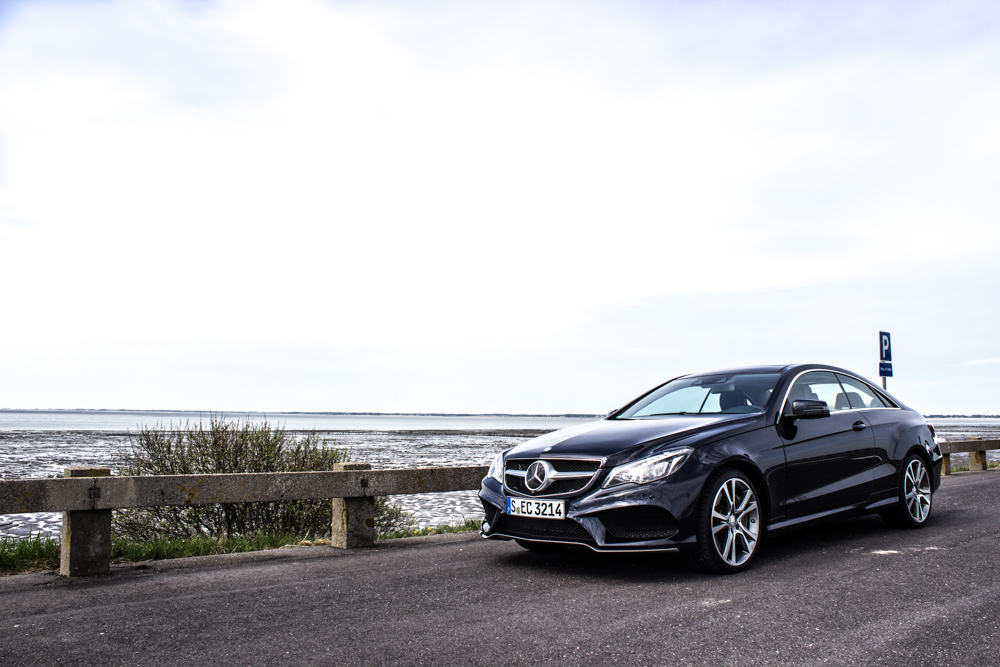 All too fast we reached Hamburg and before I said "Byebye you sexy beast" the car was gone. This calls for a repeat. (Also I think I have to talk to Paul and tell him we're in an open relationship from now on)
Disclaimer: I was invited on this test drive by Mercedes-Benz.