My Camera Travel Gear – How I take my Travel Pictures and Videos
I love capturing moments and sharing them with you, and well, you know, a picture says more than thousands words. People often ask me which camera I use for my pictures and videos while traveling and in this post I will tell you exactly which cameras I use and why. And I will also tell you which programs I use to edit my pictures and videos.
When taking a camera on your travels it needs to be handy and light, that's why I switched from Pentax to Canon a while ago. My first DSLR was a Pentax and I really liked it but I realized after a few trips that it's just too heavy to carry around all day. One or two kilos can make a huge difference. I switched to Canon because I was playing around with the EOS Rebel T3I (600D) from a friend and I really liked the handling and the quality of the pictures and videos, and for sure the weight.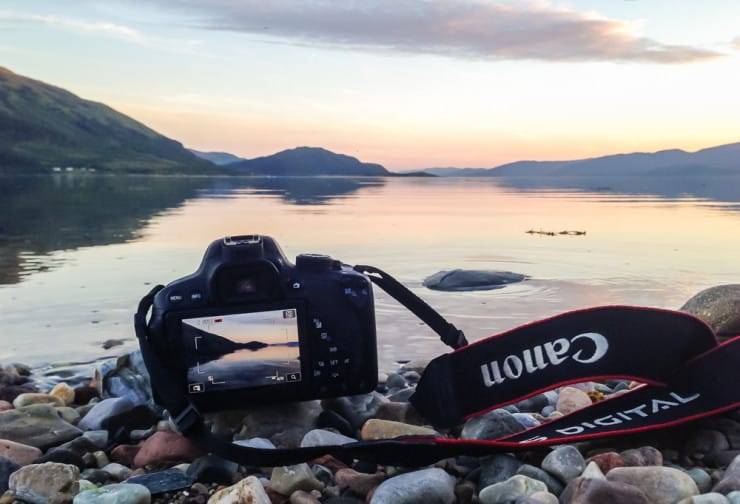 Now I really got used to Canon and can't imagine to switch to another brand anymore. Probably also because I'm not really into all the technical stuff and I'm unable to cope when things don't work the way I'm used to. But I also would never switch to a higher-end Canon camera like a 5D or 7D. Two easily explained reasons for that: Weight and (again) technical nick-nack I have no idea how to use. I need a camera which is easy to handle, simple and intuitive to use, which takes awesome pictures and which is light enough to carry around. And the Canon Rebel T5i (700D) got it all. And I also really like the vari-angle touch screen, which is awesome to take pictures and videos from all angles you can imagine.
But I have to admit that even the light-weighted 700D sometimes is too heavy to carry around all day. But I haven't found another (lighter) camera yet which can provide the same value for money. But I'm using the iPhone 7 Plus since a few months and when I'm traveling for longer than two weeks I often leave the DSLR back home and only use the iPhone.
Lenses I use with the Canon Rebel T5i (700D)
Canon provided me for a while with a EF 24-70/2.8L II USM for testing purposes, a really great lens I did enjoy to use, especially for portrait photography. But this lens has two cons for me: For one thing it is really heavy (think I've mentioned it before how important it is to me to travel light) and on the other hand is doesn't come with an image stabilizer, which is essential for great travel videos in my opinion.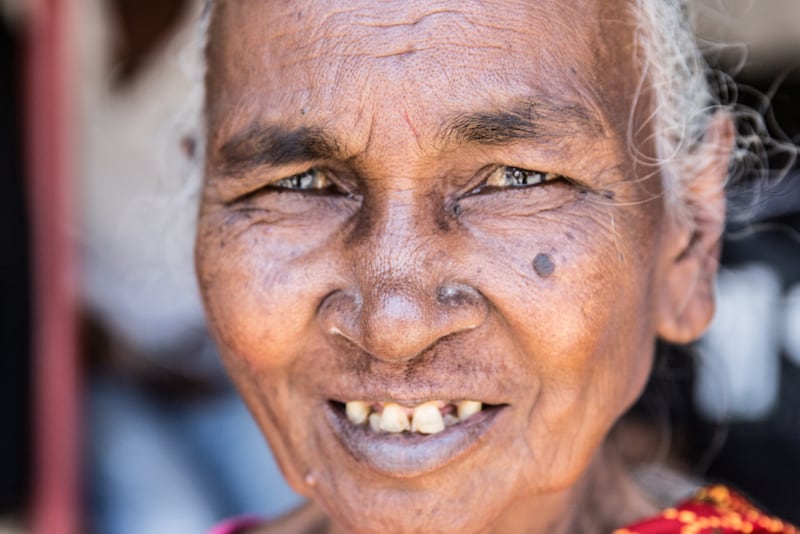 Now I use the EF-S 17-55 IS USM and I'm super happy with it as it meets all my requirements (mostly, as it is still pretty heavy). But it's perfect for travel photography AND travel videos.
My cellphone – iPhone 7 Plus
Since a few months I'm using the iPhone 7 Plus and I'm more than happy with it. On longer trips I now leave the DSLR back home and only use my phone to take pictures and videos. The iPhone 7 Plus is perfect for this as the qualitity of the camera is really good and I love that I can take high quality photos and videos without carrying around too much equipment. I have the 7 Plus with 265GB local storage which is also really useful.
How do I edit my pictures for Instagram?
I solely use the app "Afterlight" to edit my pictures for Instagram. My favourite filter is "russ" and I love to play around with light and shadows of the picture to give the picture some more vibe but I try to stay as close as possible to the original picture. Beneath you see the original picture taken with the iPhone 7 Plus on the left and the edited version on the right.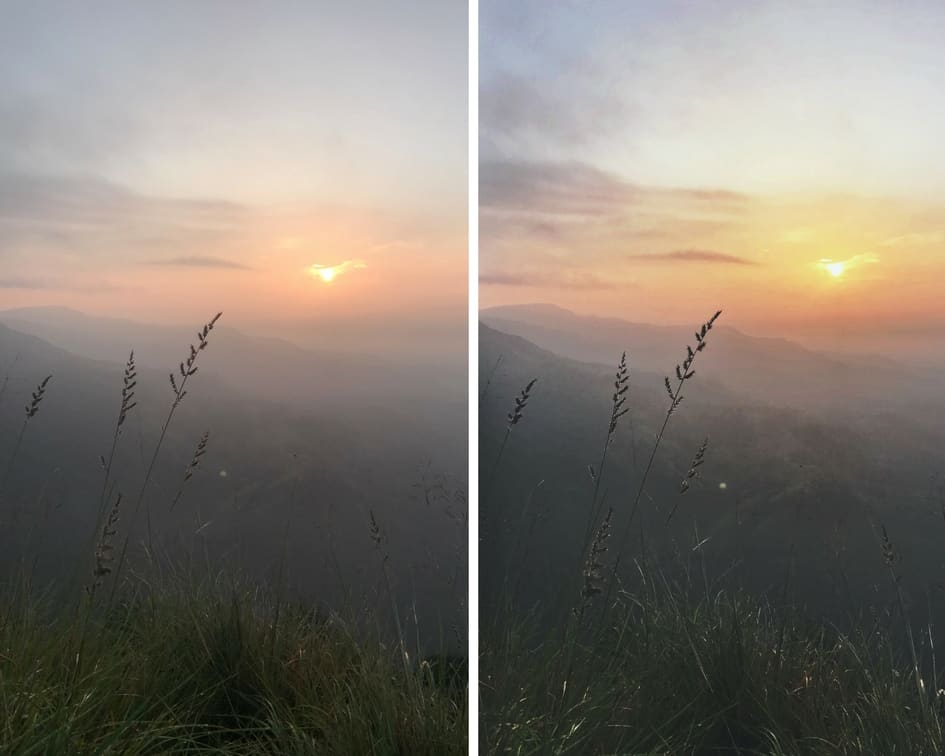 Underwater footage – GoPro Hero3+ Black Edition
Since I started diving, taking underwater photos and video is my next big challenge. I did toy with the idea of buying an underwater housing for my DSLR but in the end I went for a GoPro Hero3+. And I'm pretty happy about this decision so far. Or, let's put it this way: I'm pretty happy about it by now. While I was still unimpressed by the pictures I took while diving with sharks in Costa Rica, I finally found the trick of it. I bought a red filter for the GoPro and bamm, now I have more contrast and better colours.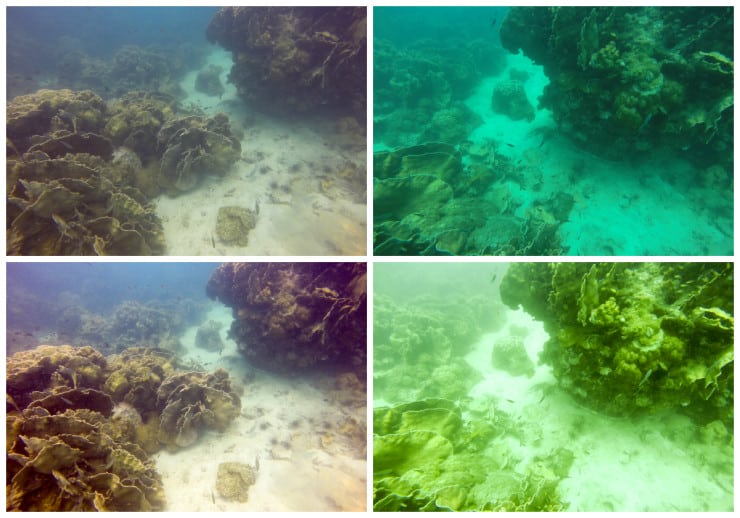 On the upper left side you see the original picture WITH red filter and on the upper right side WITHOUT red filter, below that you see the respective versions of the pic edited with Lightroom 5, adjusting tonal value and white balance "automatically". Extreme difference, right?
For better comparison watch this video (and yes, I know something's wrong with my diver's watch but I have no idea how to change that annoying beeping)
I think a GoPro is also pretty usable above water, for example during Songkran in Bangkok.
Which programs do I use to edit my photos and videos?
For editing my pictures I mainly use Lightroom. I found some cool presets by Trey Ratcliff, I often use and adapt for my pictures. But sometimes I'm not satisfied with Lightroom and do edit my picture with Afterlight on my phone. When I want to add text to my picture I normally use Pixlr Express, which is easy to use.
I edit my videos with Final Cut Pro X on my MacBook Pro (2012).
Music for my videos I normally find on these pages:
Sometimes it takes longer to find the right song than to edit a video btw…
I found a really great overview on which camera to use while travelling on pinterest. Here you'll find some great tips and tricks to help you decide which camera is the best for you.
Which camera are you using when travelling for photography and videos?
Editorial note: In an older version of this post I mentioned using the iPhone 5 and a OnePlusOne phone, I now use the iPhone 7 Plus.
Disclosure: Canon provided me with cameras and lenses and Apple with the iPhone 7 Plus for testing purposes. Some links in this post are affiliate links, if you pay something through this it doesn't cost you more but my holiday fund gets some extra cents. Great deal, isn't it?