Dancing the Sardana in Setcases #InPyrenees
Once upon a time a Catalan shepherd and his seven sons were going up the mountains to feed their sheep but they were surprised by the first snow. In the most secluded part of the valley they built seven huts to stay there over the winter. According to legend that's the origin of Setcases, the village of the seven huts. Today you will find more than seven huts in Setcases, but with its under 100 inhabitants Setcases is still a cozy, secluded village in the valley of the river Ter close to the French border. But if you think Setcases is just a place where fox and rabbit say good night to each other (I know this German saying doesn't exist in English but… you get the picture) is wrong. During winter Setcases becomes skier's paradise and during the rest of the year the mountains, a nearby golf course and let alone the scenic setting in the middle of the Spanish Pyrenees attract a lot of tourists.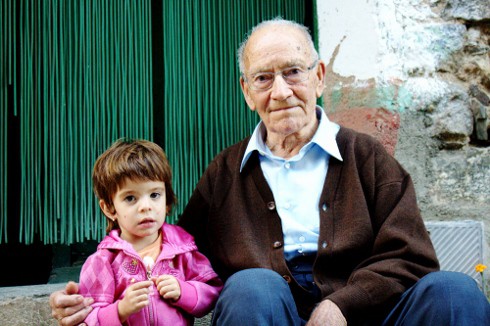 Eudald Noguer (89) and Julia Busquets (3) – The oldest and one of the youngest inhabitants of Setcases
The Catalans are very proud of their culture and so are the inhabitants of Setcases. We were lucky enough to reach Setcases in the evening of September 29th, St. Michael's Day, who's also the patron saint of Setcases. To celebrate this day the whole village came together to dance the traditional Sardana, a Catalan circle dance who's origin is in the 16th century. For an amateur like me the steps look like a trip hazard, but actually it seems not too difficult to learn the Sardana. At least we've been told that you can dance it as long as you don't lose the beat.
But I preferred to hide behind my camera and watch @anniebennett und @TravKatieK dancing the Sardana with the people of Setcases… and well it looks as they had fun…
Disclosure: My trip to the Pyrenees was made possible by Patronat de Turisme Costa Brava Girona. All opinions expressed above are my own.