Diving in Borneo – Nunukan Island
My story of diving in Borneo. It feels like my hands are attached to the boat. Thousands of thoughts are whirring through my head. What if I swallow water and can't get back to the surface. What if there's a shark who wants to eat me? What if I bump my head when I jump into the water? I CAN'T DO THIS! I am Miss Clumsy and I bet that this will be my end. Everyone else is already in the water, only Ladina is still with me on the boat. She looks at me with big eyes and says: You can do this!
I CAN'T DO THIS!! They want me to jump backwards into the water with this diving equipment which weighs like a million pounds?? And then DIVE? I feel how tears are flooding into my eyes. And then I kind of stop thinking and jump. Beat, our dive master, laughs at me: You're jumping out of planes but you don't want to jump into water from a boat?? Now I have to laugh too. Sometimes I'm really weird. And then we go diving. For the very first time.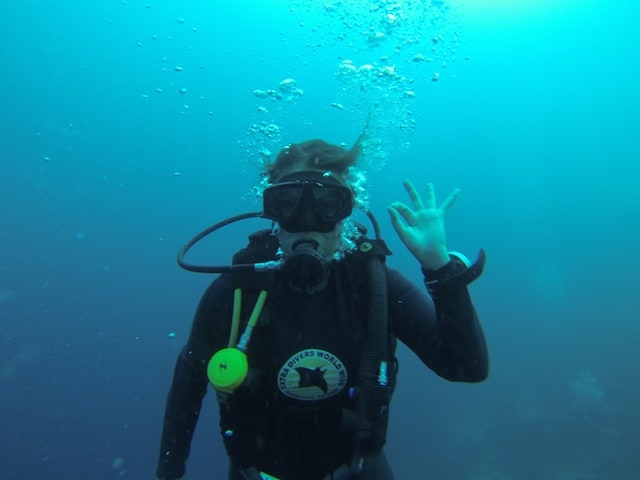 I can't remember how long I wanted to learn diving. I think it started when I went snorkelling for the first time. I always wanted to go deeper but that was impossible with the snorkel. It ended every time with swallowing a LOT of water and desperate coughing on the surface. Apart from that I always thought divers are kinda cool. Especially after diving when they are wearing their diving suit half-opened around the hips. That's what I wanted. I wanted to be as cool as this.
After our jungle tour through Borneo (Kalimantan) Christoph and me took a boot to Nunukan to learn diving there. Amongst divers, Nunukan and its sister island Nabucco are regarded as paradise. The reef there is different to anywhere else in the world and they say there you'll find as many small and big fish you can't even count them any more. I can't give a professional opinion on this as I'm a newbie diver but I heard this from divers who have more than 500 or even 1000 dives, so I guess it's true.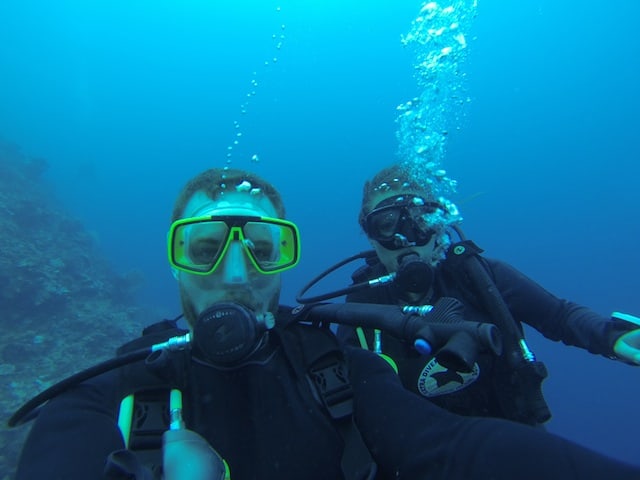 And then I'm right in the middle of it. And I'm diving deeper and deeper and deeper and I can't imagine anymore why I was so scared about this. This is a whole new world. A world I never could have imagined to be that colorful.
Later, after our very first dive, Christoph and me are sitting on my terrace, watching sunset and drinking beer. And we can't stop smiling. We knew: diving is addictive.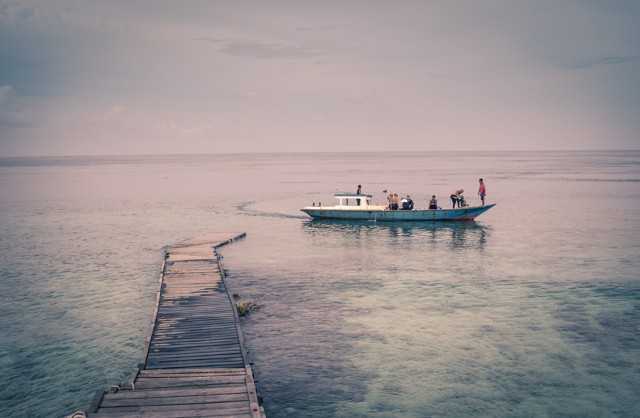 Yes, that's boat I didn't want to jump from…

The next few days go by in a flash. When we're not diving we're learning, we do have to pass the exam in the end. The other guest on Nunukan accepted us soon as part of their diving family and gave us tips and told us about how they are handling their addiction. This diving-family-thing is by the way an amazing thing. That's how we met Ralph and his wife Sabine, we spent a lot of time together laughing and talking. Diving connects. And have a look at the amazing underwater photos Ralph took in Nunukan and Nabucco: OceanFunScape
Way too fast the days on Nunukan passed by. We pass our exam and have to say goodbye to our diving family. Nabucco is waiting for us.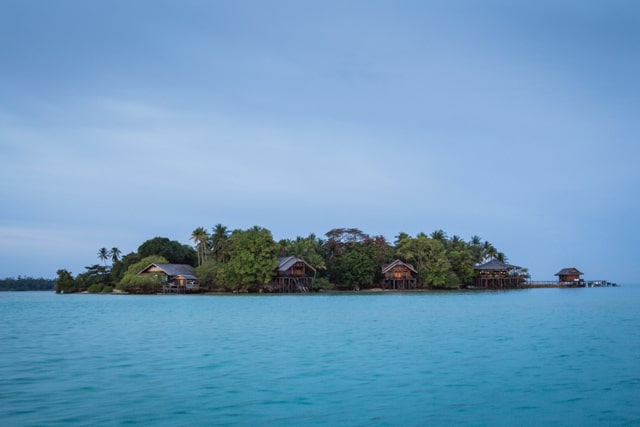 And that's where I went diving with sharks for the very first time. Well, kind of. If there were any. But just that morning, after a restless night, there are no sharks in "big fish country". And I'm kind of disappointed. But I swam through a huuuuge swarm barracudas. And saw many many fish I can't even name. (I really should start learing more about this. Not sure if "ugly fish", "not so ugly fish", "pretty fish" and stuff like this counts)
And then on the last morning, I was able to proof to everyone that I AM Miss Clumsy. (But that's no reason to cry crocodile tears)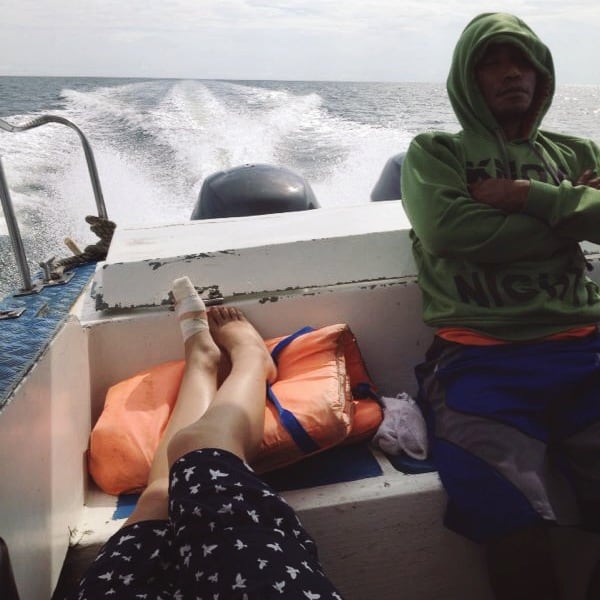 (I COULD tell you that this was a shark attack. But to be honest I'm just too stupid to walk down the jetty…)
Have you been diving in Borneo?Are you a fan of Game of Thrones? Which filming locations would you like to see?
Disclosure: I was invited on this trip by Reisecenter Federsee