Diving with sharks in Costa Rica
Some of you may remember what a chicken I've been back then when I was diving in Borneo for the very first time. But it only took some minutes and this whole new world cast a spell over me and since then I'm hooked. I went diving with sharks in Costa Rica! And yes, I'm one of these divers who try to convince all of their friends to start diving too (yes, it's the most amazing thing ever).
Diving is a part of me since then and I do choose my next travel destinations often based upon whether I can go diving there or not. Same happened with Costa Rica. The first week of my trip there I was driving around from the Caribbean side into the heart of the country over to the Pacific coast. And the second week I just wanted to spend a lot of time on my own and go diving as often as possible.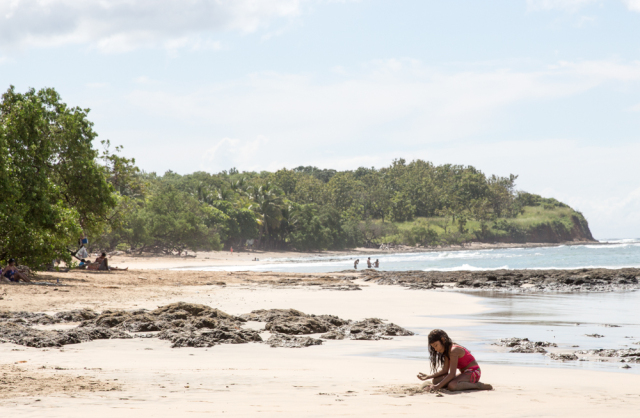 My first choice would have been Cocos Island as it's known as one of the best diving spots in the world (and it also might have been the inspiration for books like "Treasure Island" and "Robinson Crusoe"). But there's only one way to get there and that's a 35h boat trip (one way). And you need to be an experienced diver to dive there and as I only have 29 dives so far I thought I would keep this for another trip. But there's also Caño Island which is only about 13 miles away from Drake Bay…
The thing with sharks and me
When I started diving the thought alone of meeting sharks under water brought me sleepless nights. But when we didn't see any sharks in Borneo I was pretty disappointed. Some weeks later I was lucky enough to encounter a whale shark in Curacao and I actually didn't realize how special this was until our dive guide was totally freaking out under water and couldn't stop giving us high fives.
Some months later we briefly met a reef shark in Bali, but he was gone sooner than I was able to take a picture. And then my trip to Costa Rica came up and I knew I wanted to go diving with sharks. I wasn't scared at all, since I know by now that it's more likely to get killed by a vending machine than by a shark.
Caño Island

– The reef shark island

Caño Island is mainly known for one thing: you can see lots and lots of whitetip reef sharks when diving there. They are pretty common in this area of the world and as whitetip reef sharks tend to live up to some years at the same place it's guaranteed that you're going to see some when diving there.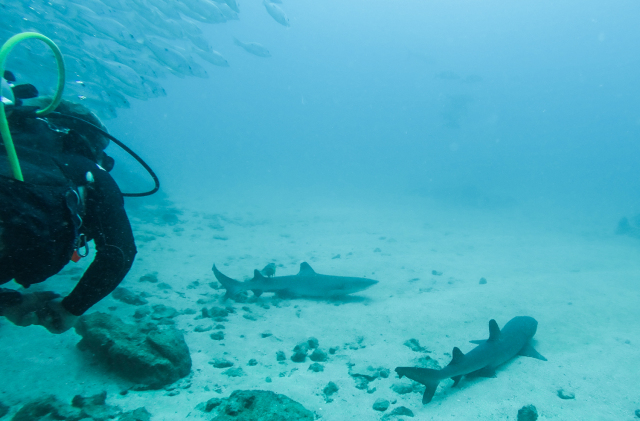 Though I was a bit nervous before my first dive, but more in an excited way as I haven't been diving in months and I was so looking forward to finally enjoy diving with sharks in Costa Rica. And I actually was scared we wouldn't see any.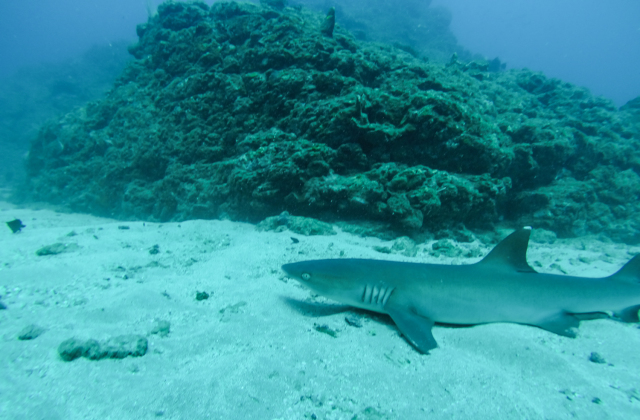 But there were many of them. Everywhere. Dozens of whitetip reef sharks were lying around, chilling and every time we got closer they swam away.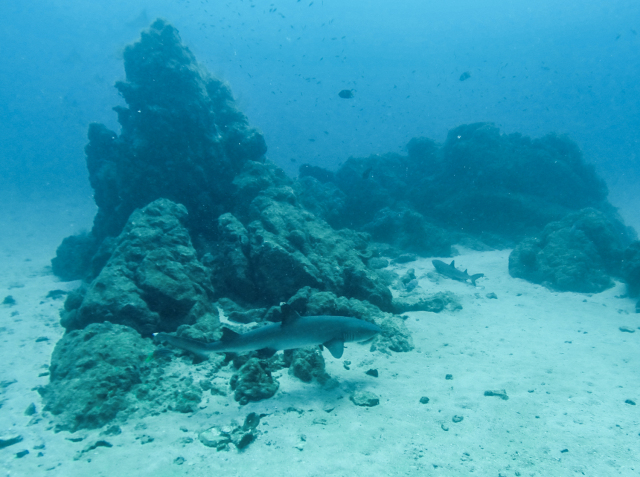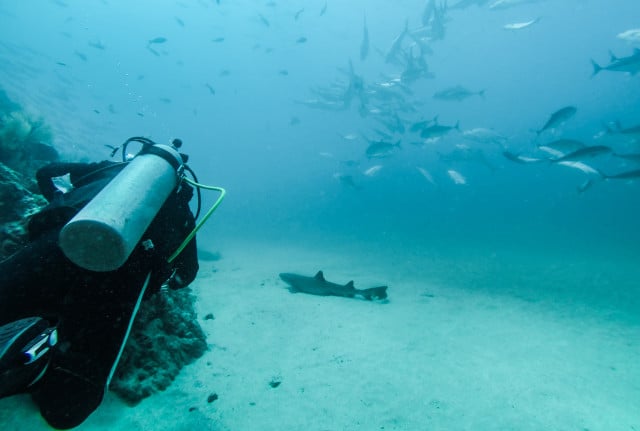 I was happy like a child. Sharks. Lots and lots of sharks. How beautiful! The reef itself is not impressive at all compared to some other places in the world I was diving at. But the encounters we had were pretty amazing. Like this turtle which curiously was swimming around us for a while.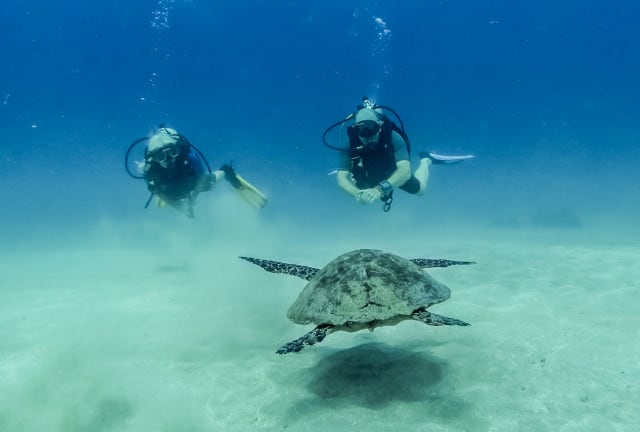 Or the beautiful school of mantas which elegantly passed us.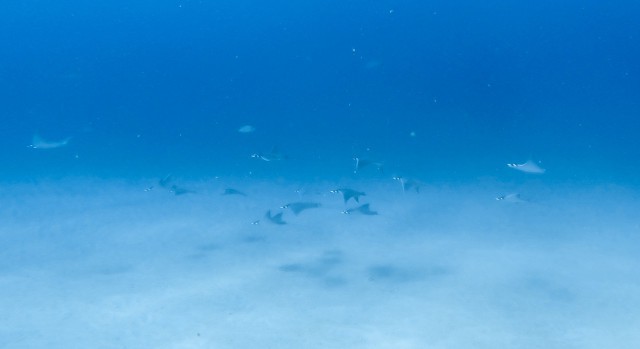 And the many many fishes around us.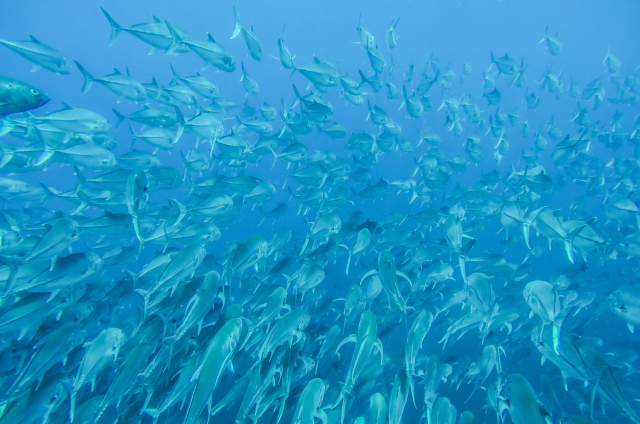 It was very special. And when the French couple who I was diving with started to dance a waltz under water, our dive guide and me just had to join and my inner child was cheering out of joy.
How to get to Drake Bay for diving with sharks in Costa Rica and where to stay
If you want to dive at Cano Island staying in Drake Bay is your best choice. This small town is totally off the path and yes, the chances that you have to carry your own luggage through a river a 50:50. But I love stuff like this!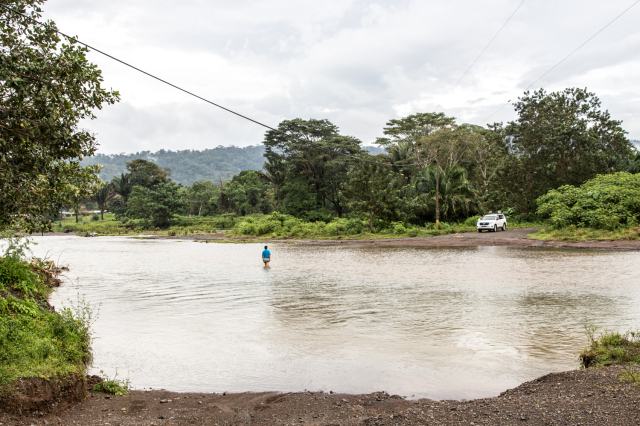 How to get to Drake Bay
The easiest way to get to Drake Bay is by plane. Nature Air and Sansa are flying there on a daily base (depending on the weather and season) and one-way is around €70, when you book in advance. From the Drake Bay "airport" (it's more or less a small runway in the middle of the jungle with two wooden huts) you need to arrange a transfer with your hotel, they will send a taxi. And this has to get through the river you see in the picture above. One the way to Drake Bay I had to carry my luggage through the river on the way back we were lucky enough the car was able to drive through.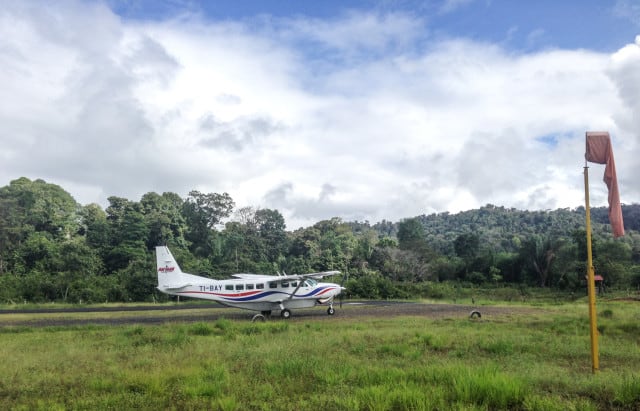 Where to stay Drake Bay
I was staying at Drake Bay Wilderness Resort, which I really can recommend. It's a bit pricey but it's totally remote and you only can get there by foot or boat, what I really loved about it. But you can also find cheaper places to stay in Drake Bay.
You can book your dives directly at your hotel if you want to, but in low season you need to be a bit flexible with this as sometimes they won't get enough bookings and the dive boats only go out if they have at least two bookings.
What do you think about diving with sharks in Costa Rica? Have you done it before or would you give it a try?