Fashion City Antwerp – or: alone amongst fashion bloggers
Guest post by Alexandra Wolf
Antwerp – Brussels cool sister
Geez! It's 7:45 a.m. at Berlin's Tegel Airport, only a few minutes left until boarding – splendid weather, clear views of the runway, everything's normal so far… My eyes wander over the shoes of the other passengers, and now I notice… crossed legs bouncing up and down everywhere: men's legs! – And all of them present that white stripe of hairy skin showing between pulled-up socks and pants. Not unusual as such, but we're dealing with precious foot clothing here like luxury socks and polished leather shoes; not the average tennis socks and comfy sneakers that make every grown man look like a kindergartener. Irritated, I look up, and what do I see? An ocean of suits: double-breasted, pinstriped, kent collar, shark collar – and there, where their heads are supposed to be the business section of the daily newspaper. I'm surrounded by a business army armed with smart phones, tablets and notebook trolleys!!! Where am I? Where am I going! Why this army of suits?
– Destination Brussels Airport … breathe, Alex! Everything is alright, it's only "Eurokrat Rush Hour", no worries… I myself won't stay much longer than one hour as I'm heading to Antwerp shortly after landing in Belgium's capital.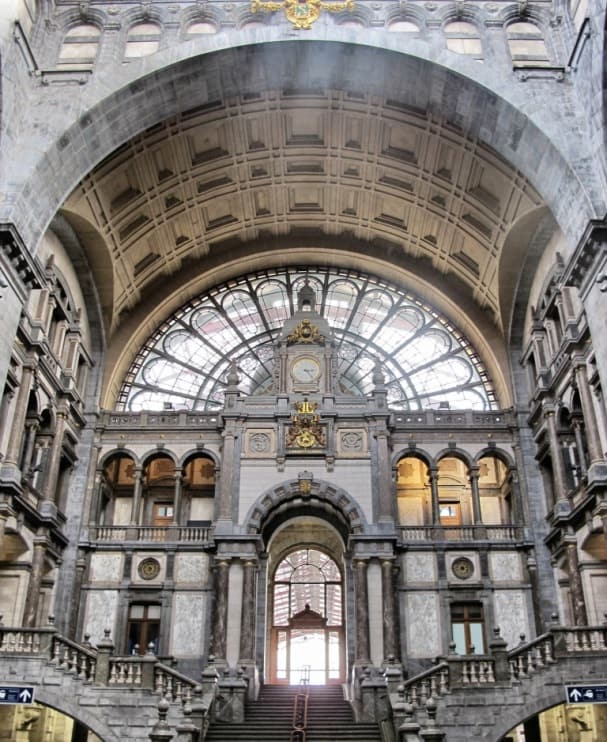 Fashion city Antwerp and what this has to do with a travel blog
'Oh Antwerp, how posh! Isn't that a total fashion hotspot?"- yup, it is; and that's why I'm feeling a little queasy. It is some fashion initiative that gives the occasion for my visit and with me on that short trip are solely fashion bloggers and journalists. This raises the fear that my boots won't withstand their critical judgment and will just fall to pieces. But how did I get here, why is this all about fashion? Let's wind back a couple of days:
Hello Fashion, Hello Summer, Hello Antwerp! …
… and of course: hello Just Travelous readers! My name is Alexandra, normally I'm an art history student, I live in Berlin and now I'm in Antwerp. How come? Your valued and far travelled Yvonne is in great demand and as you know just got back from Poland and is almost off to another destination. So she made me jump right into an airplane to visit THE fashion event in Antwerp, Belgium. Well, it's not that I needed to be coaxed. When Yvonne asked me "Hey, do you wanna go to Antwerp and cover that fashion anniversary thingy?" I looked quite like Homer when he hears the word "Barbecue"…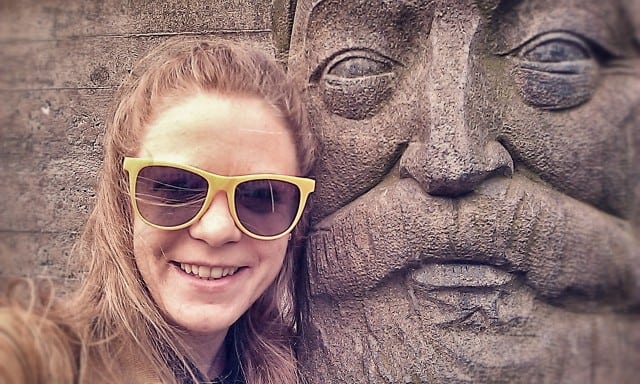 Antwerp – fashion, diamonds & art
Strangely enough, when I think of Antwerp I think of the movie "Snatch! ". You know, that British gangster comedy by Guy Ritchie. It's where I've learned that if you want to deal with diamonds in any way you got to head to the small city at the shore of Belgium – TV is educative! Somehow I hoped that one of those rocks would find its way into my pockets – some kind of freebie. Well, wasn't the case.
Although there are plenty of diamonds in Antwerp, and art and beautiful people, my reason for being here is fashion! Because fashion seems to be a cultural asset here like drinking beer for us. The whole city of Antwerp is thrown into a dither for the famous institute of fashion design, the Koninklijke Academie voor Schone Kunsten van Antwerpen, is celebrating its 50th anniversary this year and a huge party is planned. Rightly and properly so-such festivities call for a lot of amusement: a reception, a shopping-tour, studio visits, drinks and food and finally a mega fashion show are all on the birthday bash-To Do-List.
Antwerp – fashion tuition
Soon after our arrival at the Fashion Museum our small German delegation was brought together with bloggers from all over Europe to join the kick-off press conference. Slowly I got the gist of this whole event. There was a huge exhibition on fashion history, model castings for tonight's show, a fashion app was introduced and everyone was on target and stylish – I felt like being misplaced in a "Sex in the City"- episode. I tell you that's a different world, a different universe! What I first thought to be a colorful spectacle turned out to be tough business, with me, the newbie, right in the middle of it.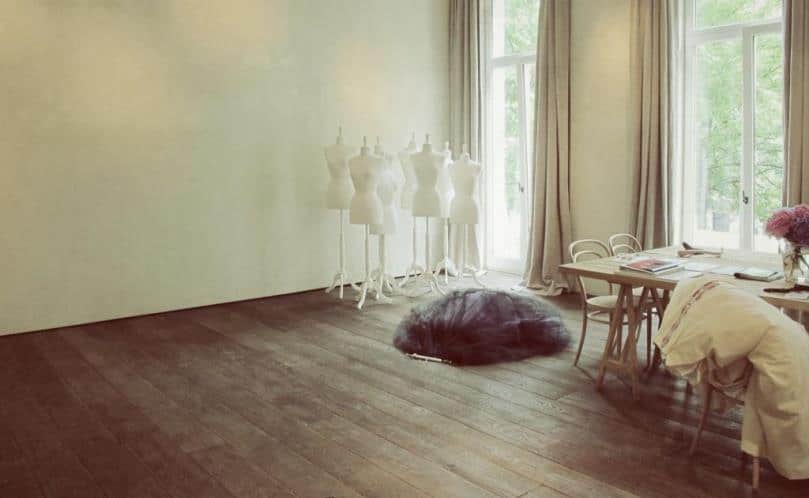 Naturally I didn't get all the name-dropping during the conference and was pretty surprised by the reaction of everyone else to the mentioning of "The Antwerp Six" that led to dignified sighing every 5 minutes for the next 14 hours. Fortunately I was accompanied by the experts from fashionmonster and ELLE who explained. Here you go:
The "Antwerp Six" is a group of avantgarde fashion designers who all studied at the Royal Academy of Fine Arts of Antwerp – got it! That's why this whole extravaganza is going on in this city, in that institute in the first place…
In the 1980ies the group stood for a radical idea of fashion and is essential for the reputation of Antwerp as a fashion metropolis – got it! That's why all the journalists and fashion addicts are here for the runway show
Their breakthrough took place around 1986, when "The Antwerp Six" rented a truck and sped from Antwerp to London heading for a fashion fair. They presented their radical collections and then BAM they were cool and famous – Awesome story, right?
The fascination for the "Antwerp Six" turned the following PR parforce run into a treasure hunt in which my dear fashion blogger colleagues tried to catch one of the six for an interview. What can I say, we didn't find one sixth of a fashion god but I have seen quite a lot of wonderful Antwerp and eaten lots of chocolates… fyi: chocolate could be another reason to visit beautiful Flanders.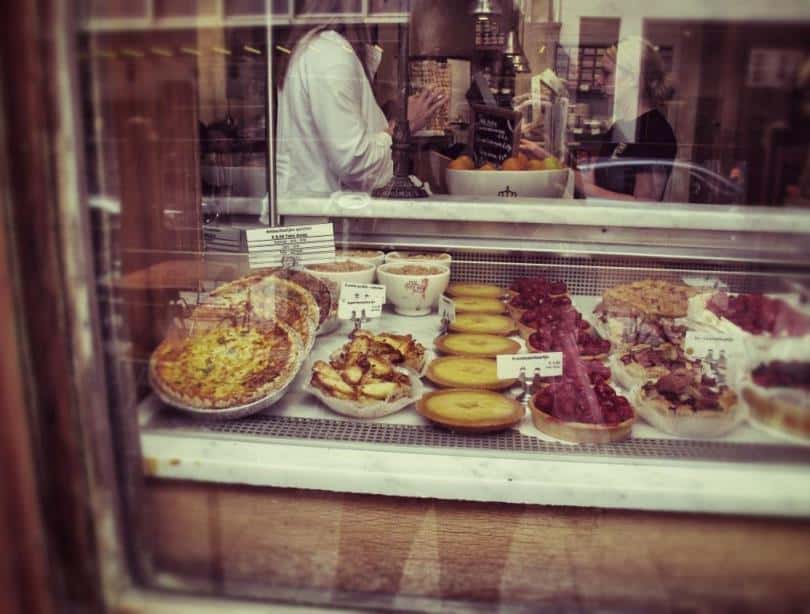 And while we are speaking of food and Belgium: fries! I missed them badly on our tourist route! I didn't have high hopes on tasting this culinary trade mark as Belgian beer was as well avoided on our degustation for the day. Understandable, I mean, we are totally fashion here, and beer and grease, and carbohydrates turn you into a fatty… but, oh wonder, the potatoish gold would soon find its way onto my plate…
I already had experienced more than other people in one week but the highlight was still to come – a quick power nap was allowed and we – hipstered-up and high-heeled – went for the Antwerp harbor. The truly entertaining day proceeded into an extravagant night – at this point I'd like to stress how nice the Antwerpians are and how funny fashion bloggers.
Glitter, glamour & gourmet food–Antwerpen has the hang of it
I did mention the fries. They were part of a delicious dinner in a great setting with a splendid panorama of the Antwerp docks. Dinner & docks? Exactly! Every year the old brick warehouses close to the waterfront host the annual graduates' fashion show that wraps up the academic year. This event is not to be confused with anything similar going on at our fashion schools because what is happening in Antwerp is to compete with New York, Paris and Milan. It conjures up a tremendous rush! Not only the entire city of Antwerp is around to watch – people from around the world gather here to see the designers of tomorrow. Headhunters from international labels will be sitting in the front row and critically eyeball tonight's presentations.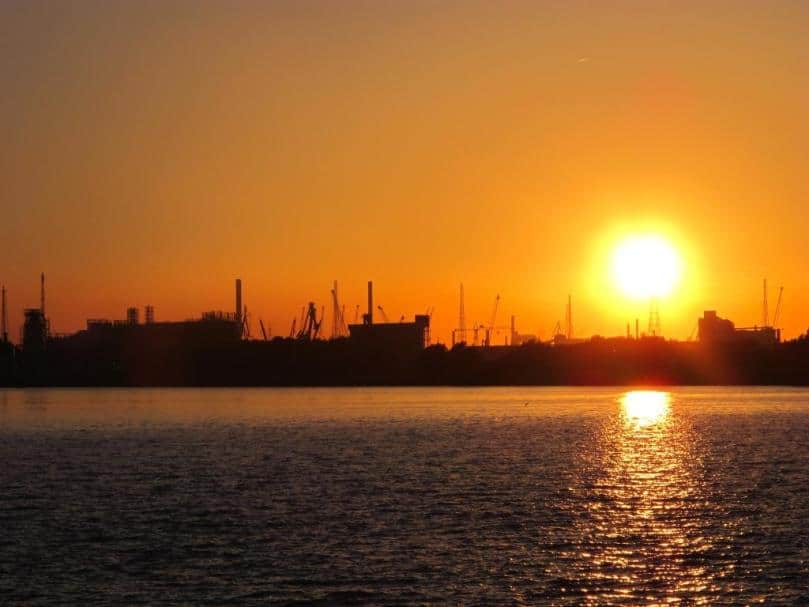 The air was filled with excitement during dinner where journalists were chatting with each other at long white tables close to the water, trying to get caught by the camera armada. As far as I can tell I was still the only non-expert and apologized for the 100th time for me being a travel blogger and therefore had no clue about anything what was going on. I suppose I gained some sympathy for one of my red-cheeked and turban wearing colleagues prompted her salmon cubes to me. The sun was gone already and I decided to mimic the fashion bloggers. Thanks to all the fried food, a pile of shrimps, salmon cubes and my share of white wine I felt pretty good and primed for the shenanigans.
To be fabulous or not to be – The fashion show of Antwerp Graduates 2013
Bye-bye delicious food, bye-bye warm summer breeze, we were heading straight for the interior of the brick wall building. From the outside you could hear the twitching of electronic music and see yellow and blue lights squeezing through the gaps of the heavy iron doors. I turned around for a last glimpse and went inside – whoosh! Wow! I found myself in a megalomaniac industrial space packed with absolutely fashionable and good-looking people!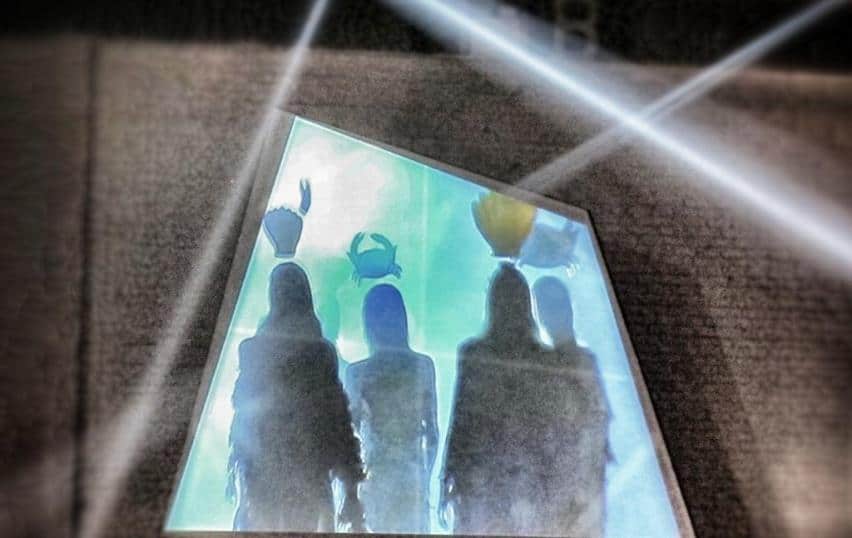 What can I say, a fashion show is a blast! After everyone had at least two drinks and all the attending celebrities who were pushing the glamour factor were checked out we were all maneuvered behind a black curtain into the next brick wall segment. There where rows of black chairs flanking a white bolt shaped catwalk at the end of which the camera-men got in position. The important people took their sets in the first row (btw reminded me of Ascot…) and then it all turned black! Suddenly pounding basses, glowing screens and then bam, bam, bam the first models turned up. They appeared somewhere out of the white blinding nowhere at the end of the runway and chased toward us.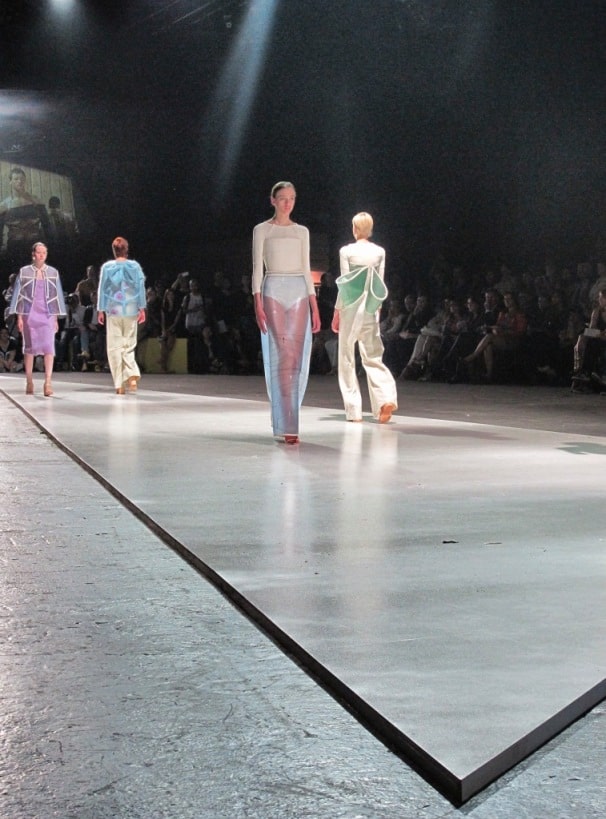 The spectacle lasted four hours until far after midnight and not one second was boring. Thousands of pictures where shot, journalists were scribbling constantly into their black tiny books putting their heads together to hiss critical remarks at one another. At some point I sneaked into the first row because I spotted an empty chair but not before I helped myself to another Campari-bomb. Suddenly I was so close to the models and that felt weird. At times they would stop just right in front of me and gaze – just like in the magazines – with shocking presence, firm, annoyed, bewildered into the audience. Sometimes I had to lower my head and look away because I felt kinda trapped and awkward. Depending on the model this could be a thrilling affair and more and more I understood why some people are digging such events. I would describe it as magical and emotional: the designs where weird, sometimes just beautiful, my senses got strained and my imagination ran riot.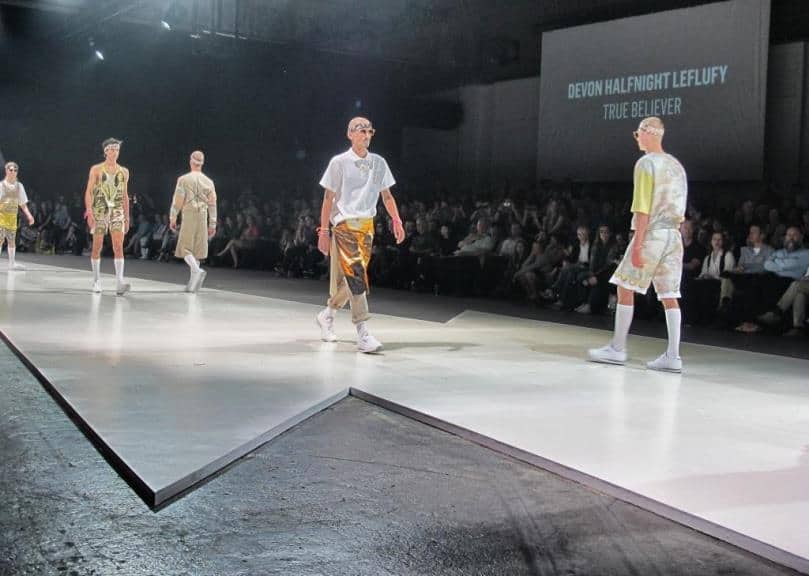 The extravaganza closed with the master students who were presenting their collections amid the applause of the audience. Our blogger crew was really exhausted, ecstatic and slightly drunk. Our heads were buzzing from all we'd seen that day, all the people we'd met, all the colors and sounds. After 14 hours as a total fashion newbie I was longing for peace and quiet and my bed in the diamond district! Empty the last glass, drift through the huge industrial building, one last cigarette at the docks and the off in a cab – good night!
–The fashion show by the fashion institute is an annual event that keeps the whole city of Antwerp in suspense. Tickets for the show can be purchased from the beginning of May and are likely to sell out early. Mid June – when the show takes place – is recommended to anyone who plans to visit Antwerp for a weekend trip. Further info: http://www.antwerp-fashion.be—
Disclaimer: Alexandra was invited on this trip on behalf of justtravelous.com by flandern.com.