How I survived a wolf in Mongolia. Kind of.
My heart skips a beat. I know this sound. And I know what's going to happen next. It's always the same. Every time you hear that sound something bad will happen in the next second. Something really bad. With dead people in the end. Or at least dead animals. But I'm not sitting in a cinema seat and I'm not eating popcorn, I'm standing in our kitchen tent in the middle of nowhere in Mongolia. One second ago I wanted to visit the toilet tent and then fall happily asleep in my single tent. But now I can't even move.
The howling is so fucking close. Fear. With wide eyes I'm starring at our tour guide. Wolves? Are you fucking kidding me? A Wolf in Mongolia??! I'm feeling cold, I'm feeling hot and I don't know if I should cry or laugh.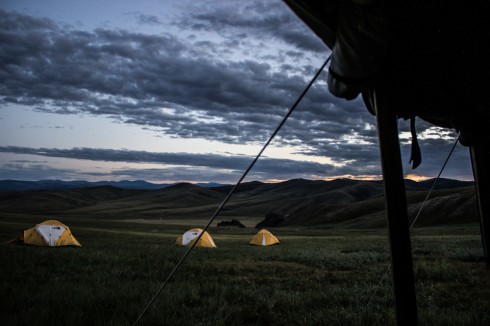 The view from the kitchen tent earlier that night.
Yes. She says. A pack. Probably right behind our kitchen tent. The howling stopped but my head is still spinning. I've totally forgotten how it feels to be frightened. And then she's shouting something loudly in Mongolian. Are you scaring off the wolves? She says chon is the Mongolian word for wolf. Three seconds later our three drivers and our cook are standing inside the kitchen tent. I can't see any fear in their eyes. Suddenly one of the driver storms out to get something. I hope it is a gun. Something to protect us. He's coming back. With. A. Bottle. Of. Vodka. This helps. He says. Shall I beat the wolf in Mongolia with this??? Drink. He says. Yes, it really does help a bit.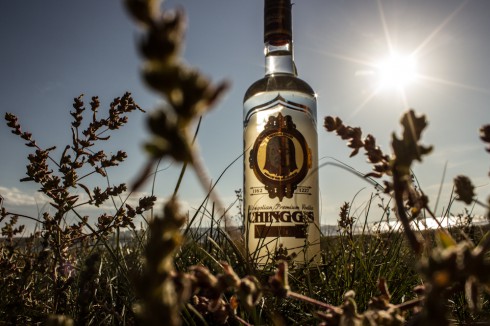 Vodka. The universal remedy (especially for a wolf in Mongolia).
But seriously guys. While we're drinking vodka inside I bet the wolves outside are planing who they want to eat first. Everybody is laughing. Except the two Suisse girls who also are still awake. They, too, are not laughing.
Ok, IF you get attacked by a wolf (and there it is: BUT they are more scared of you than you are of them!) you have to hit the wolf's nose. With a spoon for example. (That's the only thing we have right now. Inside the kitchen tent) Our Mongolian team is curling up as one of the driver is doing a quick pantomime to demonstrate this. And I see myself standing there. Heroic. Wind is wafting my hair. The wolf and me – with a spoon in my hand.
Ok, you can also use trekking poles. I don't own stuff like this. I squint to one of the Suisse girls who does own trekking poles. You take one pole to keep the wolf at a distance and then you let the other one slide over the first one. Straight onto the wolf's nose.
I feel a bit better now. Vodka does help. For real. AND the invitation of the Suisse girls to sleep in their tent tonight. The only question is now: Who's going to sleep in the middle? (middle = safest spot if the wolves attack the tent) I think my argument, "I'm the youngest and you already got much more out of life than me" would be incredibly convincing but it wasn't. Ok, at least I don't have to sleep alone in my single tent.
A little while later we dared to leave the kitchen tent. The night was bright. Was it full moon? I can't remember. Heroically, our drivers accompany us to the toilet tent, which is located at an appropriate distance. As I uneasily pull down my pants, I think: Ha, I managed not to wet myself after all.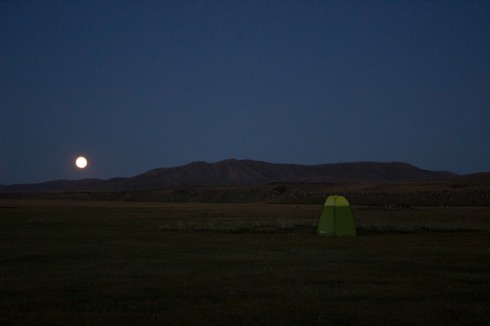 The idyllic toilet tent standing all alone in the middle of nowhere on another night
When we finally reached the Suisses girl's tent with my luggage, the driver crouches down and signals me to do the same. Less than two meters away a pair of eyes is starring right at me. In my memory they were glowing yellow. And then I realize. It's just a dog. The same dog who will keep us awake all night with his barking. But I'm happy about it, cause somehow I think this kept the wolves at bay. Because I'm pretty sure I would have messed up this spoon thing.
But to be honest, honestly, I would love to see a wolf one day. A wolf in Mongolia, they say, it's a great honor because it is believed that no one can see a wolf unless he or she is that wolf's equal. Well, at least a pack of wolves thought me worthy enough to howl for me. Once.
Thanks to www.weltweitwandern.at for inviting me on this trip.
Check our other posts on Mongolia.