Things to do, feel and see on Kangaroo Island
Ever heard of Kangaroo Island? No, it's not a nickname for Australia. But it's a small island in the south of Australia. Looking at a map of Australia, you might think it's so tiny in comparison, that you could walk along the coast within a day. Might think. In reality it's much larger and you have to run pretty fast to circuit an island that reaches 150 x 50 km in a day 🙂 When you picture the name Kangaroo Island you probably see some kangaroos. Well, that's one reason for its name.
In 1802, an adventurous british explorer called Matthew Flinders was assigned to draw a map of what we call Australia today. When he and his crew went ashore, they were welcomed by a high number of trusting kangaroos. Kangaroos that weren't used to humans and thus an easy catch. Kangaroo Island – the island where you can find [and eat] a lot of kangaroos. Drawing maps, eating kangaroos, naming places. At the same time, a french explorer sailed around the island – that's why there are french-sounding sites as well.
Kangaroo Island is famous for its wildlife and nature. Here are some things to do, feel and see on Kangaroo Island: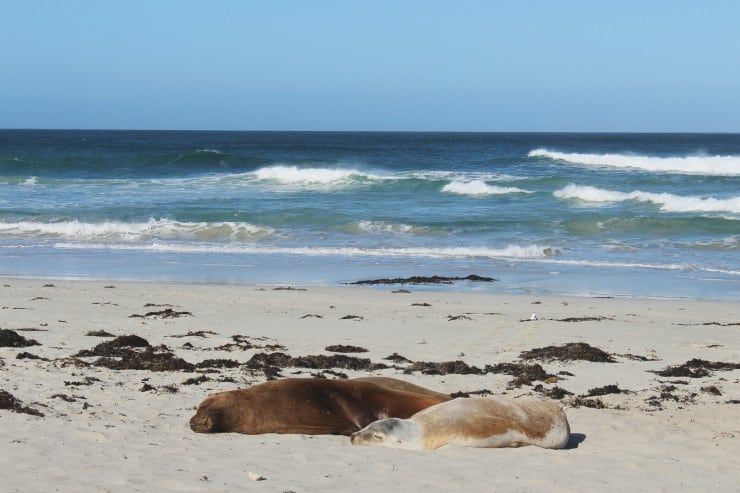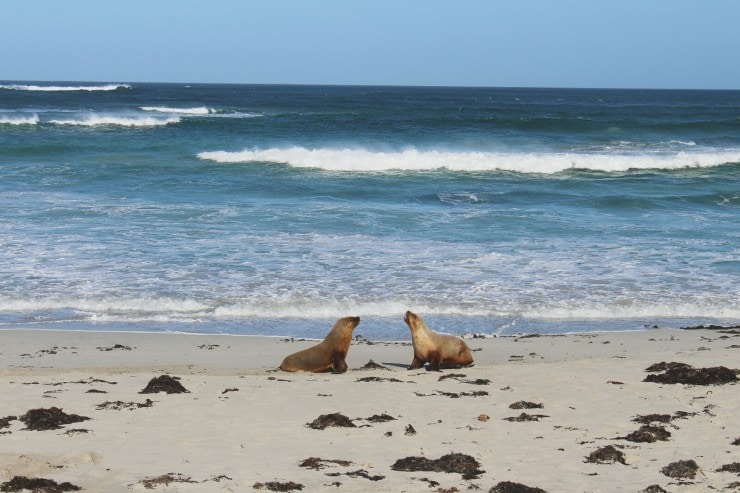 Seal Bay, Kangaroo Island
Walking down to the whitish beach, you can see the blue sea, breaking waves and then: seals enjoying the sun. They really seem to smile and the first thing you want to do is to hug and pet them. But then, a competitor shows up and all of a sudden these cute-looking animals start to fight. They run along the beach and bite each other.
Bite bite bite – fight fight fight. That spectacle takes a few minutes and in the end, one of them concedes – the other one toddles proudly back to his female.
Flinders Chase National Park, Kangaroo Island
The Flinders Chase National Park is located in the south-west of Kangaroo Island. It's a huge natural reserve and you can find a high number of different animals like Kangaroos, Wallabys or different colorful birds there. We get to them later – let's start with an impressive building: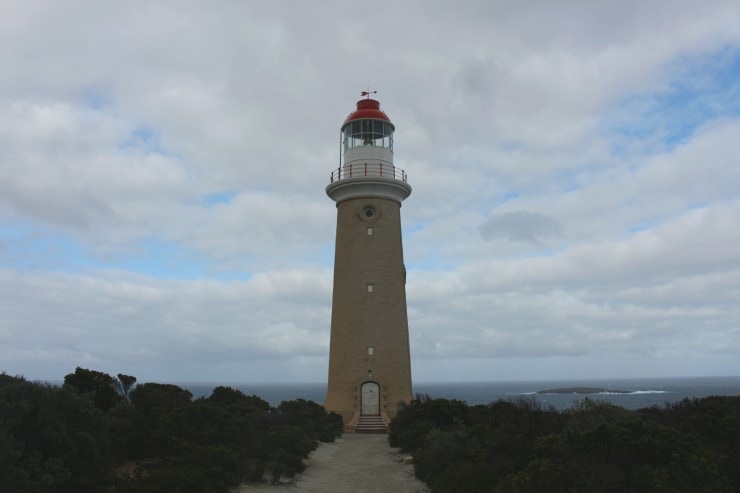 Cape du Couedic Lighthouse.
The lighthouse based at Cape du Couedic is part of the Flinders Chase National Park. A lighthouse like in a Wes Anderson movie. The path leading to this building is vegetated on both sides nearly symmetric with small trees and bushes. The lighthouse itself is made of sandstone, which perfectly fits to the white upper part with the red roof. In the back: the sea. Up to the horizon. The view from the top of the lighthouse has to be breathtaking.
End of the world.
A wooden trail behind the lighthouse leads you down to the cliffs. It feels like each step brings you further to the edge of the world. A pretty hard wind hits you in the face. Your clothes get blown up and you have to walk at a slow pace. Water collides with cliffs. Your face gets a thin layer of salt. Pure nature. A feeling of happiness. A smile on your face.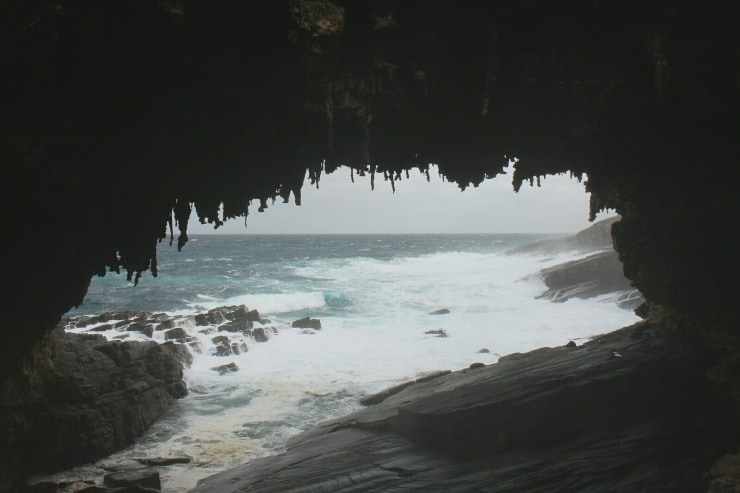 Admirals Arch.
At the end of the wooden trail you will find Admirals Arch. The arch is completely undermined by water and wind. Massive slabs of rock, water and sunbathing New Zealand Fur Seals on the bottom and cavernous stones on the top. Impressive.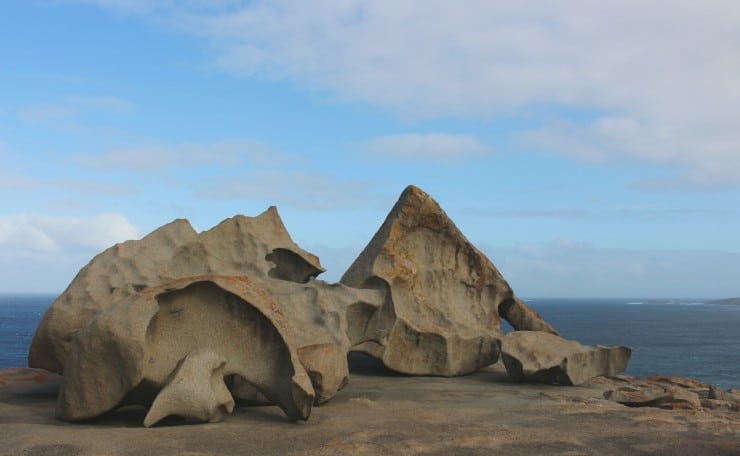 Remarkable Rocks.
For about 500 million years, nature has formed stunning shapes of stone. Stones with holes, stones that look like faces, smoothly polished stones.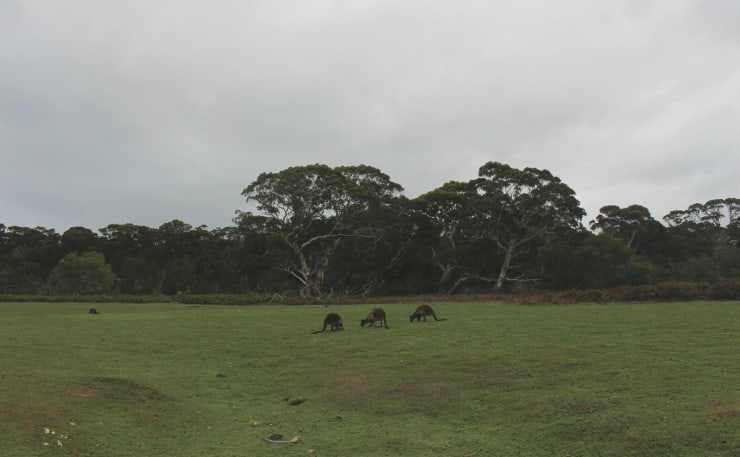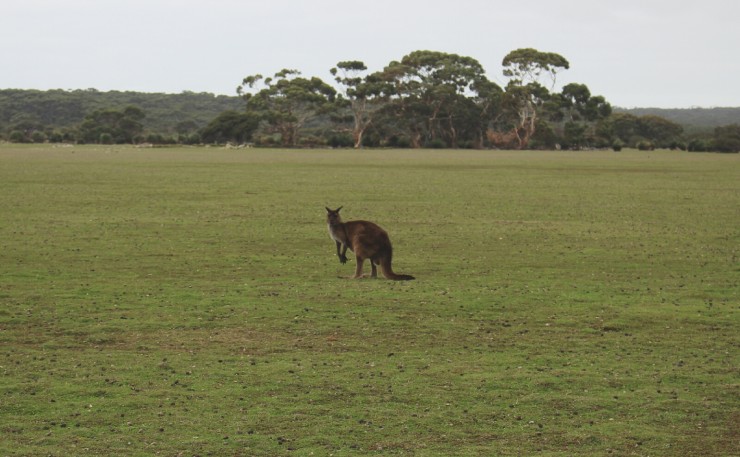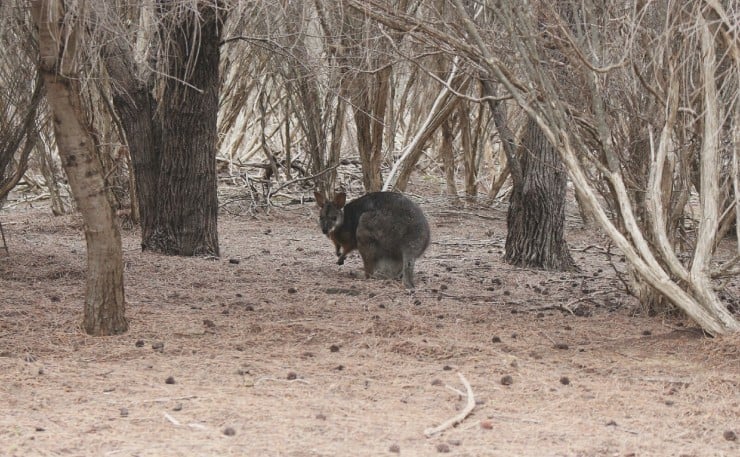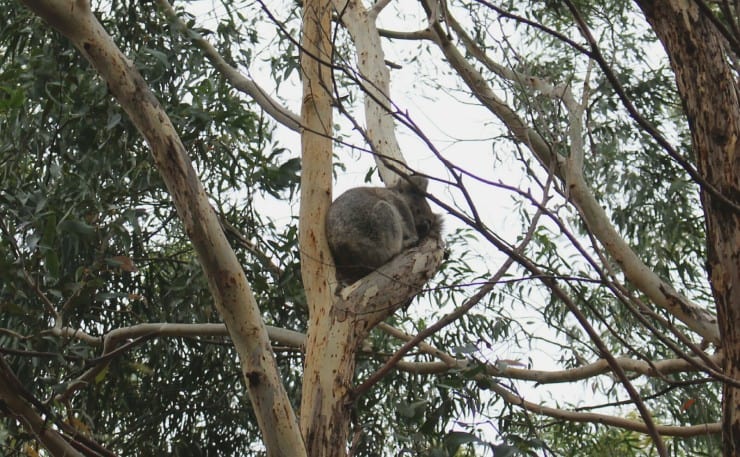 Kangaroos, Koalas and Wallabys.
Kangaroo Island's nature is very spectacular but its wildlife is in no way inferior to it. There are several natural reserves where you can find wildlife in its natural habitat. No fences, few humans. The animals are though kind of used to humans. Especially kangaroos.
In some natural reserves you can even get closer to kangaroos. There are hundreds of pictures showing people right next to kangaroos – but they don't really live a wild life. However, there are natural reserves where you can really find wild life kangaroos. They are both: used to humans and shy. The closer you get to them, the more attention you get from them. They wait and watch you. If you stay: Everything will be fine for them. If you move to closely, they will jump away.
Wallabys look like a mixture of kangaroos and rabbits. Especially wallabys on Kangaroo Island. They are small, fluffy but have a tail and their face reminds you of kangaroos. They are pretty hard to find and love to hide in the bushes.
Koalas spend most of their time sleeping. When they are awake, they eat. Sleeping and eating, all day long. Sounds great. They love to sit in branch forks and brave the weather fixed in the trees with their claws.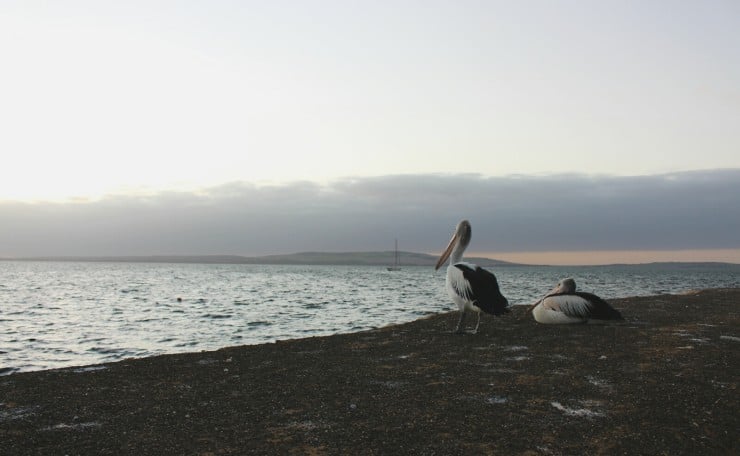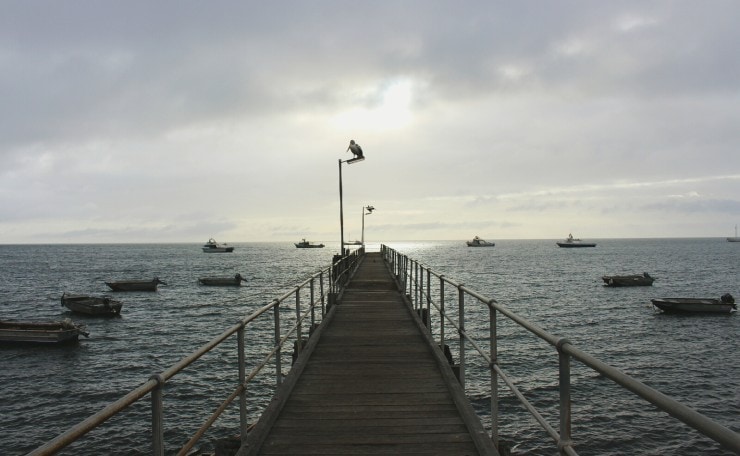 Kingscote and the Pelicans.
Kingscote is the largest town on Kangaroo Island and its harbor is famous for its pelicans. If you want to you can spend some dollars to see an old man feeding pelicans with his hands at sundown. Alternatively, you can just sit at the harbor and watch them. Sitting on rocks, grooming themselves.

How to get there, where to stay and how to explore the island.
There are two ways to get to Kangaroo Island. You can go there by air or water. A ferry boat brings you from Cape Jervis (one hour away from Adelaide) to Penneshaw. You can bring your rented car to explore the island on your own. The alternative is a short flight from Adelaide to Kingscote – it takes about 20 minutes to get there.
If you stay in Kingscote, you have the choice of some smaller hotels. I spent a night in the Aurora Ozone Hotel, which is next to the harbor and your room might have a great sea view. There are many tourists during summer time, especially honey mooners from Italy. I've been there during the australian winter – that was perfect for me: Temperatures are not too high and there are less tourists.
You have the choice whether you want to explore the island on your own with a rental car or even by bike or you can book guided tours. There are tours for a day, for two days or even more days. The more time you have, the more interesting places and animals you will see. The guides are mainly locals and know many spots you wouldn't find on your own.
Disclosure: I was invited on this trip by South Australia.