La Dolce Vita – In the middle of Nowhere
Sometimes I think about where I would live, what I would do if I wouldn't do what I'm doing. There are many possibilities. Sometimes I see myself sipping cocktails in a posh New York bar, celebrating the latest business deal. Sometimes I lose myself in the thought running behind a camera man through dusty streets in a conflict area. And then again, then I imagine myself sitting on a bench surrounded by nature. Creating things with my own hands.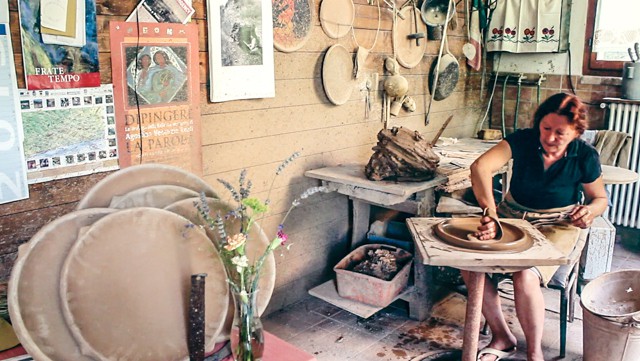 Le Teglie di Montetiffi
On our road trip through Emilia-Romagna we've met a family who's doing exactly this. Rosella and Maurizio Camilletti-Reali are living with their son Fransesco in the middle of nowhere, in Ville Montetiffi. There's not much around, some empty houses and a breathtaking view. They're producing "Teglie", backing pans for the traditional Piadina, a thin Italian flatbread. Everything they need for production they find in nature. "Teglie" can also be produced industrial but they are doing it the old way. Like they were made hundreds of years ago in this area. With traditional techniques and materials. Rosella and Maurizio are the very last ones to maintain this tradition. And you can clearly see that this makes them happy. They live in harmony with nature. La dolce vita.
If you're around make sure to step by and say hi! They are very hospitable people. Maurizo will for sure offer you a glass of his own wine and Rosella might bake a typical Piadina.
Could you live like this? Somewhere in the middle of nowhere? And produce stuff with your own hands?
Disclaimer: This post is part of the #Blogville campaign, a collaboration between the Emilia Romagna Tourism Board and iambassador.