Once upon a time in Lapland
Guest post by Johannes Zagermann
Everything happened one year ago. A small adventure of my life. Something like: into the wild.
Maybe the word wilderness is a little bit exaggerated, but all of these things that happened in Lapland are on top of the list of my favourite things and will stay forever deep in my heart.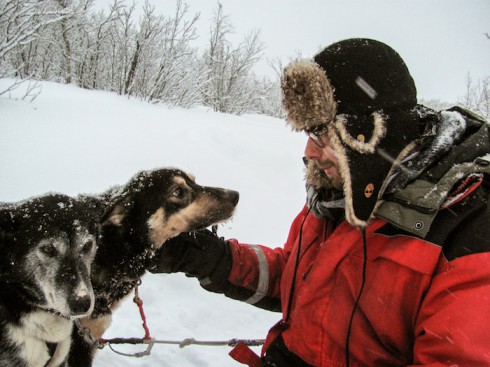 Lapland? What's that? Maybe that's your reaction while reading these first lines. Lapland isn't an ordinary country, it's a region in the Northern part of Scandinavia. Borders? No way! The area reaches from Norway to Sweden to Finland and Russia and it's famous for its breathtaking scenery, lots of snow during winter times… and of course the Northern Lights.
Did you see the Northern Lights? Sure. Did you freeze? Yes, I did. Did you meet Santa Claus? Nope.
Typical questions from someone who hasn't been to Lapland yet. Lapland is more. Let's take one thing at a time.
It was an unpleasant rainy day in Stockholm when we hopped on the bus of Scanbalt Tours. Yes, a rainy day. January 2012. Sweden. Not what we expected. But things should change. Off we go to the North! 1200km along the Swedish East coast. Traveling by bus is fun. Strange and unknown people, last reservations for some trips with a shaky Wifi connection, and those typical bus movies…no one likes them but they help to bridge the time. Suddenly the view outside of the bus is monochrome. Pitch-black night and snow. Everywhere. Finally!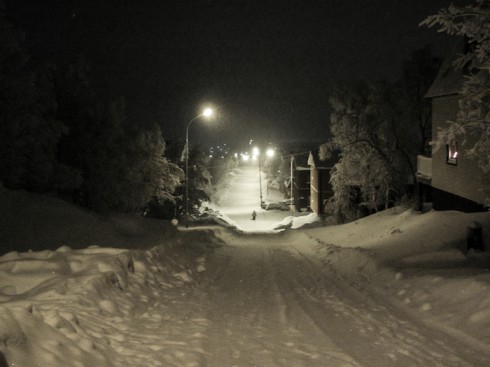 18 hours later we arrived bleary-eyed and exhausted at our hostel in Kiruna at 8 am. Kiruna is Sweden's most Northern city – you can imagine the amount of snow and lack of temperature. We spent one hour in the hostel until the first tour started. Everything was arranged perfectly – thanks to our tour guide Marii. You book the combi-ticket for the snowmobile tour and the dog-sledding. Bang! You will be picked up in front of the hostel right on time and they will drive you safely and fast to the camp. We have been a group of 18 people and the first thing we did was to get some warm overalls and some even warmer boots. You definitely need them. If you don't use them you will regret it while sitting on a snowmobile at latest half an hour later. The fun starts after some minutes of driving lessons. You pick a buddy to share a snowmobile. Your instructor will be in front of the group to show you the way and help you. You start slowly. And suddenly you're getting faster. Faster than expected. The ice-cold wind freezes your face and you're glad that there are lights on your snowmobile at 10 am. That's as well Lapland: The sun does not rise completely in wintertime. But the snow is bright. After a while, it was my turn. A slap on the back of my buddy, shift change. Dude, that thing is damn heavy. But also damn powerful. You pull just slightly the gas tap and all of a sudden you speed up to 80 kilometres per hour on the icy snow landscape. You wear a helmet just in case. With racing stripes of course.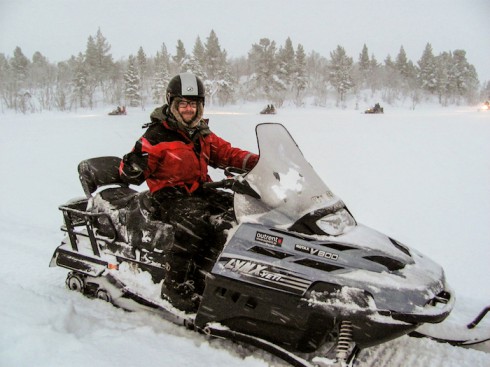 We had a small break on our way and the chance to warm up again with some coffee and camp fire. Snowmobile and coffee? That's the combi ticket? No! There wasn't just a camp fire. They have been waiting for us already. Our sleds. And of course: our sled dogs! These tiny dogs shall pull our sled? Hell yeah! There were about a dozen of dogs in front of each sled only waiting for us to hop on. Four people sitting on the sled and one guide behind us (who was steering the dogs by his voice) did not speed up like the snowmobiles but the dogs had some natural tricks that gave them some extra power.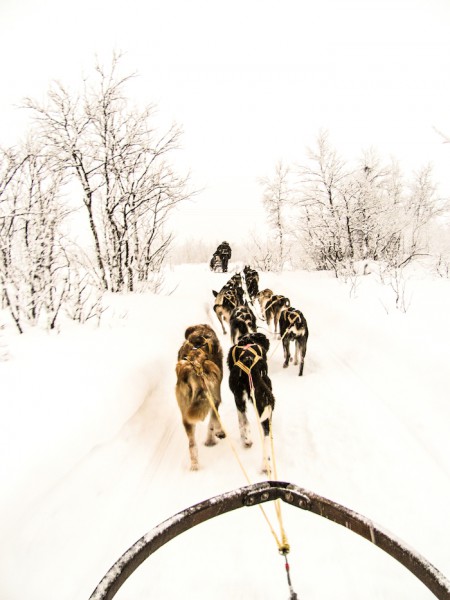 The city of Kiruna offers even more than this. The city only exists because of the world largest iron ore mine (you can also visit it, if you want to). And of course, the workers need to live somewhere. And because of the mine's extent, Kiruna will be displaced soon 5km towards East.
So… what else is there in the Eastern parts of Kiruna? Jukkasjärvi. Jukkasjärvi is the home of the famous ICEHOTEL. Aaaah! They rebuild it annually and designers from all around the world apply for designing those rooms. There are no doors for air conditioning reasons. Just some fur closing the entrances. The mattresses are made of fur as well. You will feel comfortable and cozy lying on them at -5 degrees at night. And if it's still too cold for you, you can get some warming Vodka out of ice blocks in the famous ICEBAR. Afterwards they throw those ice blocks back into the Torne River. The fish like it.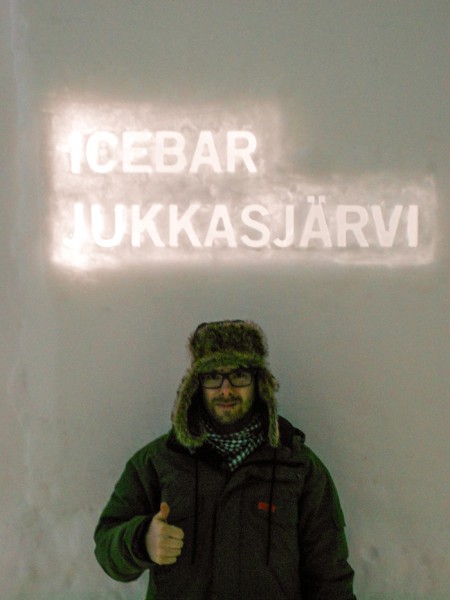 What else? The ICEHOTEL is famous for its weddings. Yes. Weddings. They have a special church made of snow and ice. Every year over 100 couples are getting married there. But not with warm coats, knitted caps and moon-boots. Wedding suit and wedding dress. Looks better on pictures. Goosebumps? Photoshop! Ice-tested families even let their babies be baptised there. First step to become a Viking…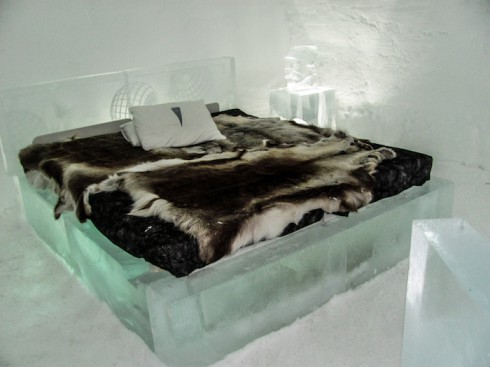 After our visit at the ICEHOTEL there was another highlight. We met some Sami and reindeer. The Sami are an indigenous folk that lives in Lapland and farms reindeer. At 2 pm, it was already night, we met an old man, his wife and one of their grandchildren. He showed us his reindeer with pride in his eyes and gave us moss to feed the animals. Inside their wooden cot – the traditional housing of the Sami, they gave us some reindeer meat and sang some traditional songs to us.
Though Kiruna is the most northern city of Sweden you have to go even more North if you really want to see the Northern Lights. We drove to Abisko. Aurora borealis. The Northern Lights. Sounds beautiful. And it is really beautiful! If you're lucky you will see them at a clear sky. Colourful vapour. They were green. A wonderful green. Bright. Waving. Moving.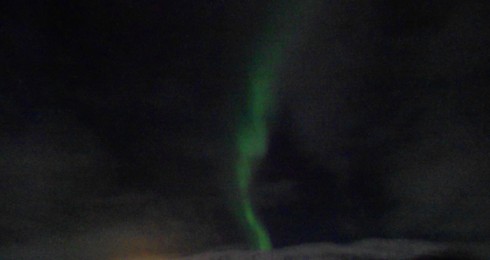 There's no need to get to the Aurora Sky Station. You can see them everywhere if it's the right time. Maybe even while cooling down in the nearby lake. Cooling down? You're right, cooling down. That's another thing you have to do. If the special sauna building isn't closed because of a broken chimney, you can heat up there and cool down in the lake. They say it toughs you up. We used the build-in sauna at the STF Abisko Turiststation . And jumped into the snow afterwards. Heating up and cooling down. Over and over again. The next day… everybody felt sick. Not! It truly toughs you up.
Back to the iron ore mine. How does all of the iron ore get to the rest of the world? By train. By train? By train! The first kilometres on rails, then on the sea. In Norway. The city of Narvik is nearby Abisko and definitely worth visiting. The Germans occupied this city during WW2. They needed the iron ore of Kiruna for their weapons. Maybe that's a reason for those unfriendly looks when they notice that you're from Germany. But maybe they don't notice it – in spite of the Gulf Stream it is too cold for sandals and tennis socks. The journey from Abisko to Narvik leads you through a breathtaking scenery full of mountains, lakes and a few wooden houses.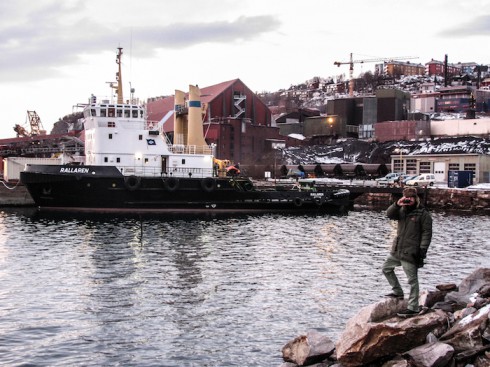 You can take the first steps of the famous Kungsleden in Abisko. The Kungsleden, which means King's path, is a famous hiking path in Sweden, starting in Abisko. I really wanted to walk this path. Just for a few kilometres. Most people of my group decided to go ice climbing or snow shoe hiking (you can book those activities at the Turiststation) but I just wanted to walk. On my own. So I took my cap and gloves. It would have been good to have these things also for my camera, which decided to take a nap. Or maybe hibernate. But the pictures are there anyway. In my head. A path across Lapland, surrounded by snow and a few trees. Tracks of animals. Mountains and purling water. Nothing else. Just me.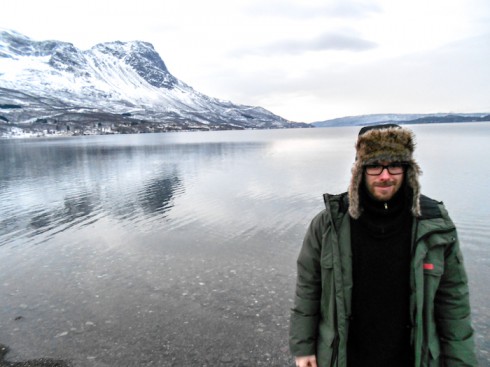 Now and then you will meet some other people. Frozen hair and rosy-cheeked. Just like you. After some time I met a small group. They were lost. We split. One part of the group took the way back I came from. The other group, including me, decided to take a shortcut. Too bad, Yvonne gave me a compass this Christmas and not one year earlier. Next time it will definitely help me…
***************************************************************************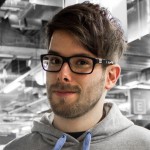 Johannes is Yvonne's brother and studies Human-Computer Interaction at the Lake of Constance. During his studies he spent half a year in Sweden. His love of adventure brought him to the North at the end of his exchange semester. He loves Scandinavia and is already planning his next trip to find snow, reindeer and the Northern Lights. Last year he won the best brother award: a compass. Where will this compass lead him and will he defend his title this year?