Places of Remembrance – A Memorial in Berlin
I live in the Bavarian Quarter of Berlin's Schöneberg district. When I open my window I hear birds chirping, see bunnies scamper across the lawns and one time I even spotted a hedgehog. You wouldn't believe my neighbourhood is just a ten minutes walk from the busiest shopping street in Berlin, Kurfürstendamm. It is easy to imagine that I live in the suburbs.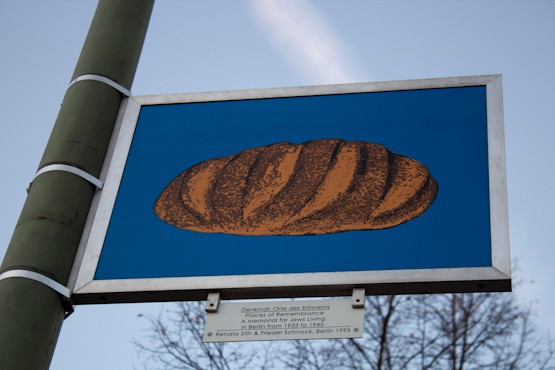 Throughout the Bavarian Quarter there are two-sided signs on lampposts; on one side there are innocent images of things like park benches, envelopes, a no-entry sign, or a loaf of bread, on the opposite side, anti-Jewish laws and regulations are written. These texts are examples of some of the cruelties experienced by the Jewish population between 1933 and 1945 at the hands of the National Socialist. There are 80 such signs in the Bavarian Quarter, created by artists Renata Stih and Frieder Schnock in the early 90's. The memorial is called "Orte des Erinnerns" (Places of Remembrance) and it reminds the viewers of the gradual loss of rights that lead to the total expulsion of Jews from Berlin.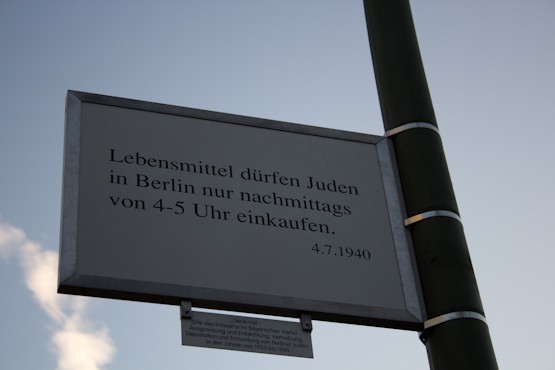 "Jews in Berlin are only allowed to buy food between four and five o'clock in the afternoon. July 4, 1940"
It's a memorial which shows how anti-Semitism permeated everyday life and even reached the peaceful surroundings of the Bavarian Quarter.
Video: Orte des Erinnerns (Places of Remembrance)


In 1933 there were 16.000 Jews living in the Bavarian Quarter of Schöneberg, by 1943 there were no more.