Outdoor Activities I Wanna Try in 2012
You've probably read about the 6 outdoor activities which changed my life in 2011. In 2012 there will be more challenges for me to come. On Sunday I will fly to Oman for traveldudes to go on a treasure hunt through the country. I bet there will be a lot of adventures waiting for me in these ten days. But which other outdoor activities should I try in 2012?
This is on top of my to do list for 2012, to fly from the Park Inn Hotel in Berlin at Alexanderplatz. It's just a 125 meter long free fall and it's over in just a few seconds but everyone who did it was truly flashed. And I so wanna see the TV tower head over heels.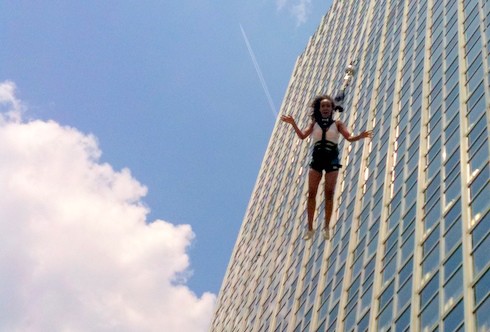 2. Bungee Jumping
I don't know if I would chicken out, but bungee jumping is definitely something I wanna do some day. I don't know where and I don't know if I will do it in 2012 but you can be sure, you'll hear me screaming from every end of the world.
3. Hiking through Iceland
Klara Harden truly inspired me with her trip through Iceland this summer. Her video "Made in Iceland" made me fall in love with this beautiful country and although I don't know if I would hike Iceland solo, I definitely want to go there.

4. Scuba Diving
Last time I've been to Thailand I didn't have the time to take scuba diving lessons. But next time, I really wanna try this. Although I know from Canyoning I look funny in a wet suit.