A story about skydiving, boredom and me
"Skydiving? Yes, I've done that before. I thought it was boring." What normally follows I get this weird look and I know exactly what everyone is thinking: "What's wrong with this girl?"
Hi, I'm Yvonne and I think skydiving is boring.
I remember that one night in 2011 like it was yesterday. It was the day before my first skydive, and I was sitting on the floor of my hotel room, listening to music and feeling excited like I've never been before. Actually I'm a chicken-hearted adventurer, I cried like a baby before my first scuba dive and chickened out on more than one occasion. But back then I didn't want to be THAT person, my inner voice was shouting DON'T DO IT, but well, you know, peer pressure, everyone else (well most of them) was so excited about it and I didn't wanted to be the chicken in the group.
So the next day, when it was finally my turn, after waiting and being bored for two hours, I just wanted to get it over with.
And just like that, I missed the very moment that I thought was supposed to be the most exciting of the entire skydive: the jump. I was way too distracted by the photographer as I was trying to concentrate all my effort on controlling my face. (And I think I did a good job there. Still proud of THAT!)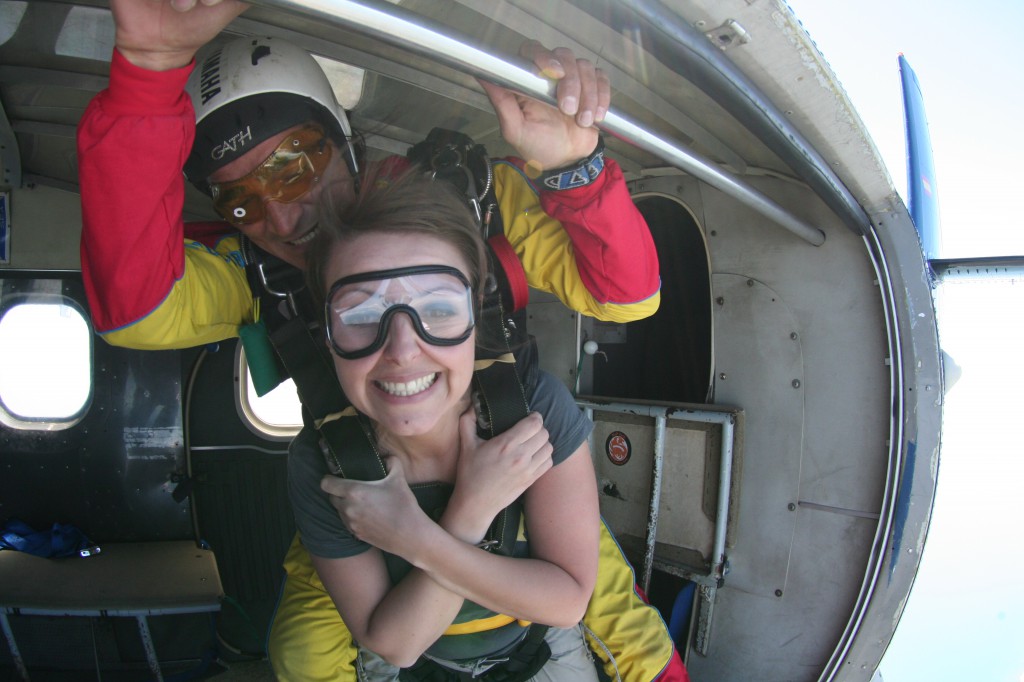 The free fall was unbelievably cold and wind was hitting my face like one million needles, and when the parachute finally opened, the straps hurt me like everywhere and resulting in some really bad bruises. I didn't do a good job with the landing but I laughed anyway. Everyone was laughing too and everyone else was happy. So I tried to be happy about it too. But the others where still totally psyched for hours later and grinning like the cat from Alice in Wonderland and everyone said, that was the best thing EVER. I was sitting there silently. I didn't feel the rush of adrenaline. I didn't feel different. I was not proud of myself accomplishing something unbelievable. It was ok. But that was it.
It bothered me for a long time, and I was asking myself: what's wrong with me? Why didn't I feel the same as the others? Why didn't I feel proud? And then I finally found the answer: I didn't do anything. It wasn't me jumping out of the plane. I was just hanging there, doing nothing. I've learned something important about myself: if I really want to feel proud, if I want to get this adrenaline rush – I need to accomplish things myself. I kind of like this fact.
Moving on. The day came I was going to skydive again. This time above the lowest point on earth, the Dead Sea in Jordan. But the sky didn't want me to skydive that day, more and more clouds showed up. In Jordan it normally rains on one day all October long. Today was that day. No good conditions for skydiving.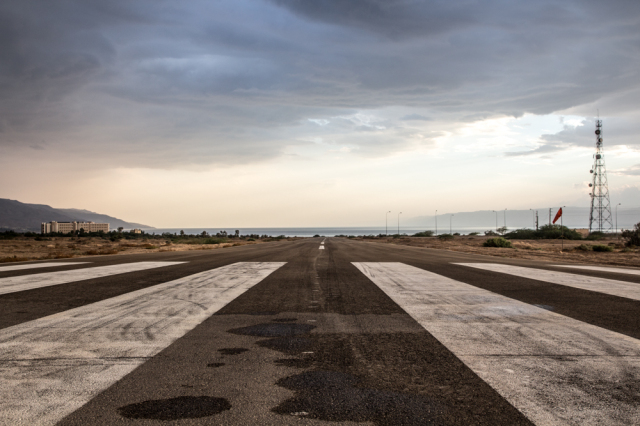 If the sky didn't clear up soon we couldn't jump. On one hand I was happy about this, as I was, indeed, a bit scared. But on the other hand I really wanted to test my theory. To jump or not to jump? I decided to put my fate in the hands of the weather god. If it cleared up, I would do it. If not, well, then I wouldn't do it.
We were waiting. Again. I was bored. Again. Seems like skydiving and being bored are attached to each other. But I really wanted to do it this time. I wanted to know how it would feel to do it a second time. I wanted to know if I could enjoy it. If I would chicken-out last-minute on the way to the plane, and if I would be – again – the only one without an adrenaline rush.
And then, just like that, the weather got better and we were ready to go.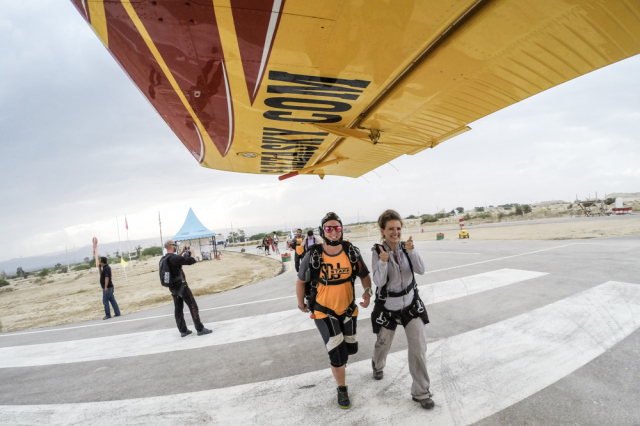 I thought to myself: Enjoy it. Have fun, don't get distracted again. Especially not during this one moment when "it" happens. The actual jump.
Then it was my turn, and everything happened really fast, but I was prepared for it this time. Still, I tried again to get a nice picture of me before we jumped out of the plane. I failed. That's why I don't have a picture of this moment for you today. My head was pushed back. Chin up. Then. The jump. A scream. A long scream. A woooooooo! Whirling around a bit, holding the straps and then a soft landing. This sky dive was so much shorter than the first one as we couldn't get that high up because of the weather. My first jump was from 4km altitude, the second one only from 2.5km.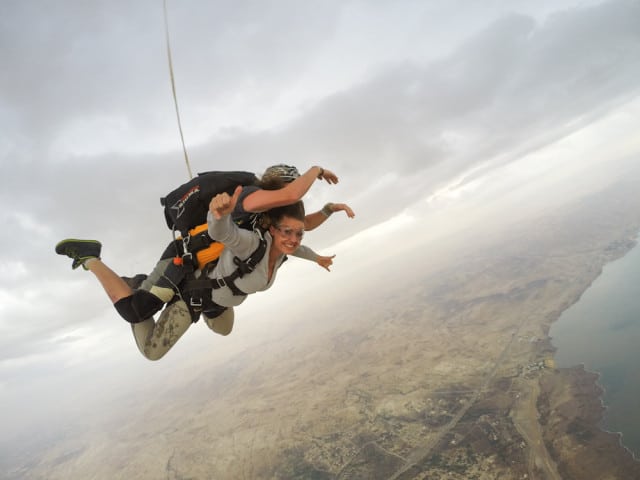 I did it again. And I had fun. A LOT of fun. But still no adrenaline rush. But then again I didn't really feel bored. No. It was more like "Yeah, that was FUN!" The same feeling I get when I do other stuff that makes me happy.
Like a perfect evening with good friends.
Or laughing until I cry.
Or riding bumper cars at the fair.
Or carrying my luggage through a river in the jungle, because the car can't get through (Yes, that's fun!)
Or bursting bubble wrap.
Or the third pina colada on a beautiful beach.
Or popcorn at the cinema.
Things you do and then say: That was fun, we should do this more often. Things that make me happy. Not proud. I'm proud of other stuff. Maybe you don't have to be proud of skydiving, maybe you can just have fun. Yes, I would do it again. Just for the fun of it. I don't have to prove anything to myself, and no, I wouldn't say it's boring anymore. Maybe my "Skydiving is boring" back then was just a counter reaction to the extreme adrenaline kick of the others.
---
Facts about skydiving in Jordan:
---
If you want to skydive in Jordan I can recommend SkyDive Jordan, it's a really cool team
A tandem jump there costs 250JD (around 287€)
please note, that you're not allowed to skydive within 24h after scuba diving
---
Have you been skydiving before? Did you like it?
Disclosure: This post is part of the #GoJordan campaign created by iambassador in cooperation with VisitJordan.