VIDEO – Come fly with me. Or: How to be a pilot.
Boom, bang. The bird touched the ground. My passengers are not applauding. Well, ok, I don't have any passengers. But Philipp looks at me proudly, I think so, that wasn't THAT bad for my very first landing. Despite the fact that I was squeaking the whole time.
Again? FOR SURE!
Our flight plan: TXL-SXF (From Berlin-Tegel to Berlin-Schönefeld). The most absurd flight route ever. Which I actually flew this one time. For real. For the christening of the new A321 from Condor in June 2013. But this time, this time I am at the wheel (OMG, do they even call it "wheel"?) This time I will be the pilot.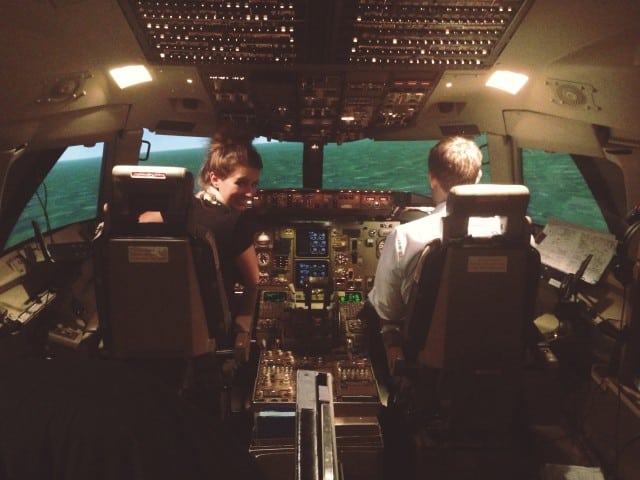 And I totally go crazy about this before the show even starts. I WILL BE FLYING. A PLANE. (well, ok, a flight simulator) But it feels so real. And all these flashing lights. What would happen, if I press this tiny one there? Well, no time for this. Now Philipp explains everything I have to do. And that's A LOT. Push here, press there, pull this, check that. And then he says some stuff I don't understand. But I nod dutifully and think: Oh well, it'll be fine. I'm in good hands. Philipp is a capitan and is doing this since 13 years. But it's just half as funny if I would TELL you all about it. It's WAY more funny to watch me:

To be a pilot (for real)
You can get a pilot's licence in Germany at different flight training schools or with bigger airlines, who have an own training program. It can be pretty expensive and the chances to become a pilot when you've touched your 30ies are pretty low. (Telling you this because I AM 30, well, a bit older, ok, I'm 34. No chance for me to become a pilot anymore!) But there are also many test, which are actually pretty tough. (Think multi-multi-task and physics and stuff) (I would definitely fail)
What are pilots doing in a flight simulator?
Flight simulator are not only build for fun, for people who want to pretend to be a pilot (like me). For me it was super interesting to hear, that pilots are not only using flight simulators for their training, but also have to do some checks in there every year. They have to fly different scenarios every year to keep their license. Philipp ("my" pilot) is "Head of Training" at Condor and his job is amongst others to do these checks with other pilots.
"Well, awesome… But I don't want to be a pilot but would love to fly a plane!"
THAT'S possible too. But only in a flight simulator. For example with Happy Landings in Frankfurt. Just in case you're wondering what I want for Christmas… just saying…
"I rather would love to know how it really is to be a pilot!"
More about this soon. I did not only sit in a flight simulator. I also had the chance to accompany Philipp on one of his routes. And now I also know what pilots are doing when they're not flying…
Disclosure: Thanks to Condor and Philipp for bearing me.