When in Rome – Some Do's, some Don'ts and a Video
31
What shall I say. You know I fell in love. With Rome. My trip to Rome was just perfect. And one of the best things about it was staying in a super chic apartment right in the middle of the city. I like to pretend to really be living in a city when visiting, I want to feel like a local. I mean I love Berlin, but honestly: I could live in Rome. Two steps to the best pizzeria in town, walking to the Colosseum and the Trevi Fountain. Hello? That's just travelous! I like! What I don't like is planing things. Urg. A top ten list of things to do in Rome to tally? That's stressing me out. I prefer to stumble upon things. Sure I wanted to see the Colosseum (check) but some other things you maybe say are a MUST when visiting Rome I missed, or rather: left for the next visit (like meeting the pope or riding a Vespa). Beside this I think it's important to know some stuff, things which made my trip to Rome so special.
And here are my Do's and Don'ts in Rome:
DO: Eat a Quattro Formaggi in "Berzitello". In my opinion the best pizzeria in town. And the waiters have tattoos. Period.
DON'T: Eat a Quattro Formaggi in a pizzeria next to the Pantheon. Not worth the HIGH price. Nice view, but I recommend to have just a coffee there instead of lunch or dinner.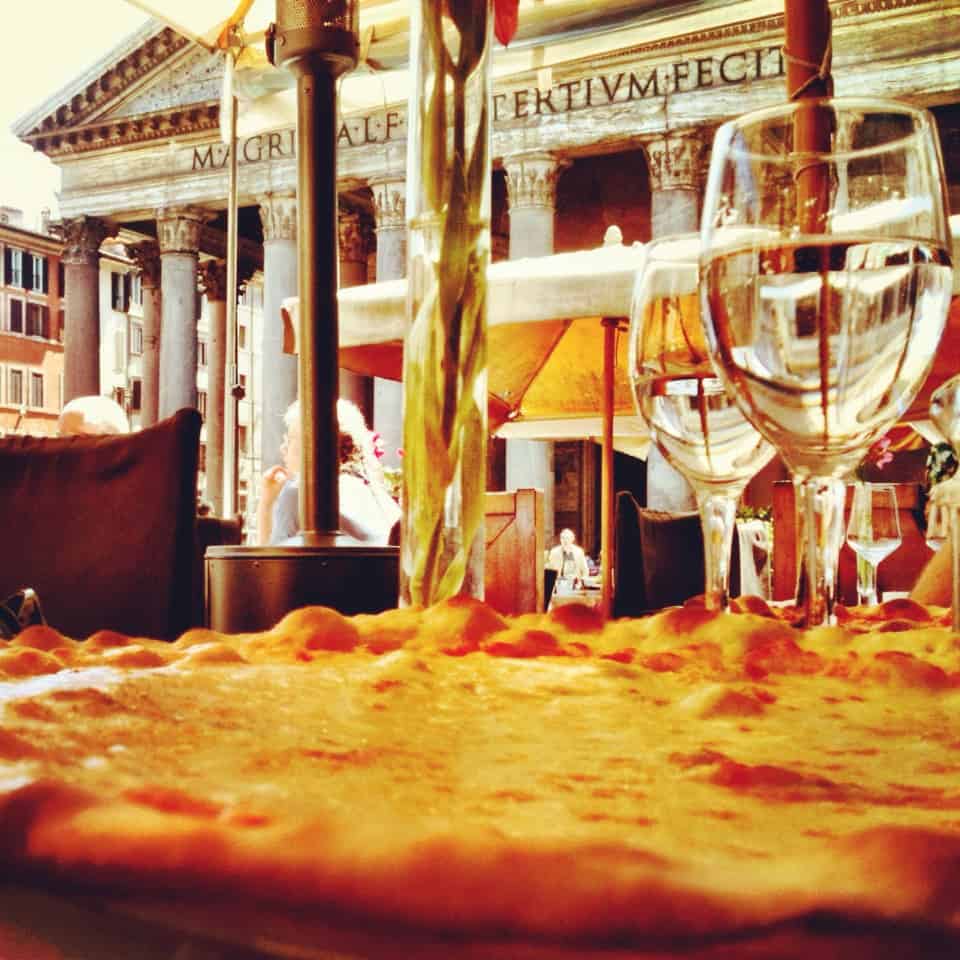 DO: Have a gelato in a REAL gelateria. My tip: Giolitti!
DON'T: Have a "fake" gelato, you can easily spot the fake one as the colour is verrrrry colourful.
DO: Throw one, two or three coins into the Trevi Fountain. One is for returning to Rome, two are for falling in love with a Roman and three are either for getting married to this Roman or getting divorced, the sources weren't that clear about it.
DON'T: Go to the Trevi Fountain by day, way too crowded.
DO: Go on a foody Rome Tour with EatingItalyFoodTours, say hi to Kenny from me!
DON'T: Start a diet before your trip to Rome
DO: Go on a VIP Colosseum Tour with WalksofItaly, you not only get to the underground but also to the top, where no one else is allowed to go.
DON'T: Go to the Colosseum when everyone else wants to go, way too crowed and the waiting line is looong.
DO: Book an apartment. This one was mine from Wimdu. I prefer staying in an apartment, as it really makes you feel like living in the city you're visiting.
DON'T: Save money and book an apartment or hotel outside Rome, as it's such a lovely city to explore by foot if you're staying somewhere central.
Last tip: Check out the blog of my friend Amanda (www.revealedrome.com) to get to know more about the eternal city.
AND: The only time it's ok to drink a Cappuccino is in the morning for breakfast with a Cornetto.