To Paris… with one million!
"Do you collect hearts?" A normal question when shopping in a German supermarket regarding the usual reward points you get there and normally I smile diffidently and say "no". But what if someone comes around the corner and ask you "Do you want to have one million reward points?". The answer would be the same for all of us I guess. And exactly this happened to me. The lovely people from IHG Rewards Club gave me one million reward points with the condition to spend it on a dream vacation. My heart skipped a beat. ONE MILLION. And in the very same second another word was whirring through my mind: PARIS! I've been to Paris before but it's been a while and Paris always had a special place in my heart. And I knew that's the place I want to go. And I want to take one of my favourite people in the world with me, my friend Martina, who hasn't been to Paris before. And now hit the play button, lean back and let my take you to Paris…
My favourite moments of four days in Paris

There were many moments in Paris which let my heat skip a beat, let me hold my breath and made me fall even more in love with this city.
End the day in a café at Canal St Martin
Paris in August can be extremely exhausting as there are tourists EVERYWHERE, but we were lucky enough to find some places every now and then we only had to share with some locals. And we loved to pretend we're no tourists but Parisians. My few bites of left school French helped us to order stuff and even sometimes talk a bit with the locals. Mais oui! We stumbled upon Café Bonne Biere when we were walking along Canal St Martin. We started at metro station "Jaurès" and at the end of the canal, at the junction we found Café Bonne Biere. After all we didn't drink beer or wine… we fancied a Cidre!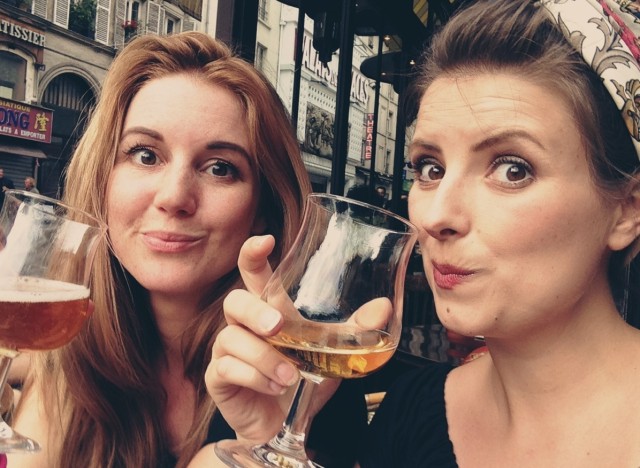 The peanut sellers of Sacré-Cœur
When we left Sacré-Cœur it suddenly started raining. But we thought that belongs to Paris and risked to leave the church and walk in the rain. That worked out well for at least three steps and then it started to pour and we had to seek shelter at the booth of two peanut sellers next to Sacré-Cœur. They are two funny guys and we were talking and joking with them and suddenly one of them started to sing. They loved the fact that I have a French name: Yvonne…
The old ladies of Paris
In many cafés and restaurants we've seen old women, sitting there on their own. Drinking their coffee or enjoying their meal, mostly dressed trés chic. I would have loved to talk to them for hours, but my school French isn't good enough for this. This old lady we've seen in a café in Rue des Martyr, she was just sitting there, watching the other guests and smiling every now and then and sometimes, as you can see in the picture, you could see that her thoughts were far far away.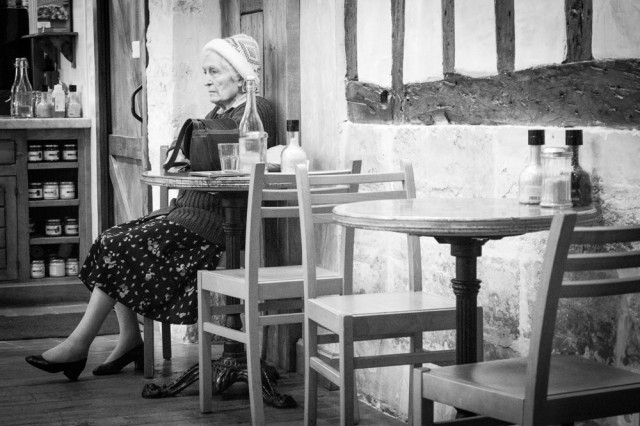 Taking a taxi in Paris

Paris is extremely expensive, sometimes you have to pay up to NINE EUROS for a coffee. But compared to this (and other cities) there's one thing which is extremely cheap: taking the metro or taxi. If you buy a ticket of ten for the metro you pay €1,30 per ride and for a 4-5 kilometer taxi ride you pay around €8-9. Sometimes we just got lost or well, been too lazy to take the metro, that's why we've often chosen taxi over metro. And we were lucky enough to meet some incredible nice taxi drivers, some of them even told us cool stories about Paris. Definitely a nice alternative to book a guided city tour (if you're lucky enough to meet a nice driver).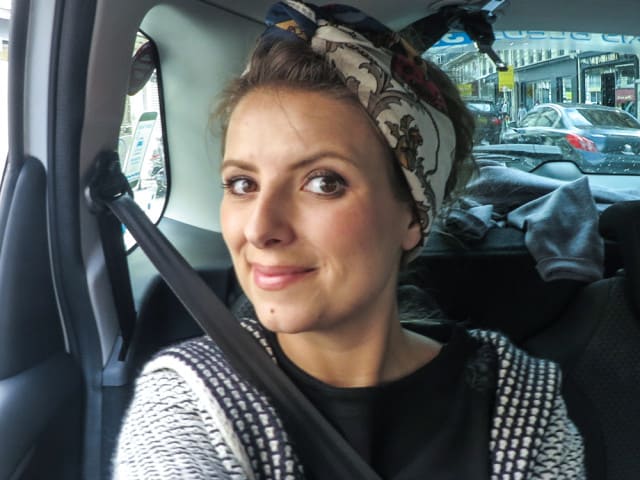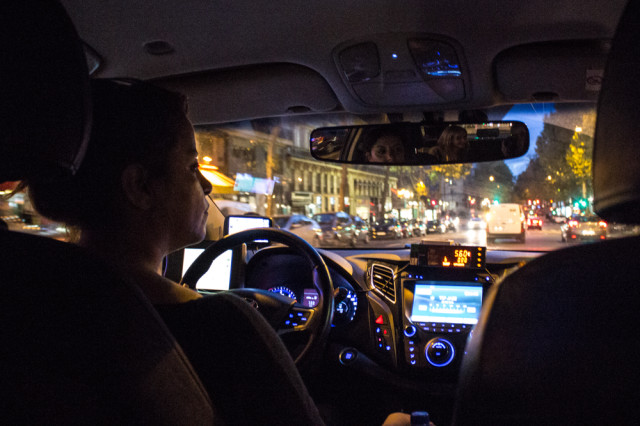 Watch the other tourists at Le Louvre

We didn't want to stand in line for hours but we didn't want to skip Louvre at all so we were walking around there a bit. And it was extremely funny to watch all the other tourists jumping and bending around for the ultimate tourist snap shot. And NO, it's NOT creative to touch the pyramid with your fingers in the picture.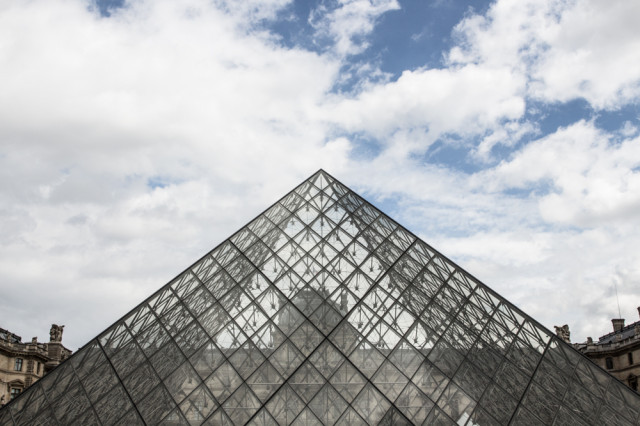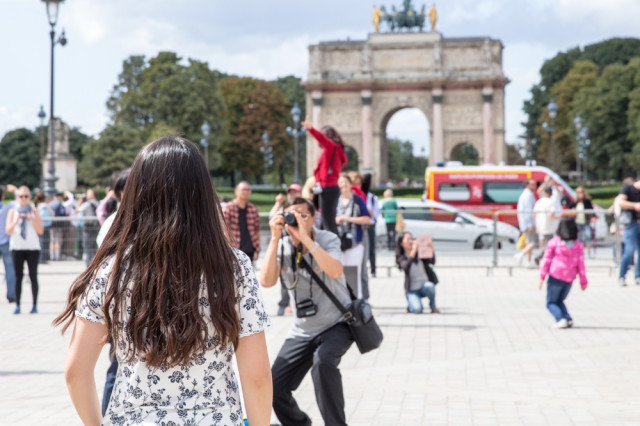 The Eiffel Tower

For sure the Eiffel Tower belongs to every visit in Paris. But everyone should decide precisely how close you want to go, as the closer you get the more tourists will surround you. And influenced by all the other tourists I couldn't resist and also had to take a typical tourist picture…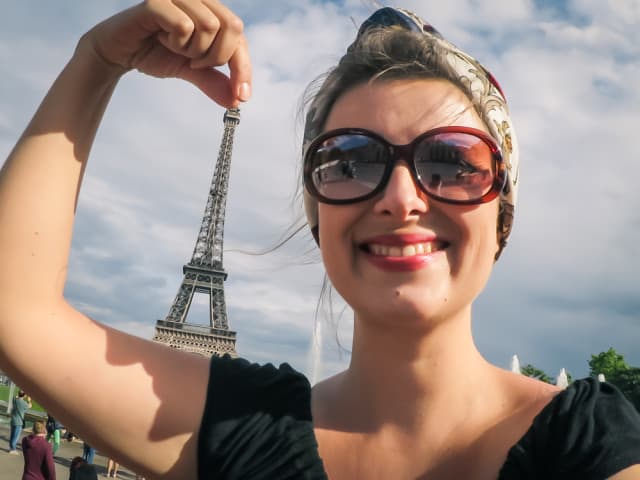 The InterContinental Paris Le Grand Hotel
Thanks to the one million reward points by IHG I was able to let a dream come true… staying at the InterContinental Paris Le Grand Hotel. And yes, it's exactly how I always imagined it would be. Like in the movies.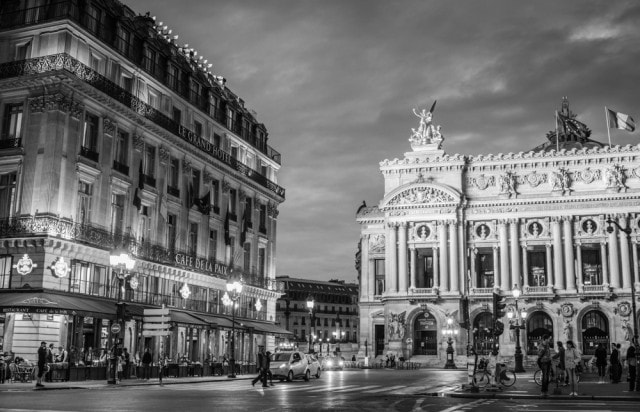 Back in 1862, when it opened, it was known as the best hotel in the world, as it had rooms with en-suite bathrooms and elevators! (Just think about these facts for a second). Many famous persons of the 19th and 20th century stayed here. In the hotel's own Café de la Paix you could have met Mata Hari, Oscar Wilde, Sir Arthur Conan Doyle or Marlene Dietrich.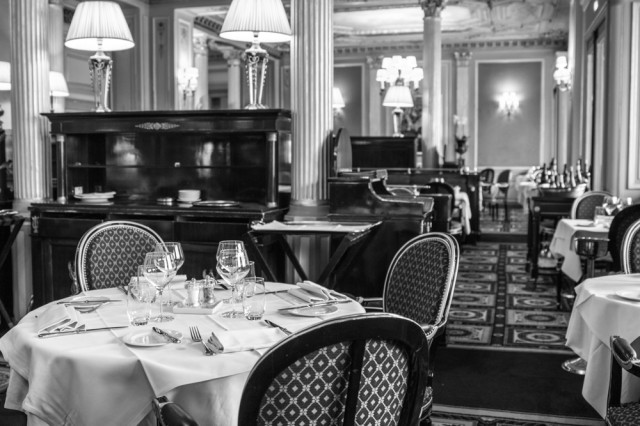 Sarah Bernhardt, one of the most famous actors in 19th and early 20th century used to spend a lot of time in the hotel. Her portrait, painted by Georges Clairins, embellishes the lobby next to the lifts. A picture which really fascinates me and made me think (again!) of how awesome it would be to travel through time.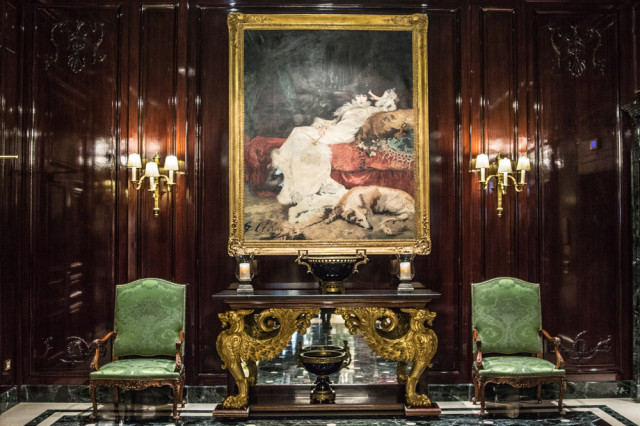 But if you think you need to be a millionaire in real life to afford to staying here for a night, then you're wrong. You can get a room here per night for about €310 for two persons. And that's something you really should treat yourself to at least once.
The best view over Paris?

I still think you get the best view over Paris from the stairs in front of Sacré-Cœur, especially when sun is setting. But we wanted to try out something else and headed to Tour de Montparnasse. It extremely expensive as they take €15 per person (just to take a LIFT!) and the tourist crowd up there was extremely annoying but yes, you get a spectacular view.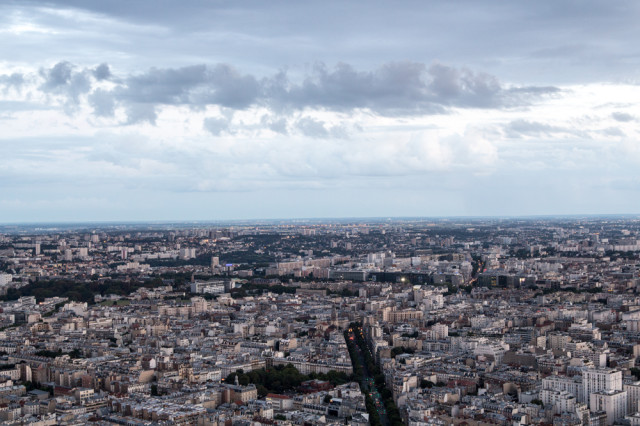 To feel like a millionaire

Lets get back to the facts. Did I spend the whole million reward points for Paris? No. I've booked two flight for Martina and me from Berlin to Paris, that was 202.000 points. And we spent 50.000 points per night at the InterContinental Paris Le Grand. The remaining reward points I've spent for gifts for Martina and me. Among other things I've decided to get a GoPro, which sadly didn't arrive in time before our trip to Paris, but which will be great to play around with at Burning Man Festival later this month. And some points I've kept, quasi as base for my upcoming collection, as for sure I have a Member Card now and will start collecting reward points. I would be stupid if I wouldn't, the IHG Rewards Club is the first and biggest hotel reward program and you collect points in over 4.700 hotels worldwide (Like InterContinental Hotels, Holiday Inn or Hotel Indigo). And last but not least as a member I get free internet access in every IHG hotel. Any maybe I will also start collecting hearts soon. Who knows…
Disclosure: This post is presented to you in cooperation with IHG Rewards Club. If you want to know what other bloggers did with their one million points check out this.