Paragliding Switzerland – What to expect and where to go
If you could have any superpower, what would it be? If you answered flying, then you should definitely book a paragliding Switzerland trip! Ever since I was little, my answer for superpower was flying. I was so excited and terrified to be a bird for an hour. When I visited Switzerland, I knew it was the perfect place to try paragliding. The unbelievable mountain views combined with experienced guides and companies. I was completely terrified but it was absolutely worth it!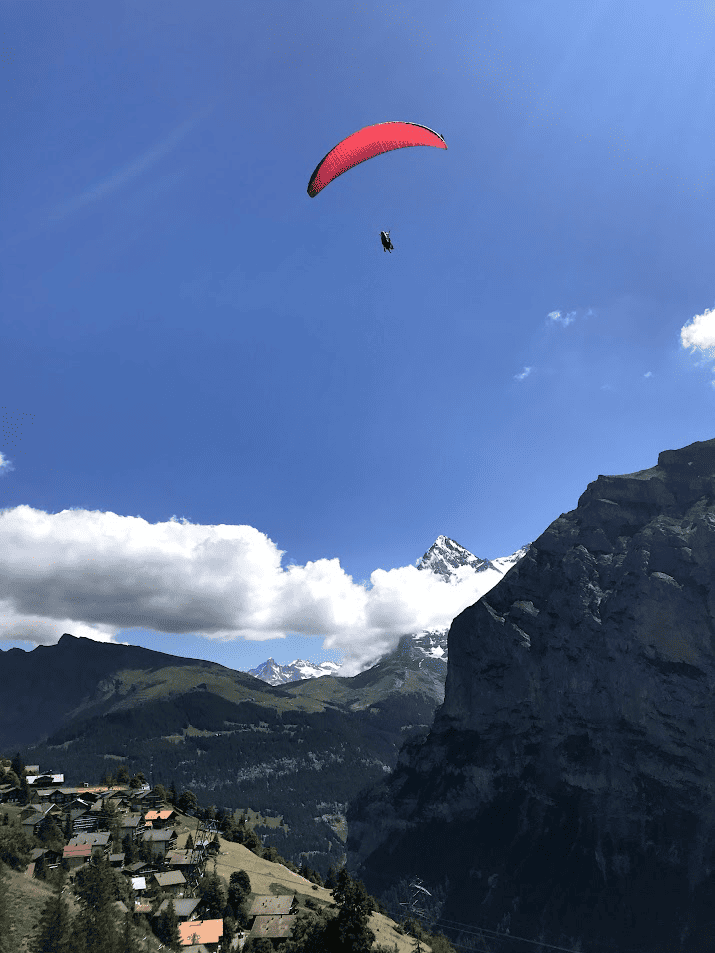 So, What is paragliding?
Paragliding is the closest you will ever get to feeling like a bird. Tandem paragliding allows you and an experienced pilot to fly using the same paraglider. You and the pilot sit safely in a harness connected to the paraglider. The pilot will sit behind you and handle all the hard work of steering and connecting all the equipment.
Where to paraglide in Switzerland:
I went around Interlaken and it was spectacular. I would recommend 10/10. The views were incredible. The company was very experienced and handled my anxiety very well throughout the entire trip. My best friend also went in Lucerne and absolutely loved it so if you are staying closer to Lucerne, check the link below.
Paragliding Switzerland – Interlaken
The cheapest place I found to book with an established company called Skywings. It can sell out in the summer months so I would recommend booking in advance.
Paragliding Switzerland – Lucerne
If you are staying close to Lucerne, my friend used this company on her trip and loved it.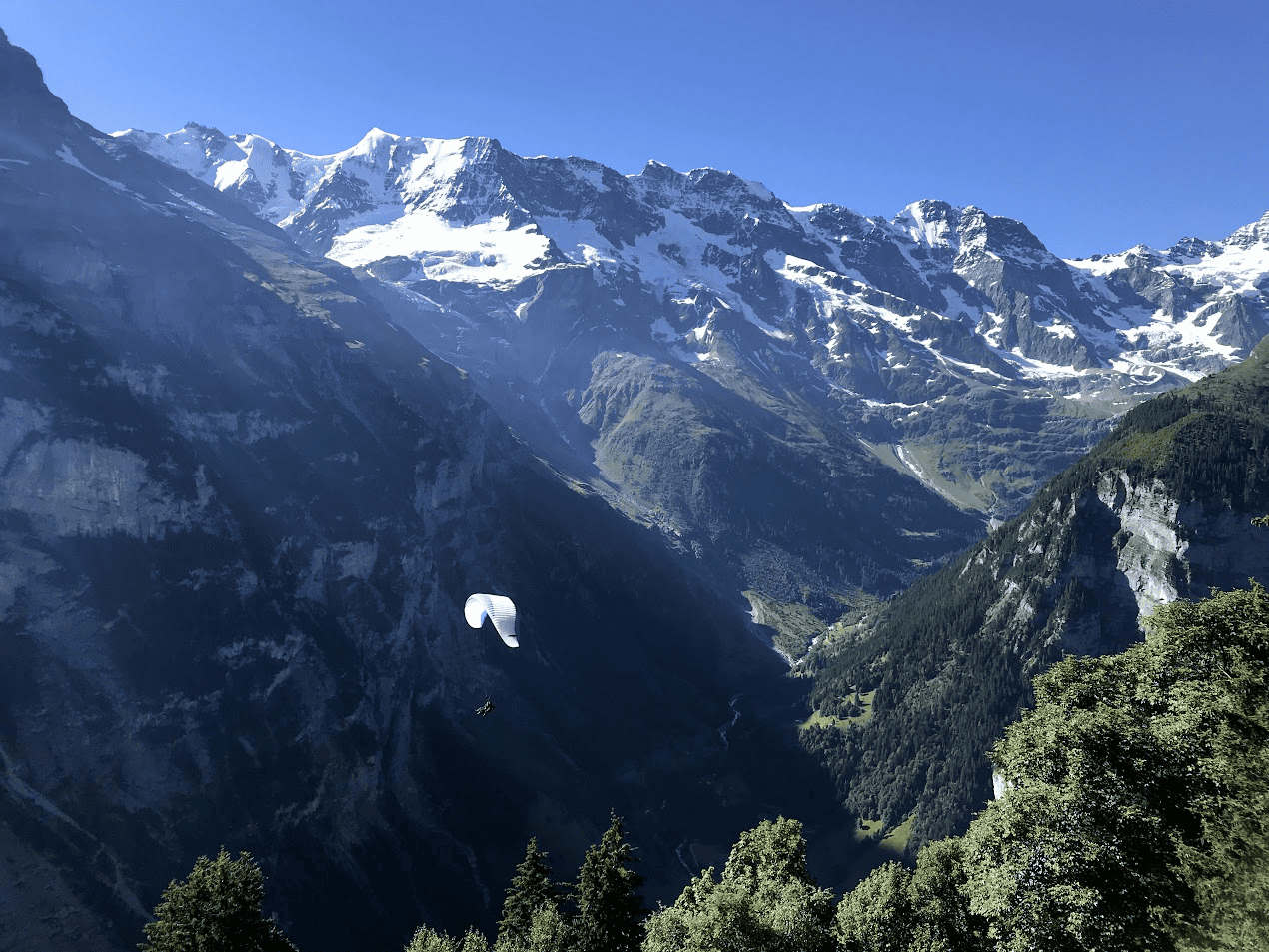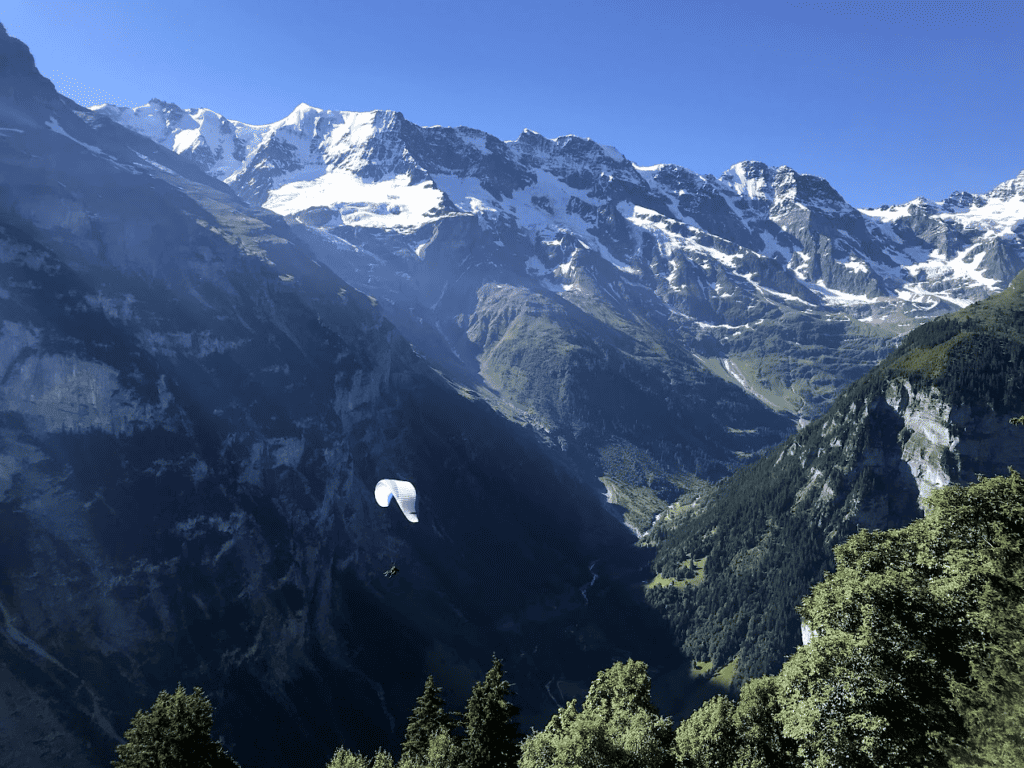 What to expect from your first time paragliding?
Book a tandem flight with an experienced guide. My guide flew over 200 times already that year so I felt comfortable in his experience. On a tandem flight, both you and your guide will be attached to the same paraglider/parachute. The guide will tell you what to do at every moment along the journey. The tandem flight is suitable for all ages and does not require any prior experience.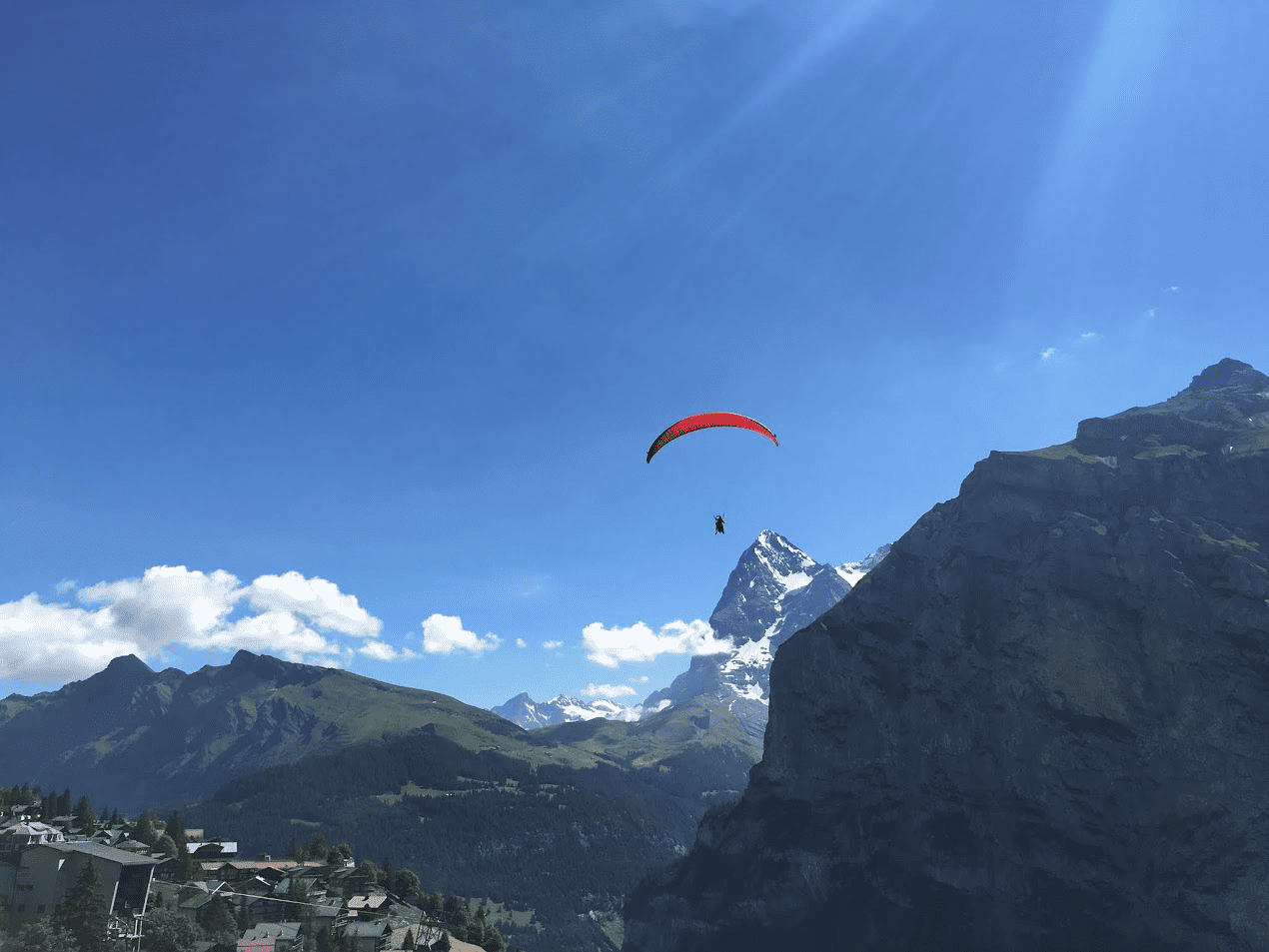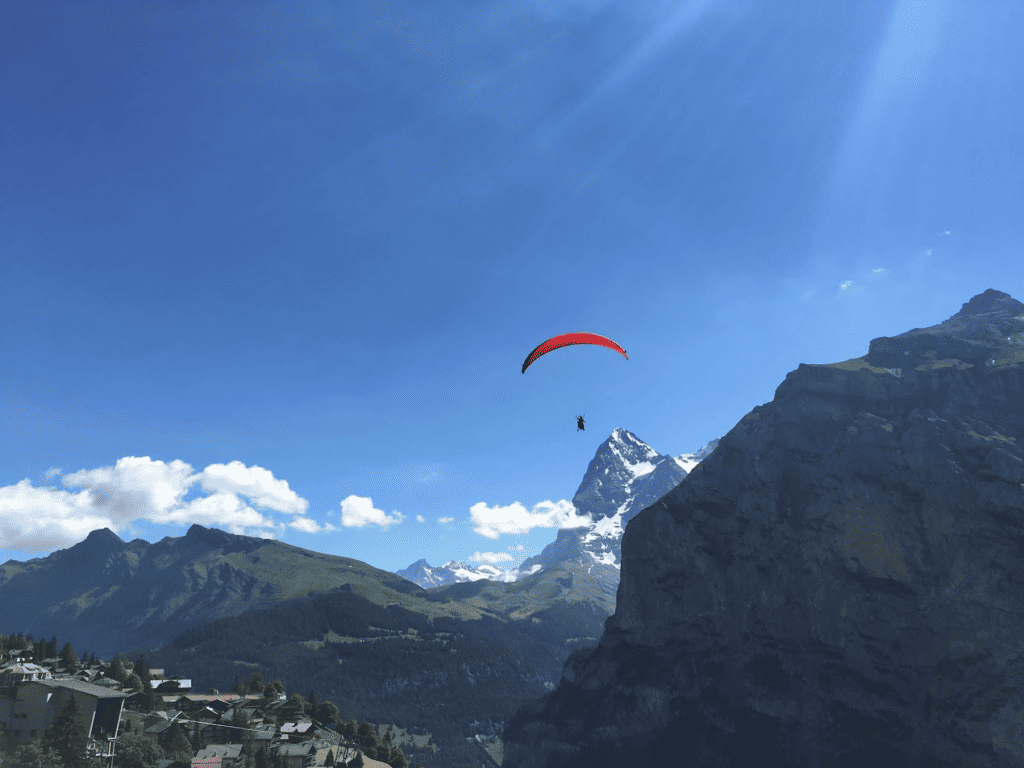 Paragliding: Step by Step what to expect
Listen to the instructions from your guide but here was my experience:
You will meet your guide and he/she will provide general instructions on what to expect.
You will hike up to the launch point with your guide (usually on the edge of a cliff or mountain).
The guide will set up the parachute.
You will get strapped into the gear and attach your helmet. The guide will check and double-check all the safety connections are secured.
Ready for take-off! You and your guide will run a few steps together until the parachute catches wind! Then you will sit back and relax for your 15-20 minutes of paradise in the sky!
Up in the air, I actually found incredibly relaxing. You sit back and take in the breathtaking views from all around. The paragliding gear forms a little chair so it was actually very comfortable. You will glide back and forth with the wind guiding you across the valley. The silence is something so beautiful as well; you experience the mountains in total serenity of sound. My guide at one point offered for me to take control to fly the controls but that is up to you. He also had a selfie stick to capture some of the best moments. One strange recommendation but smile wide with your teeth while you are up in the air. I was completely mesmerized on the ride but on the video, I am just giving a closed-mouth smirk.
Landing: After about 15 minutes, you will start getting closer and closer to the ground. Once you are close to the ground, your guide will instruct you. Mine told me to just keep my feet up in the air and he did the work to land us on the ground. You quickly disconnect from the equipment and the guide puts away all the equipment.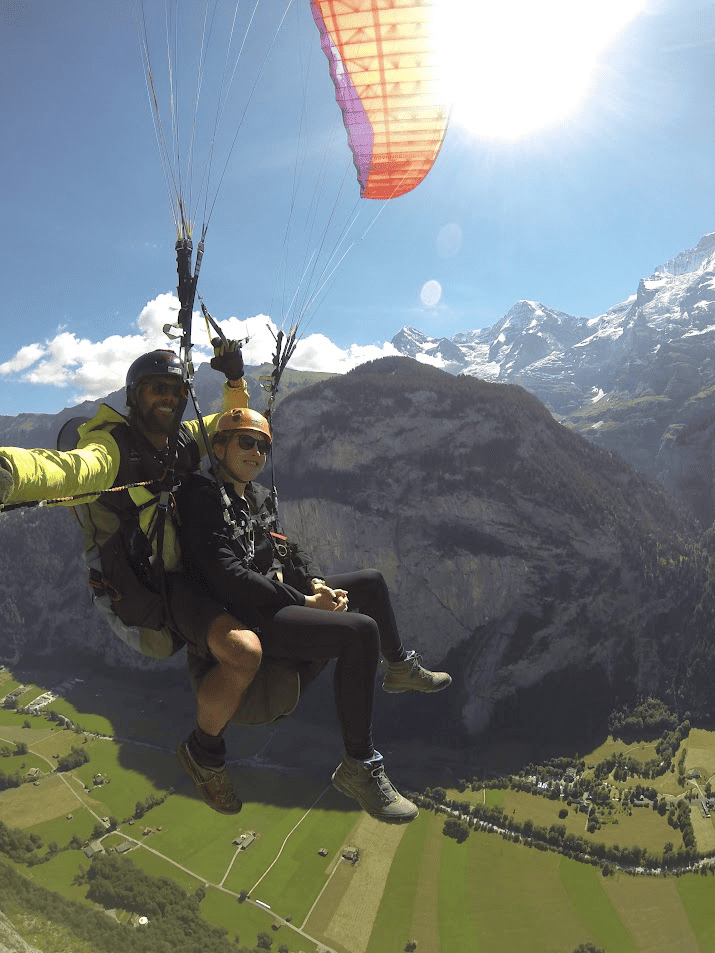 What should you wear when you paragliding Switzerland:
Pants and sneakers are a must so I wore gym clothes. If you have long hair, you will need to tie it back so it does not get caught in anything. If it is a little cooler, definitely bring a jacket with wind resistance.
Need other inspiration for your Switzerland trip – Check our article about Tour du Mont Blanc!