Scotland for Beginners – My 5 Day Tour by Car
You want to travel Scotland but you have no idea where to start planning? I had the same problem before my trip to Scotland! That's why I've asked for tips on my Facebook page and also asked some friends who've been there before. And I got some great tips, and I think my Scotland trip was the perfect tour for beginners!
Scotland for Beginners – From Edinburgh through the Highlands to Inverness by car
I think the best way to travel Scotland is by car. I just loved to drive around in the Highlands and to decide spontaneously where to go, which is easy if you have a GPS which will bring you back on the right route. I took me five days to do the tour, and I think for a first impression you need at least five days, if you have more time: even better!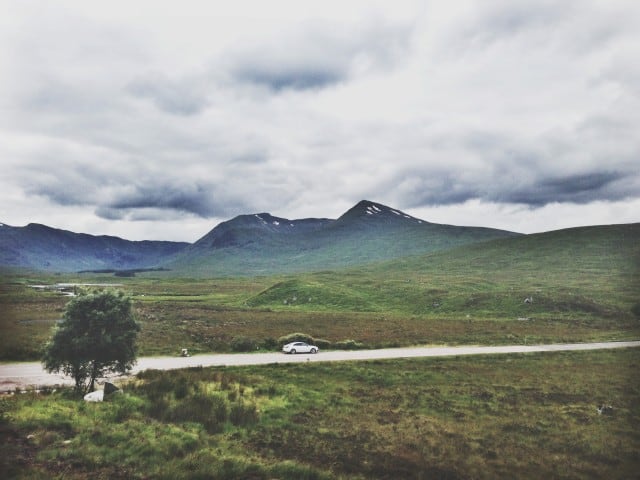 My "ship" in the middle of nowhere

Day 1 – Edinburgh
My Scotland trip started in Edinburgh, a really pretty city. If you only plan to stay for one day – hope for good weather, walk around in the old town and enjoy sitting in one of the many parks!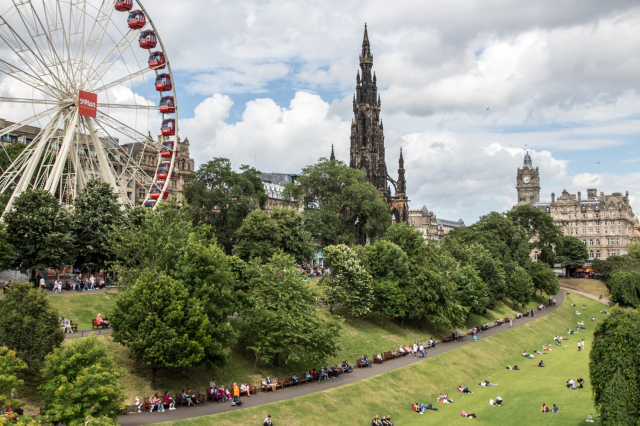 In the evening I recommend you to take one of the ghost tours! I've joined Ken from Auld Reekie Tours for a walk around the city and its vaults and it really gave me the creeps!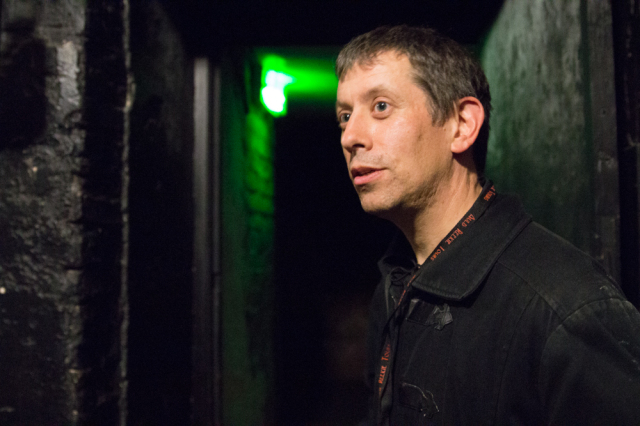 Tourguide Ken of Auld Reekie Tours
I've stayed at The Bonham in Edinburgh. A really beautiful boutique hotel with its very own charm. And I'm not pretty sure, but it might be haunted… I had some strange dreams that night… (not weird strange but good strange) might be also have been an aftermath from the ghost tour… but: just saying!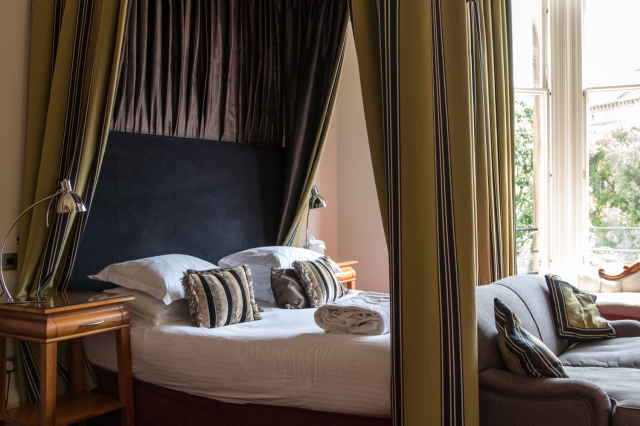 If you decide to stay some more days in Edinburgh make sure to check out the Edinburgh tips on Budgettraveller by my friend Kash!
Day 2 Doune Castle, Glencoe
The next morning I was on my way to Doune Castle. All Monty Python, Game of Thrones and Outlander fans might know this castle! Yes, Doune Castle often was used as a filming location! I knew about Monty Python and Game of Thrones but didn't know about the Outlander series. What a nice surprise to recognize Castle Leoch while watching the show! (Sigh. Jamie.)
But that's not the only reason why you should visit Doune Castle. It's a real beauty and if you go there during the week there's a good chance there won't be that many tourists around. Tip: take the audio guide and enjoy some Monty Python insiders while touring the castle!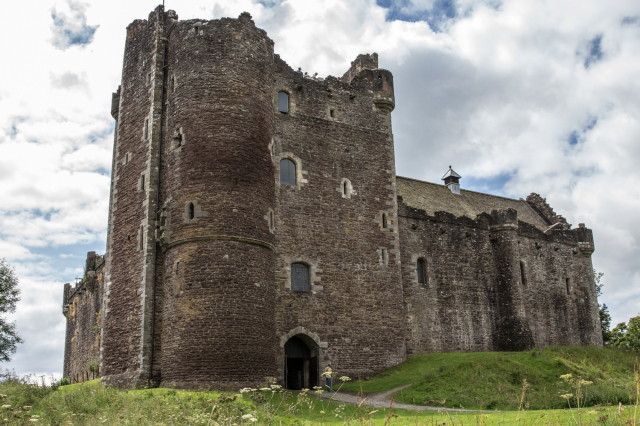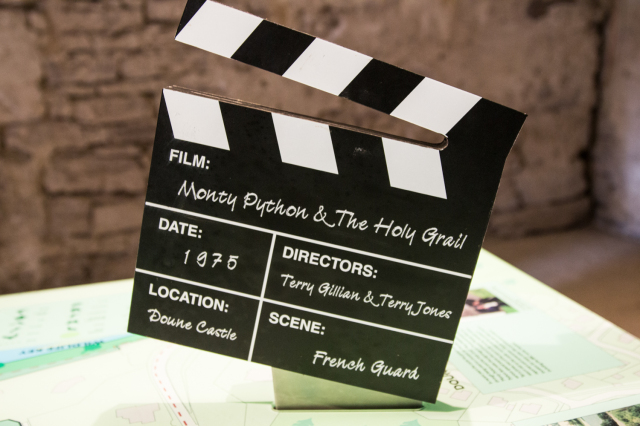 Next stop: Glencoe. Normally the drive takes around two hours, but, well, the journey is the destination, right? That's true for this drive. The town Glencoe didn't really convince me but Glencoe valley and the whole drive there… unbelievable beautiful! Definitely bring a LOT of time!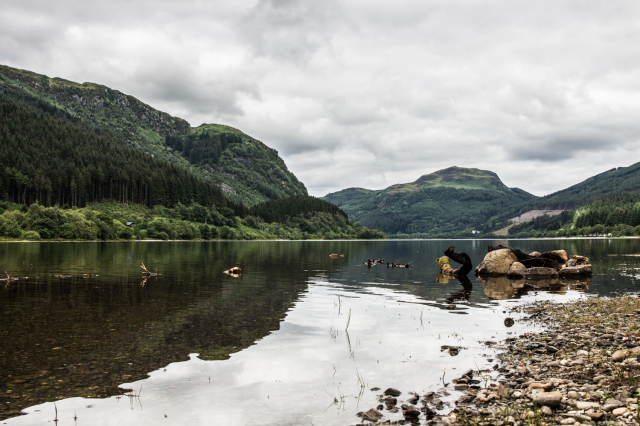 Loch Lubnig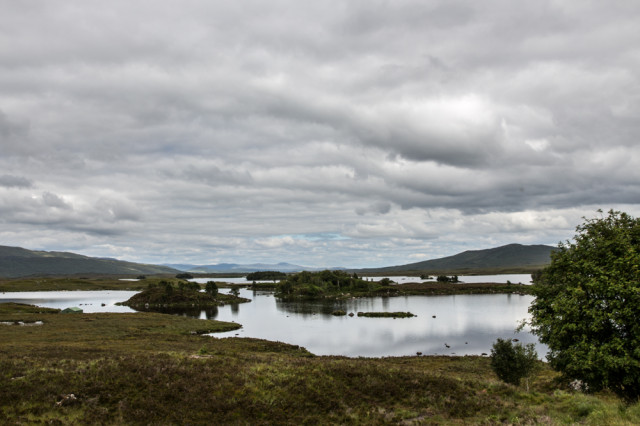 Glencoe Valley
When you've passed Glencoe you will find one of the most charming B&B ever! Definitely want to go there AGAIN!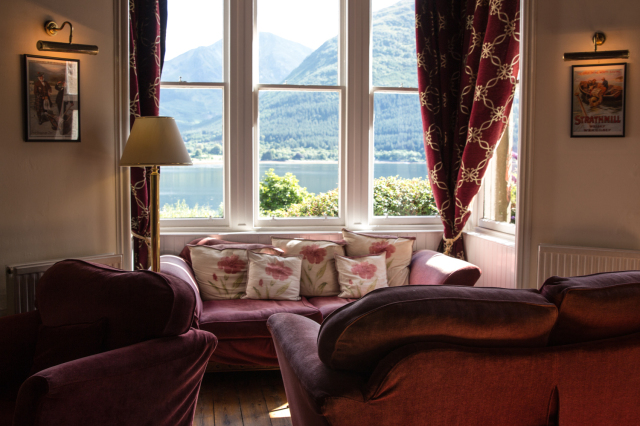 The view from the living room in Creag Mhor Lodge
Perfect location, perfect view, lovely interior and lovely owner! And it was that evening I fell in love with Scotland! When I found this place just a short two miles walk away from the Creag Mhor Lodge: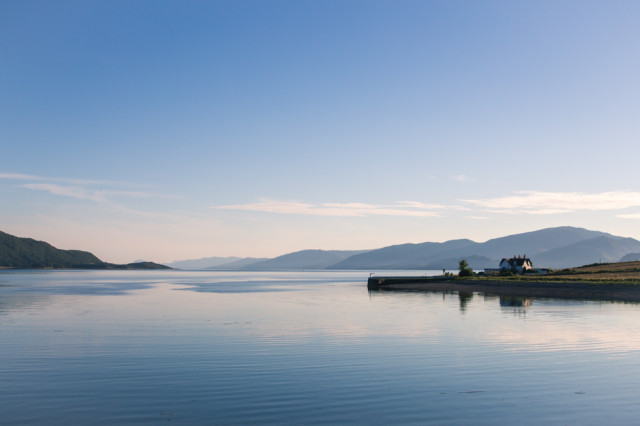 Read: The whole love story and why I was crying for days after this evening.
Day 3 Glenfinnan Viaduct, Eilean Donean Castle
It was really hard for me to leave the next morning… but I wanted to see more of Scotland! I got a very good tip that hiking Ben Nevis is not the only way to get to the top… there's also a gondola! So I decided to give it a try… just to find out the gondola was closed that day due to high winds. Well, I've tried… Instead I hit the road to Glenfinnan viaduct.. just to find out I've missed the train by FIVE minutes. Too bad!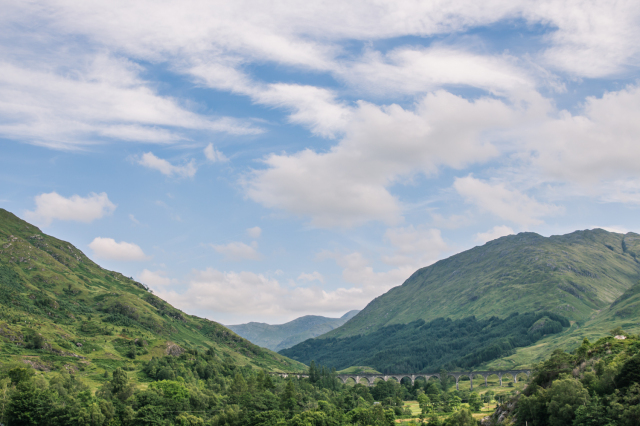 So I decided to hit the road again, listen to the Braveheart soundtrack in full volume and cry a bit more (and avoid as many tourists as possible).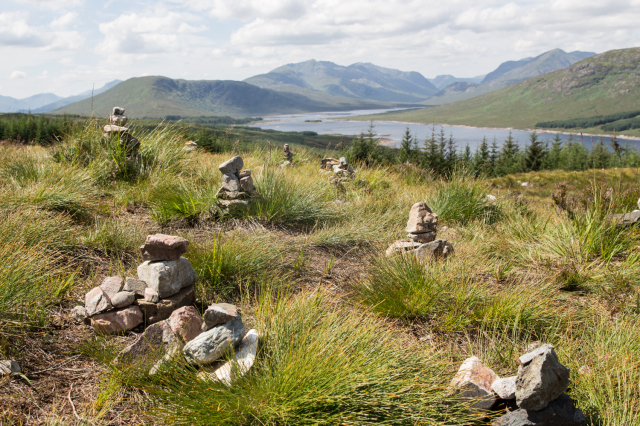 And then I was finally standing in front of Eilean Donan Castle. The castle I had as a screen saver for oh so many year. Sigh. It is really that beautiful! (And made me cry. AGAIN)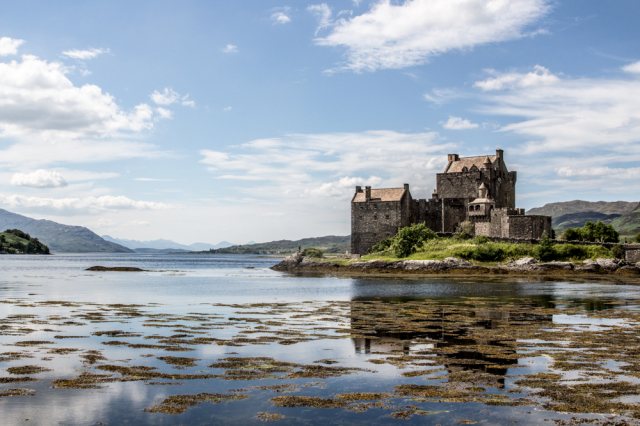 I've stayed in a tiny little village called Strathcarron. The hotel there is pretty simple but the stuff is super friendly and you do have to visit the pub there!
Day 4 Highland Games
I was lucky enough to visit Scotland during the Highland Games, which normally happen during July and August. You can check out when and where here. I've decided to go for small village Highland Games, as I hoped to get the real "local" feeling and Lochcarron was definitely a great choice! Soon I will tell you more about my Highland Games experience… for now I leave you with this: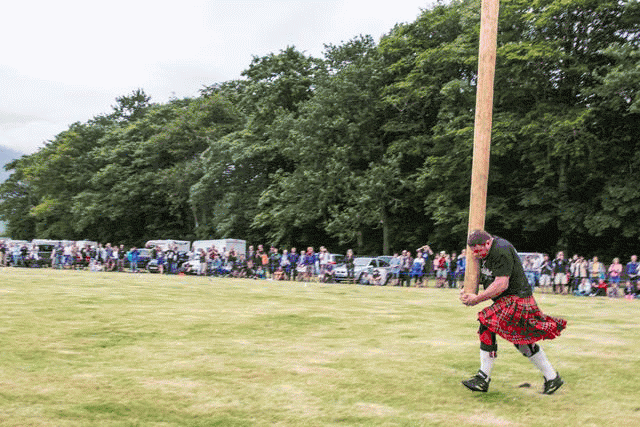 If there are no Highland Games to visit during your stay I recommend to use this day to drive deeper into the Highlands.
That night I finally made my way to most famous loch in Scotland: Loch Ness!
Day 5 Loch Ness/Inverness
If you're staying at The Loch Ness Clansman Hotel there's a huge chance you'll meet Willie Cameron. He's known as "Mr. Loch Ness (and director of the Clansman hotel).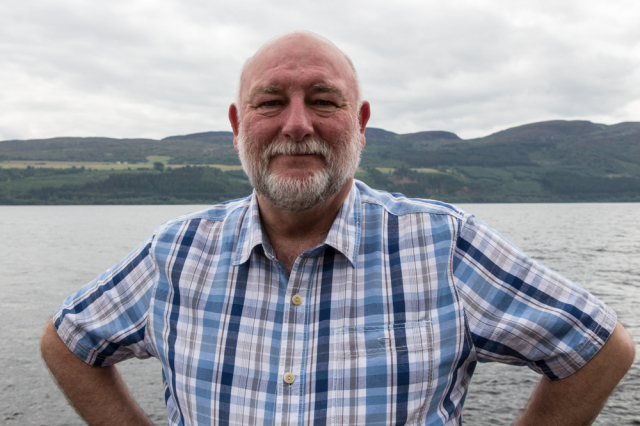 He knows ALL the stories about Nessie and loves to tell them. Especially the story about Nessie and his father. Yes, his father saw Nessie in 1965. Willie himself hasn't seen Nessie – yet. But he believes in Nessie…! But well, I did see Nessie… but it looked kind of different from expected…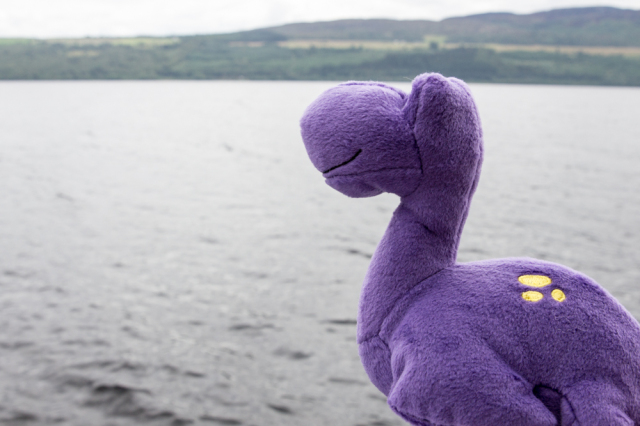 If you don't want to do the typical touristic Loch Ness boat tour I recommend to take your car and drive up and down Loch Ness. There are many beautiful streets (but be careful: some of them are single-lane only!) but you'll be rewarded with views like this: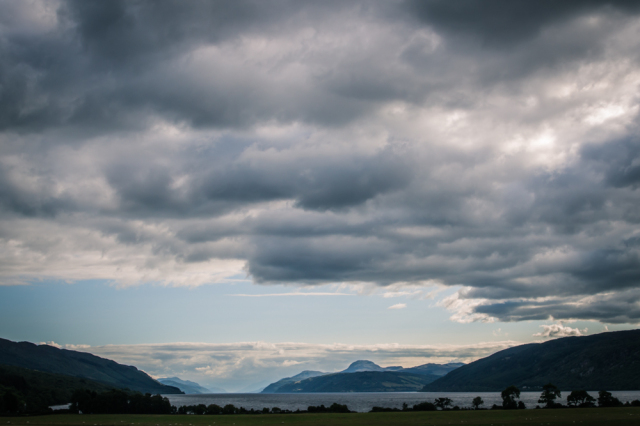 Inverness itself didn't really impress me, but that might be because I fell in love with the Highlands so much I wasn't that much into civilization that day… my favourite place in Inverness are the Ness Islands. Perfect for a walk in the evening! And if you have some more time to spend you should definitely see Culloden, not only if you're a fan of Diana Gabaldon's Outlander Saga.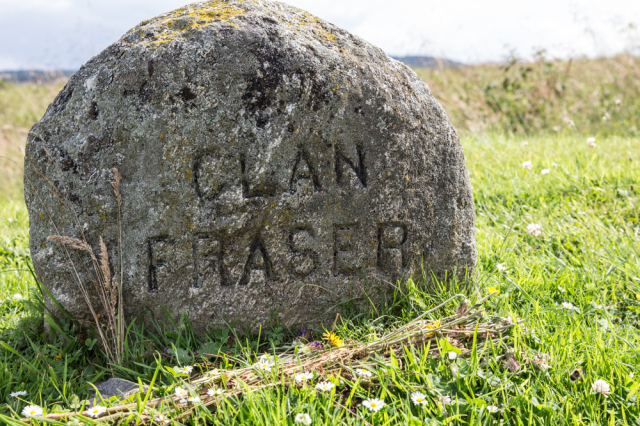 Fraser memorial in Culloden
And last but not least here's a little map of my Scotland trip… as you can see you COULD drive this tour in one day… but that doesn't make any sense, right?
Have you been to Scotland? What do you think one can't miss when visiting Scotland for the first time?
Disclosure: This post is part of a cooperation between Reiseblogger Kollektiv and Visit Britain. Thanks to sunnycars.de for providing me with the rental car! Some links in this post are affiliate links.