The Perfect Croatia Vacation Roadtrip
Croatia was on our list for a while. Last year, we spent a month in Croatia, enjoying a perfect Croatia vacation in this stunning country nestled along the Adriatic Sea. I highly recommend visiting this unbelievable country. The nature is incredible, the infrastructure is excellent, and most people speak English and are incredibly friendly.
Join us on an epic journey as we take you through the sun-soaked landscapes, national parks, historic towns, and breathtaking vistas of Croatia on our perfect Croatia vacation road trip. From the enchanting streets of Vrbnik to the waterfalls of Plitvice, the adrenaline-fueled adventures in Omiš, and the timeless beauty of Dubrovnik, this Croatia Vacation Road trip is an adventure from start to finish.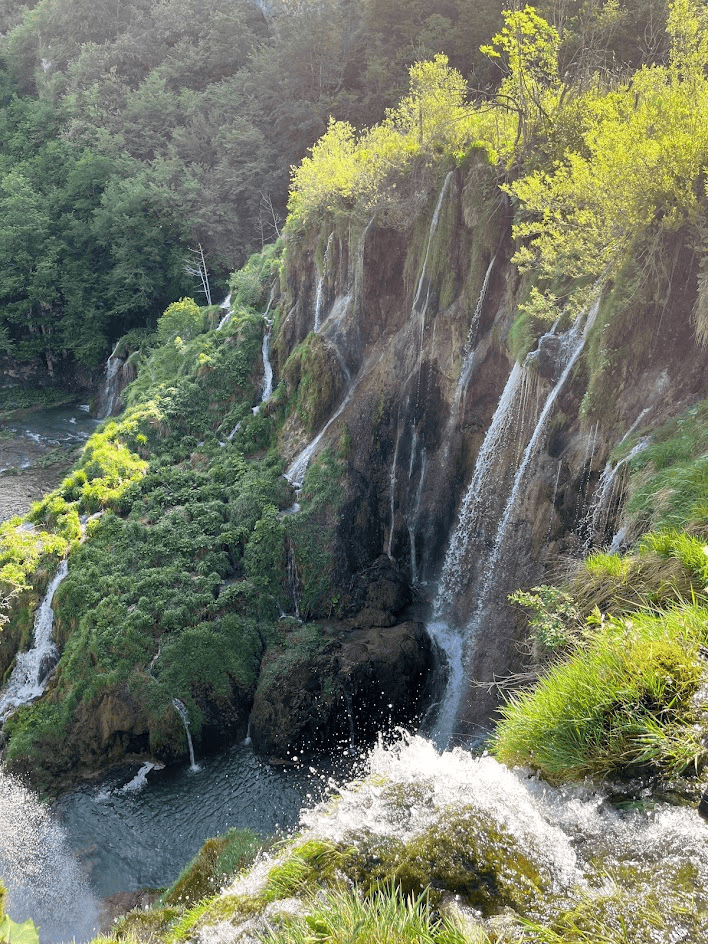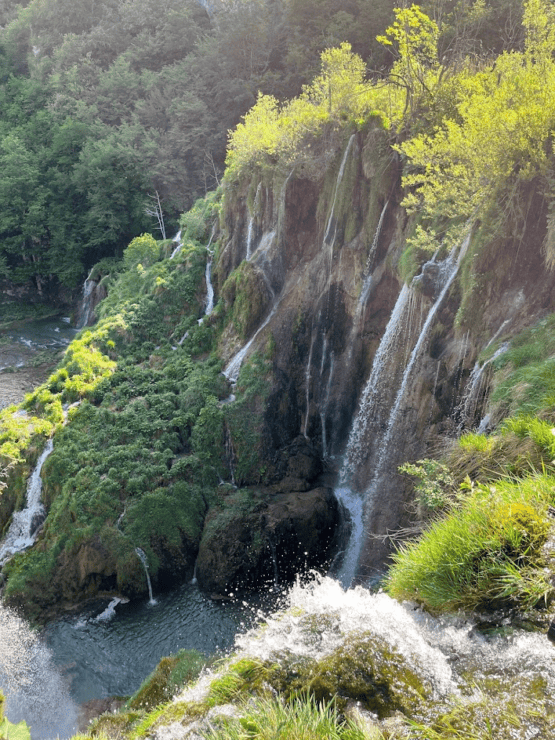 Setting the Route for our Croatia Vacation Roadtrip
We planned our Croatia vacation to hit as many national parks as possible while hitting all the Croatia essentials on the mainland. We flew into Zagreb (usually much cheaper) and made our way slowly south down to Dubrovnik.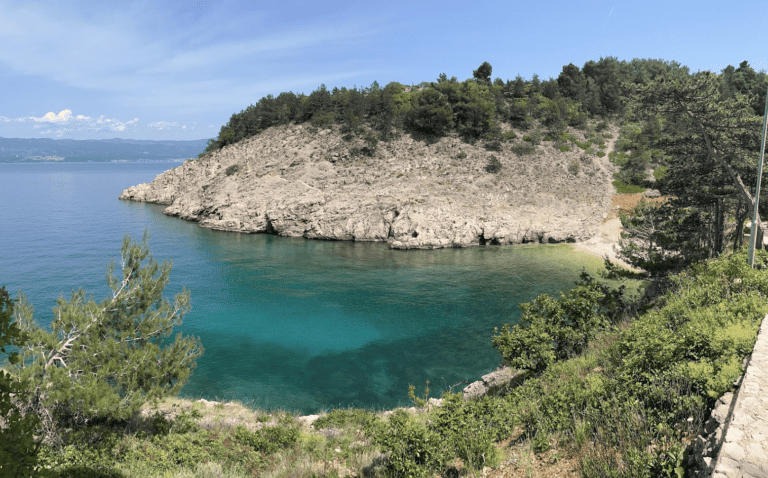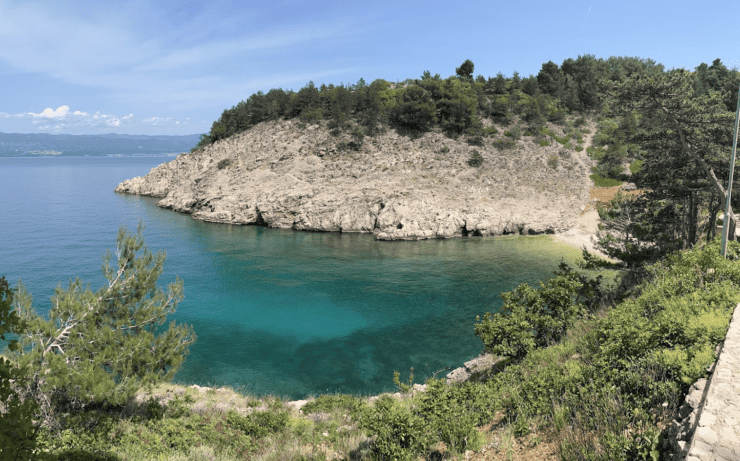 Vrbnik – First Stop on our Croatia Vacation
I love starting a road trip with a small town to get acquainted with the heart of a country. We flew into Zagreb and drove 2 hours south to Vrbnik. Vrbnik is a charming little town on the island of Krk. It is a small cliff town with crystal waters, beautiful beaches, dozens of local vineyards, and cobblestone alleys perfect for getting lost and wandering.
We worked from here for a few days and had an amazing Airbnb that overlooked the city. This small town was a great way to start the trip away from the crowds. We enjoyed a beach to ourselves, a hike in nearby Risnjak National Park, and a beautiful dinner with a beautiful view of the sunset. It was a beautiful calm start of the trip to start the vacation vibes!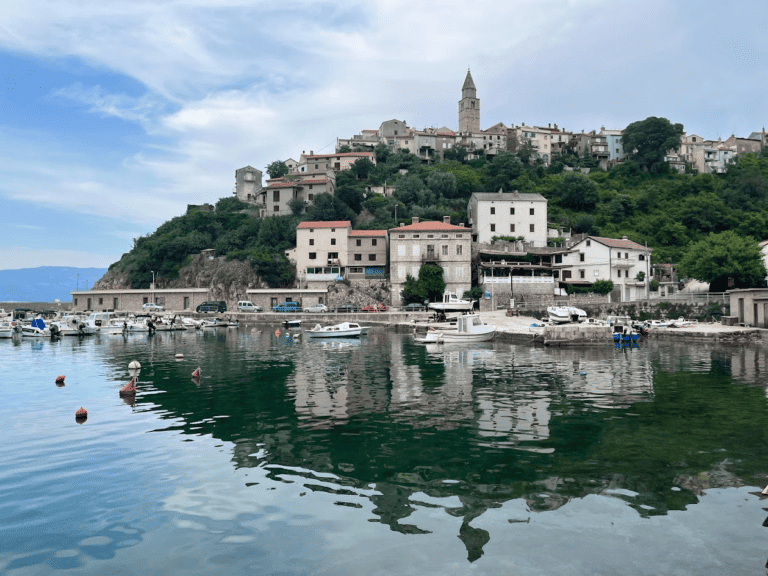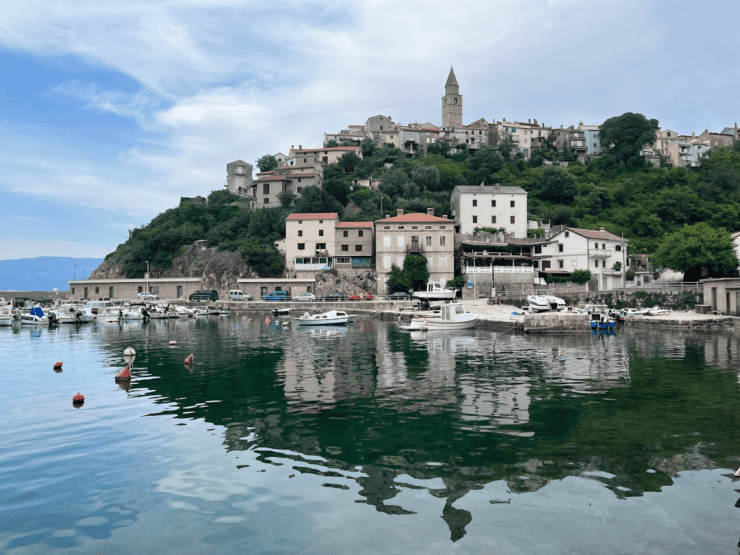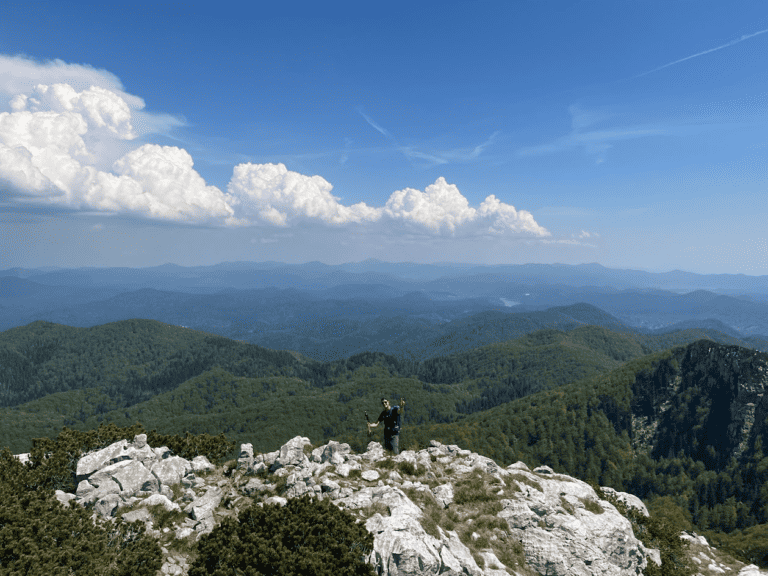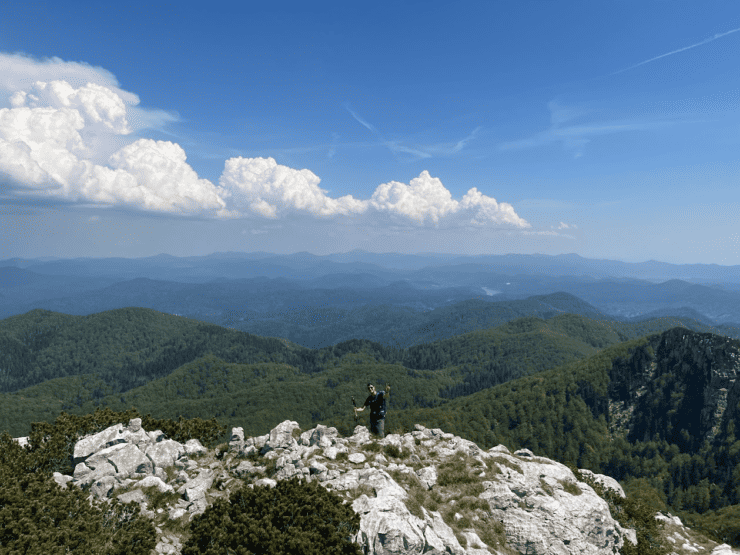 Plitvice Lakes – Essential Stop on any Croatia Vacation
Next, we drove 2 hours to the Croatia Vacation Essential: Plitvice Lakes National Park. This popular destination should be on everyone's Croatia list.
I highly recommend staying in the hotel on the park grounds. This allowed us to wake up and reach the park right as it opened. We went at 7am to start our walk around the lakes. I highly recommend that. We enjoyed this beautiful park in peace for 2 hours before the tour buses arrived. I heard from many friends the park was almost too crowded to enjoy, but visiting Croatia in May (off-season) and waking up early meant we had the park almost to ourselves for a few hours.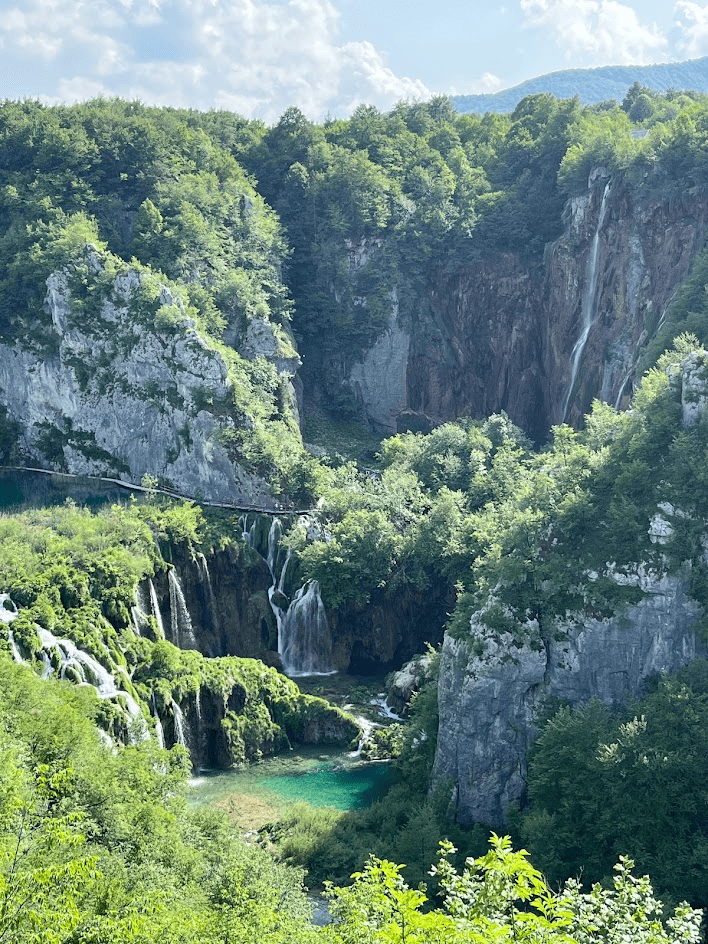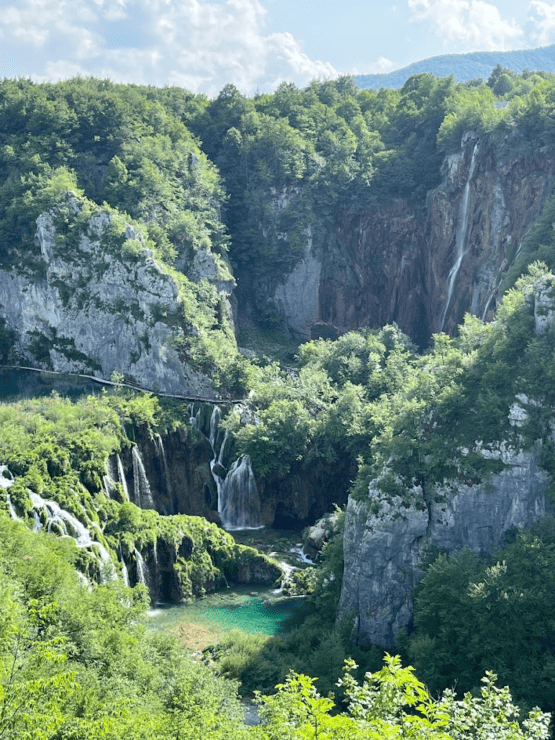 Plitvice Lakes is the oldest and largest national park in Croatia. It is on the UNESCO World Heritage List and certainly deserves it. The series of waterfalls over 16 lake system is just breathtaking. The park is divided into upper lakes and lower lakes. The lower lakes are more popular, so hit those first, but the upper lakes were more beautiful.
The full lake hiking route (Route C) is 8km but very easy on elevation. It can easily be hiked by all visitors that can walk comfortably up a few flights of stairs. It takes around 4 – 6 hours, depending on the crowds. You also have two route options of just the lower lakes, which is shorter. The park is very well labeled, and the rangers are everywhere and very happy to answer any questions you have.
There is also a boat that takes you across the main lake and a train. Both are included in your ticket. Definitely plan to spend the entire day in the park. There are some options for food and drinks inside. You cannot swim in the lakes since it is a UNESCO site.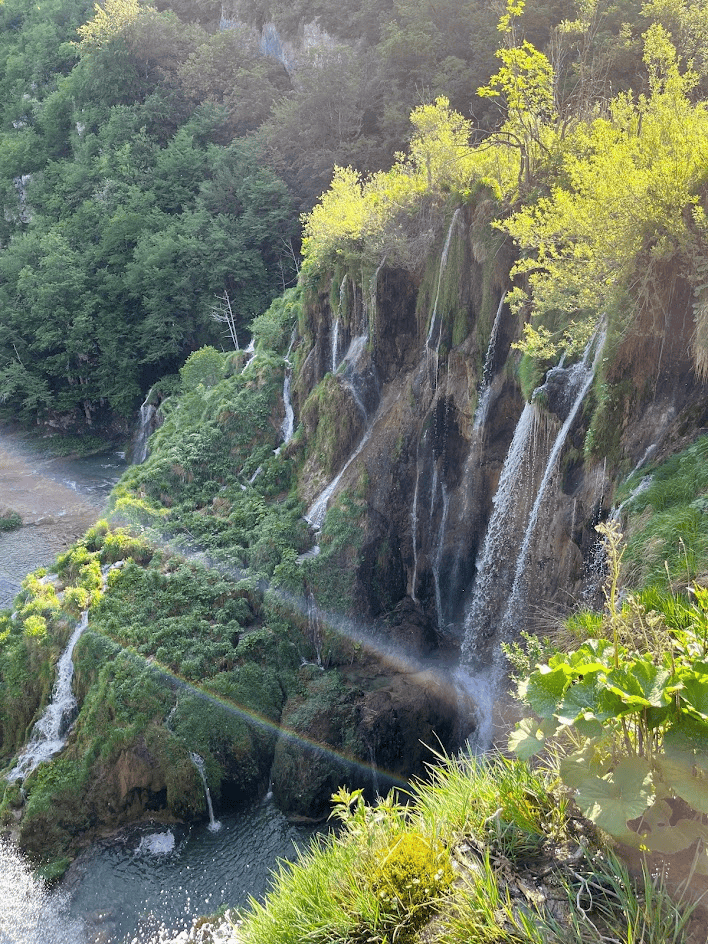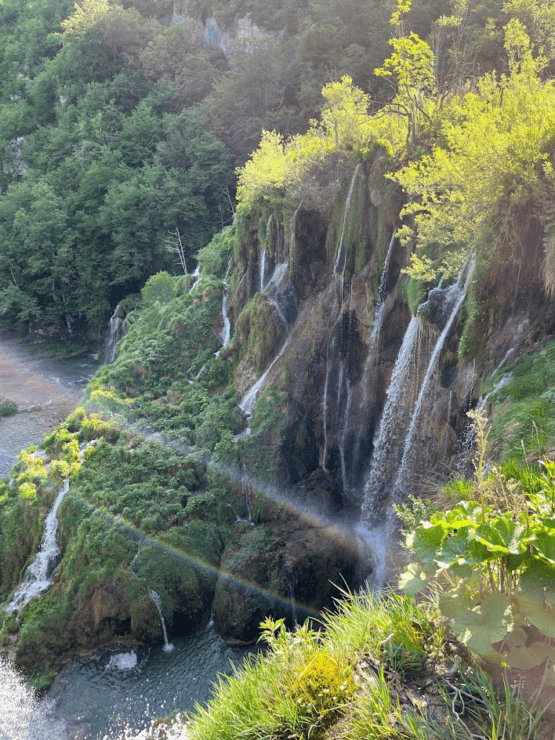 A true highlight of the road trip is Plitvice Lakes National Park. Wander along wooden pathways that wind through a wonderland of cascading waterfalls, turquoise lakes, and lush forests. This natural masterpiece is a paradise for hikers, photographers, and anyone seeking solace in nature's embrace.
As I journeyed deeper, Plitvice Lakes National Park was a mesmerizing surprise. A tapestry of cascading waterfalls and turquoise lakes unfolded before me. Wooden pathways led me through this fairyland, making me feel like I was in a fantasy movie. Plitvice Lakes was nature at its most enchanting.
Some day tour options: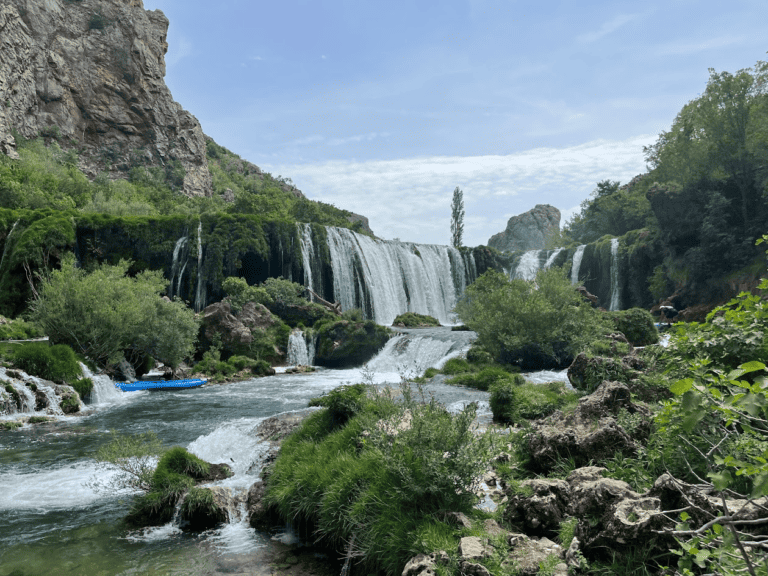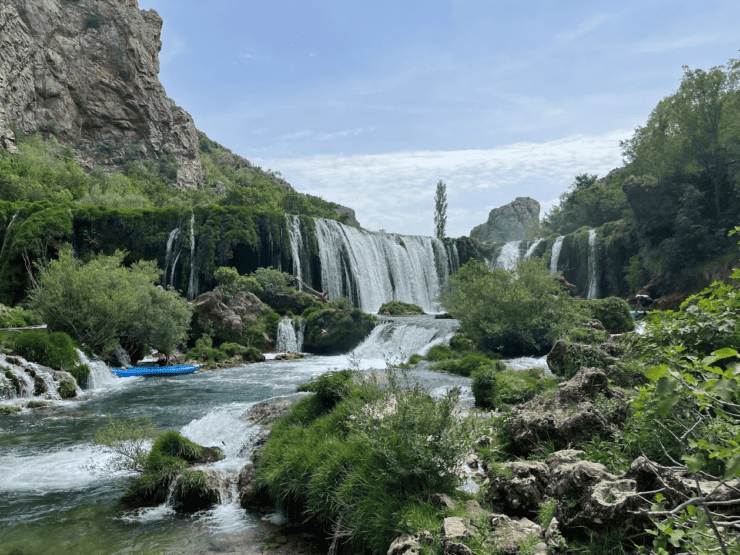 Kayaking on Zrmanja River
On the next day, we did a kayak tour nearby along the Zramanja River. It was a great follow-up to Plitvice since you could swim in the river and kayak all day. The 5-hour kayak tour left plenty of time to enjoy nature and swim in the waterfalls. Highly recommend this company. They did a great job organizing, and swimming in paradise surrounded by waterfalls was one of the highlights of our trip.
Omis
The next stop was Omis, just a tiny slice of paradise. We wish we had spent more time here. It is just an hour from Split with none of the crowds. The town is charming, the mountains overlooking the sea are breathtaking, and the river that cuts through the mountain range is just stunning. We spent our few days here ziplining, hiking, and relaxing on the beach. Omis was the perfect balance of nature's wonders and heart-pounding thrills.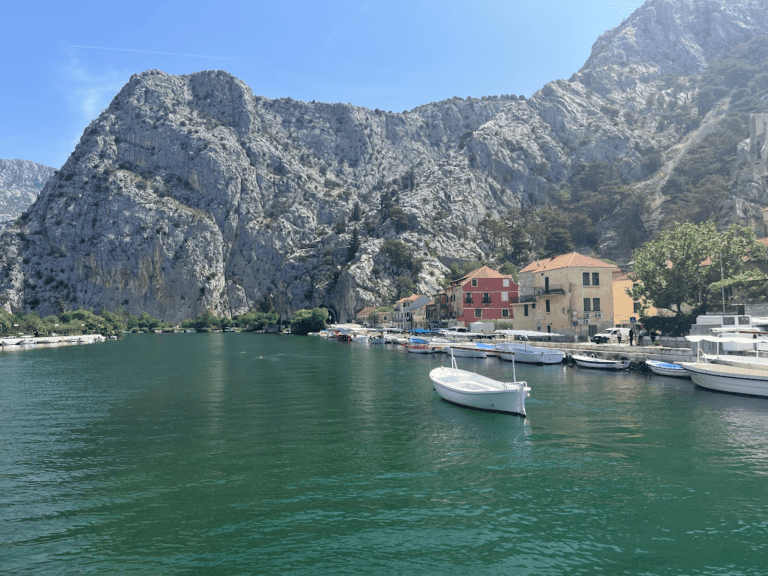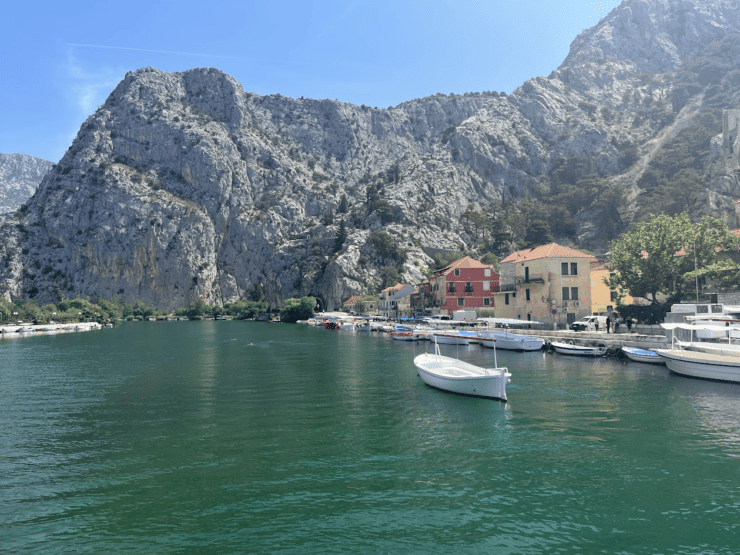 The Zipline Croatia location is in Omis (less than a 1-hour drive from Split). One of our favorite activities in Croatia was Zipline Croatia. We ziplined before in other places, but this was by far the most beautiful zipline experience! We rode 8 zipline wires back and forth across the Cetina River. The zipline Croatia totals 2,100 meters in length. The experienced guides made us feel very safe throughout the 3-hour tour. Highly recommend this Zipline Croatia Experience!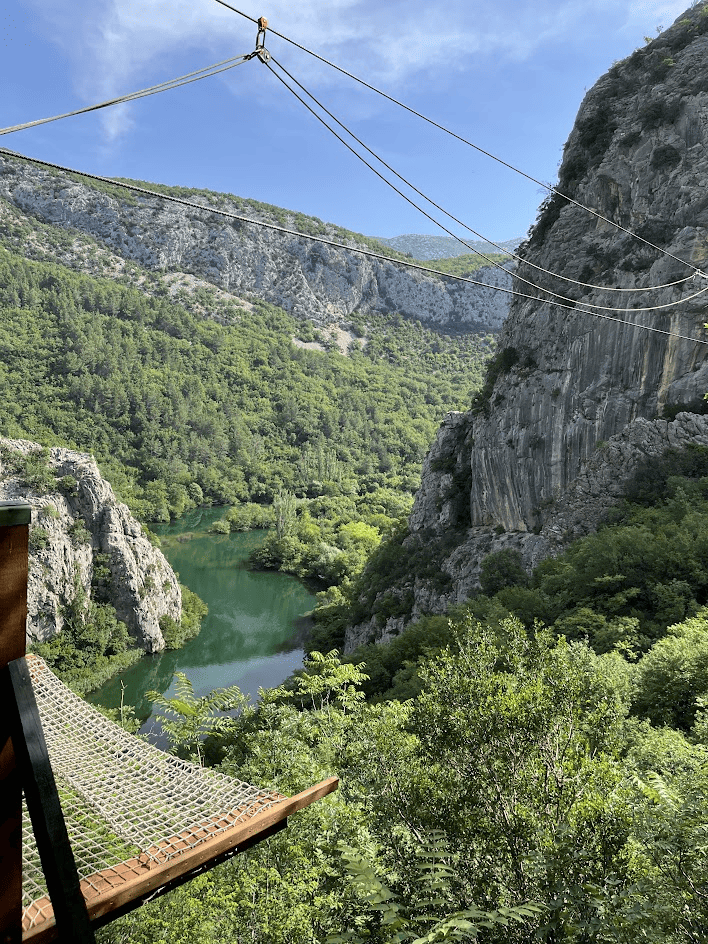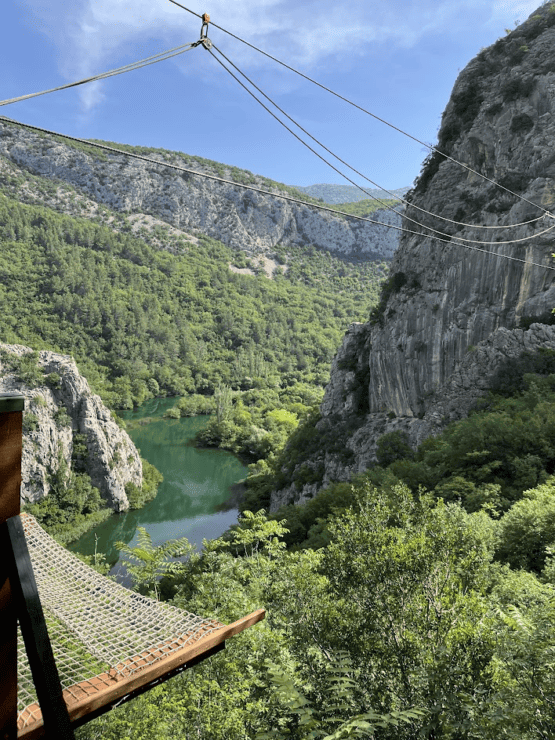 Paklenica National Park
We hiked a few trails in Paklenica National Park. The trails led to dramatic cliffs and canyons, which were beautiful. The park is known for rock climbing. We wish we had more time to take a class with a climbing instructor. Next time!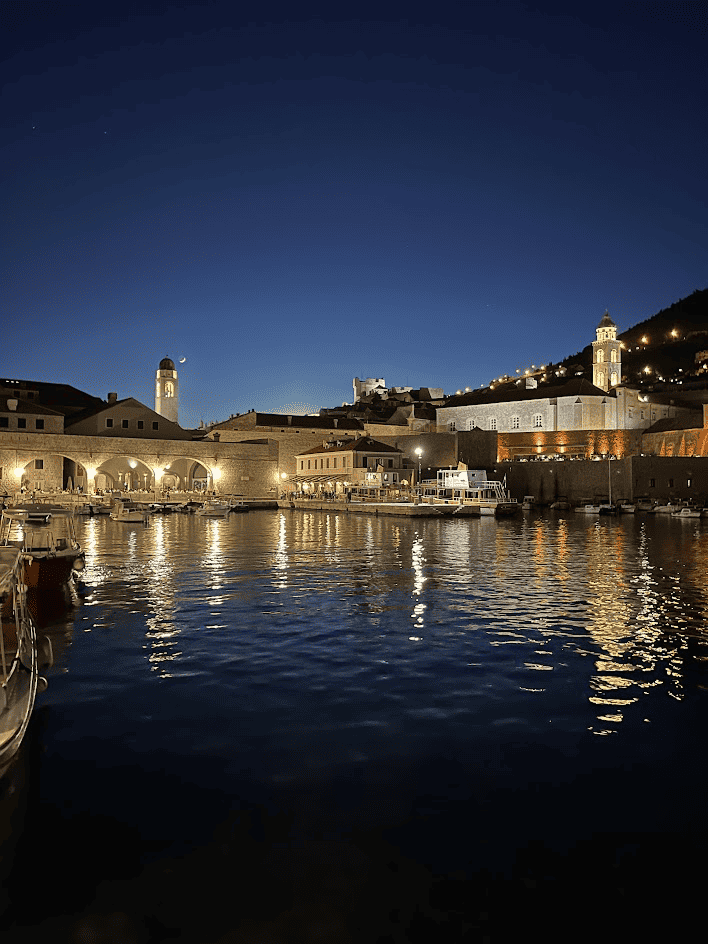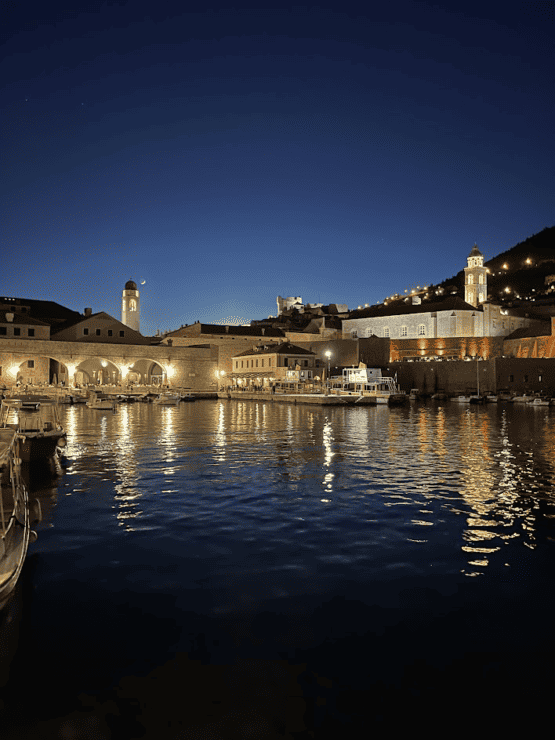 Dubrovnik – Perfect Croatia Roadtrip Finale
Dubrovnik, a city that needs no introduction, it's a living testament to history, beauty, and cultural richness. Get lost wandering the Old Town and soak in the stunning views from the city walls. We did a walking tour on our first day, which was great for understanding the history of the area and the city. We spend the rest of the first day getting lost and eating along the way.
Our Airbnb had stunning views, so we took one of our favorite wines for the day and enjoyed it from the balcony of the Airbnb. Highly recommend it, it was right outside the city wall, so you could get your car very close to drop off the suitcases, but it was still super easy to walk into the city. Be careful staying inside the city walls if you have a big suitcase as you will be toting your luggage up many cobblestone streets and stairs.
We spent our last day on a kayak tour that took us around the old city walls and into Betina Cave. I would definitely recommend the early morning tour to beat the crowds and the heat of the day. The tour was easy to kayak, and everyone got out to swim around the cave. I would recommend 3 days in Dubrovnik.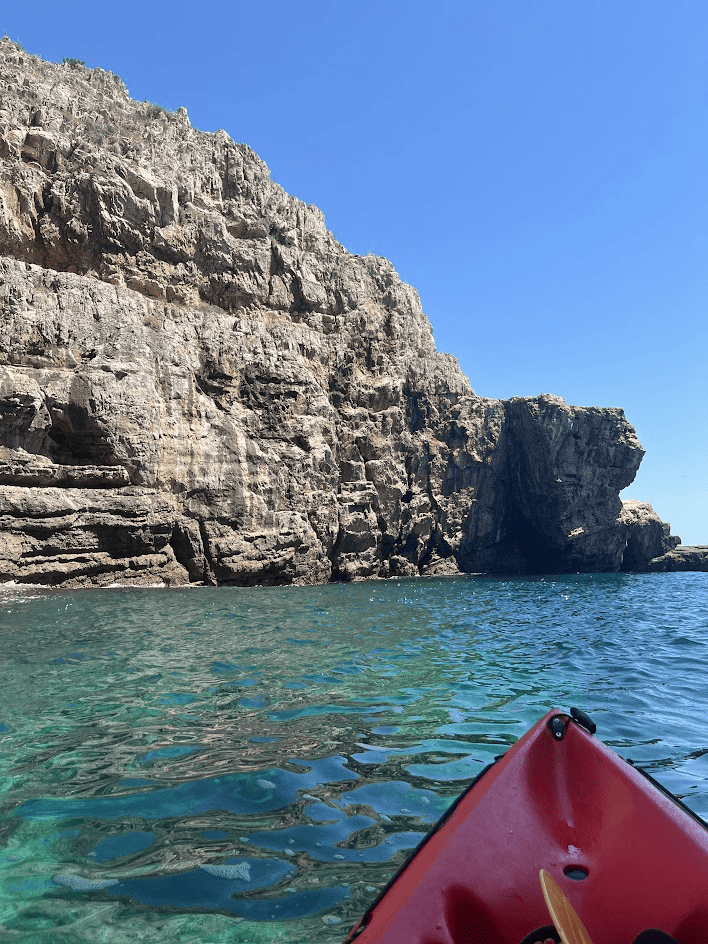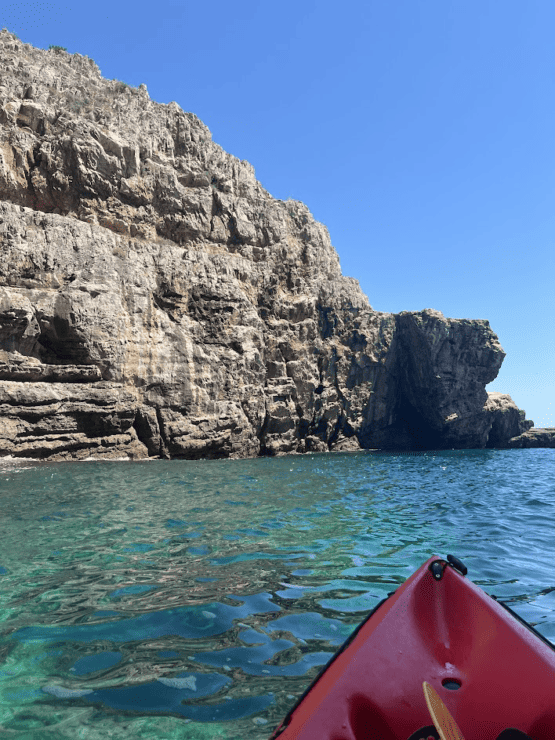 When is the best time to travel to Croatia?
I would highly recommend going to Croatia outside of the summer season. We went in May; the weather was perfect and not crowded. Everyone we talked with mentioned how busy it was there in June, July, and August. Summers are also getting hotter every year, so the summer can get too hot in Croatia. May and September still have great weather with much fewer people.
Ready for another adventure? Check our guide to Paragliding Switzerland.