Top 3 Bars In Havana To Get Drunk Like Hemingway
Good Bars in Havana are not hard to find, but if you want to go to all the bars in Havana Ernest Hemingway used to go while he was living in Cuba I have three recommendations for you! Floridita, Dos Hermanos and La Bodeguita del Medio were Hemingways favourite bars back then. Is it worth to go there now and sip some mojito or did all these bars just turn into stupid tourist traps? I'm like Hemigways biggest fan and I've checked them all (and got drunk in most of them)!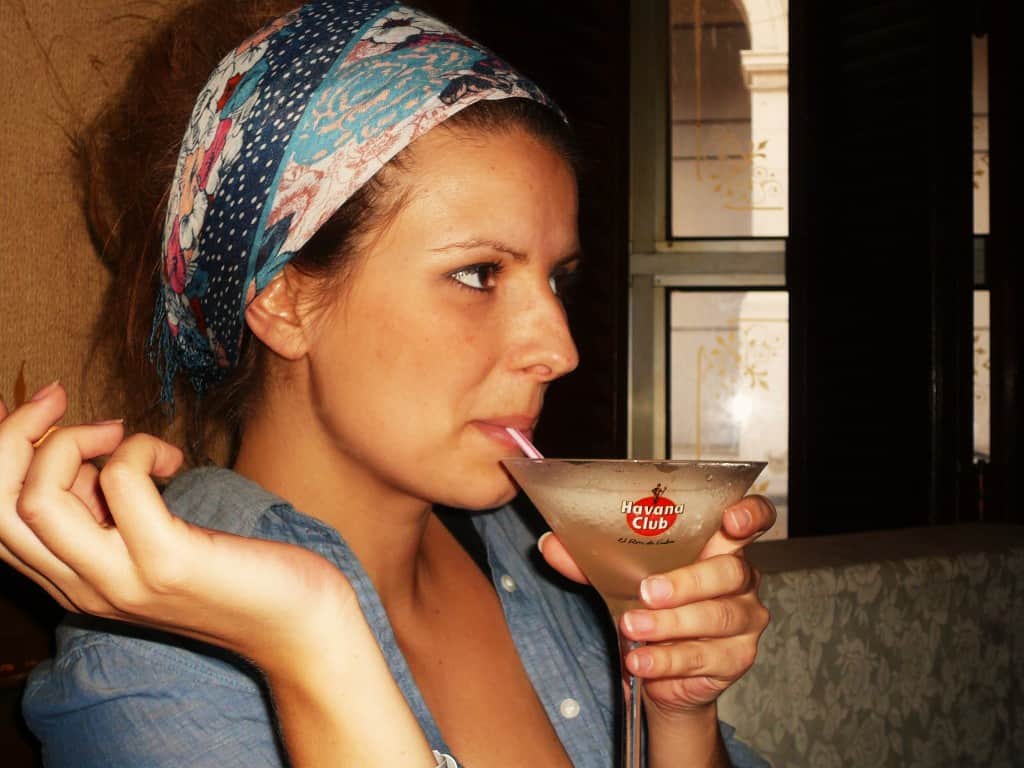 I read Ernest Hemingway's "A Farewell to Arms" for the first time when I was twelve and since then this book travelled a lot around the world. We've been to Thailand together, Seattle, Ibiza, South Africa, France, Italy, Turkey, U.A.E., and so on. But I didn't take it to Cuba. Yes. I know. Stupid me. Don't know why. But I didn't miss it there. There was mojito. Helped a lot! And if mojito couldn't help my friend daiquiri came along. And somehow Hemingway himself was so much closer to me. So I drunk my way through all the bars Hemingway got wasted in.
Here are the top three bars in Havana to get drunk like Hemingway
It was so hot outside and the doorman looked so fresh and cool. That was the first thing that irritated me. Felt like Saturday night out and trying to get into the super new style club. But the doorman smiled at me and opened the door. AC. Thank God! It was refreshing but in the same time I didn't like it. I bet there was no AC in Hemingway's Floridita. Uh, tourist spot. Yes it was touristy all over. The price list – the gift shop lady in the corner – the tourists around me. Well, you get banana chips for free.
What did Hemingway do here? He holds the record of 16 daiquiris with no sugar and double rum. Wanna top that?
Should you go there? Yes, although it's a tourist trap it looks quite nice and the drinks are good. It's called the cradle of daiquiri but in fact this delicious drink was a grandpa (no cradle needed) when they served it first in Floridita. Here they just mix a special (very famous) version of this cocktail.
Costs: 1 cocktail = 6 CUC
DOS HERMANOS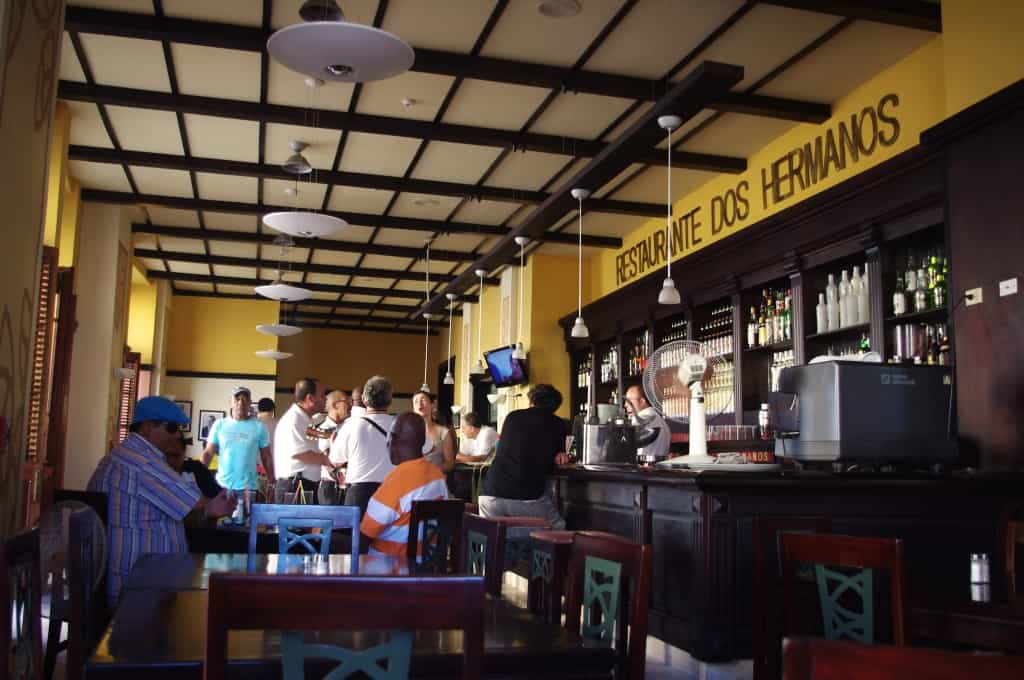 It took a while to find that place and when we finally got there I was really disappointed. It claims to be the oldest Havana bar but it looked so new, so charmless, and so totally not Hemingway-like. I think the owner hasn't done a good job with the full renovation in 2009. Well of course we ordered a Mojito. For sure. And it was really tasty! And we've been the only non Cuban in that Place. BIG PLUS!
What did Hemingway do here? Arm wrestling, drinking, macho stuff.
Should you go there? Yes, because it's not crowded at all and it's not a tourist place (not that much). But you will miss the typical Ernesto feeling.
Costs: 1 cocktail = 3 CUC
LA BODEGUITA DEL MEDIO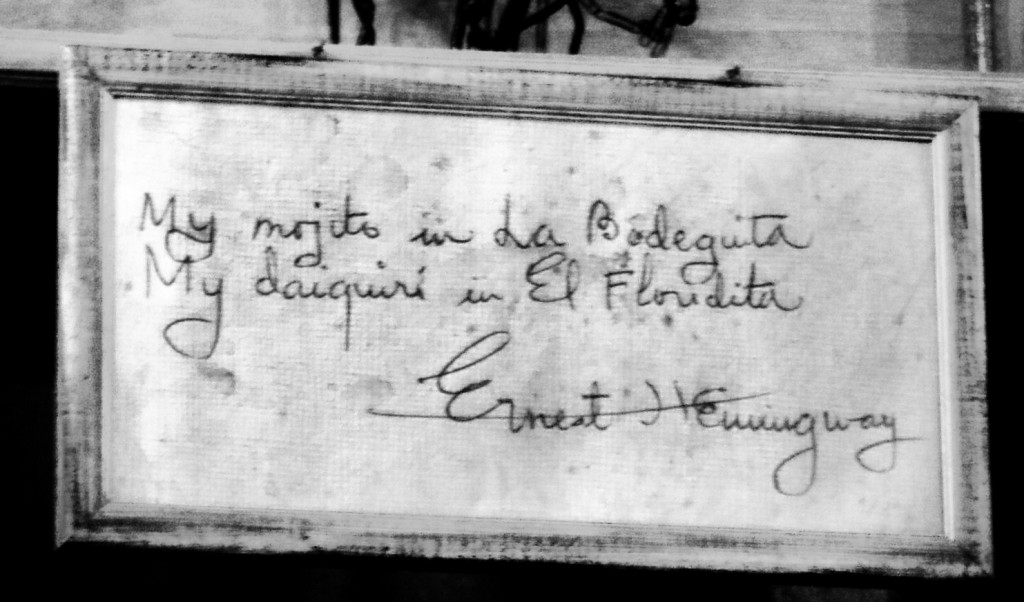 My favorite! It's hot in there, the mojito was the best I ever had and if you stay in front at the bar you definitely get into a Hemingway mood of drinking. There were musicians playing OLD salsa music and this really got me. Bésame, bésame mucho. Como si fuera esta noche la última vez. Lalalala…
Yes, I liked it. And while I was looking at the pictures on the wall, raising my glass to my old buddy Ernest and smoking a cigarette (yes, I know this should have been a cigar) I thought to myself: now I know how it is to get drunk like Hemingway. (And I really should get this tattoo with my favorite quote. But that's another story.)
What did Hemingway do here? Wrote on butcher paper: "My mojito in La Bodeguita. My daiquiri in La Floridita".
Should you go there? Yes, yes, yes!
Costs: 1 cocktail = 4 CUC
Have you've been to these bars in Havana? Any other Hemingway bars in Havana you would add? And: team daiquiri or team mojito?