10 Best Places to grab a Beer Amsterdam
Amsterdam is a paradise for local beers and beers around the world. Whether you're into craft brews, traditional Dutch beers, or international selections, this city has a pint for everyone. Get out of the touristy center of Amsterdam to grab a beer Amsterdam with the locals. Victor is a beer guy, so we have tried every bar and brewery with a decent beer selection. Here are the best of the best.
Brouwerij 't IJ
One place that we always take our friends when they visit is the Brouwerij 't IJ. The beer is iconic and under a windmill, so it's a classic Dutch experience. Try Bitterballen – traditional Dutch Bar Food here. It is in the same area as the Resistance Museum and Zoo, so it is a good combination in that neighborhood.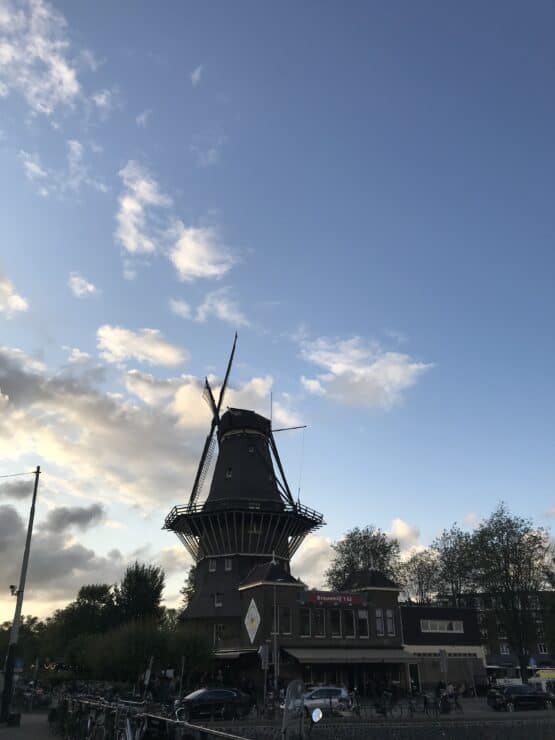 Hannekes Boom
Hannekes Boom is one of the few places close to Amsterdam Central, where you will find locals. This indoor/outdoor bar is a fantastic spot on a sunny day. Great beer, great music, good food, and right on the water. We go here often with friends in the summertime.
Mikkeller at Morebeer
If you love craft beer, this is the best spot in the center. The tap selection is fantastic, with styles from all around the world. The small pub is tucked away but still very close to the center, so it is a perfect option after a day full of your Amsterdam Itinerary. The food is also surprisingly excellent, so we go often.
Bar Brother – Best Pub Amsterdam
The classic English pub which brings that unique feeling of home at a neighborhood pub. It's a great place to watch football and rugby while drinking a pint. Try the scotch eggs and the mac and cheese bitterballen. The English Roast on Sundays is a must; they even have a vegetarian nut roast. They have a terrace, which is excellent to enjoy in the summer.
Troost – Best Overall Beer Amsterdam (New England IPA)
Troost is everything you want in a brewery: fantastic beer, a full meatless menu, and an amazing relaxed vibe. There are locations across Amsterdam, but the one in Westerpark is my favorite. Try the excellent New England IPA beer, which has won many European awards. All the burgers are fantastic. All have outdoor seating to enjoy beers in the sun with delicious bites. If you are in the Westerpark location, check out the exhibit at Fabrique des Lumeries afterward for a breathtaking visual experience.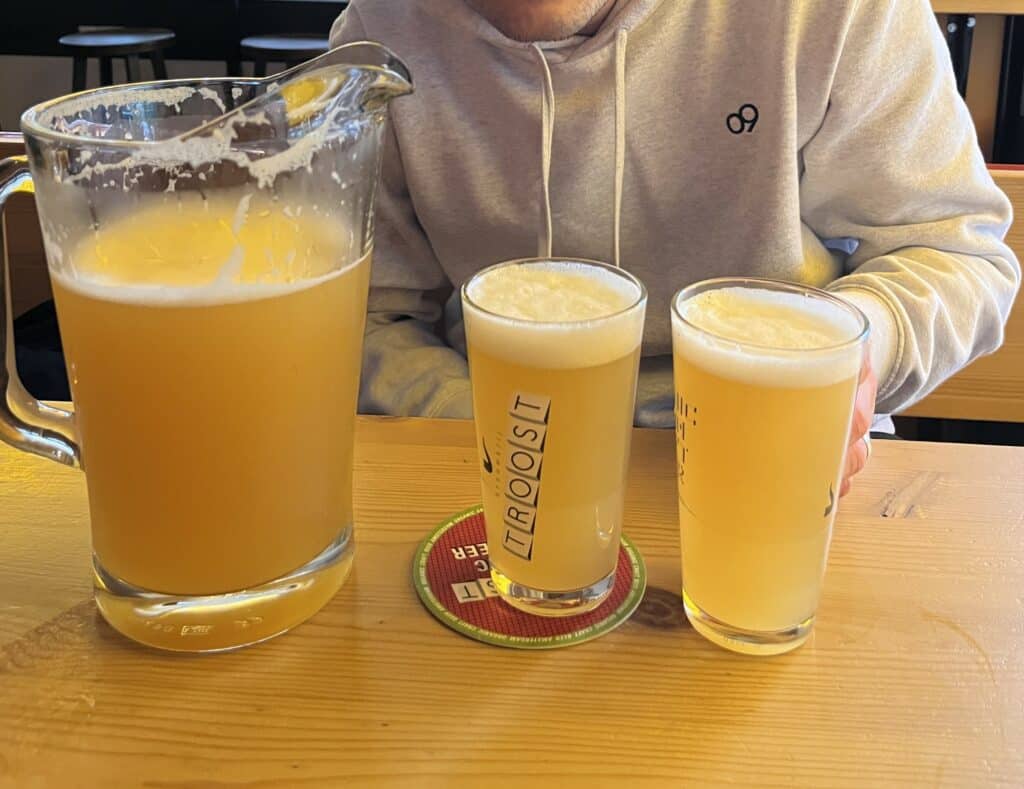 Bierbaum
This small shop has a great, refined selection of beers. It is a shop selling beers to go with many beers already cold. If you are walking around De Pijp, stop in to pick up some beers. Every time we head to a friend's house in this neighborhood, we always stop here to pick up some unique selections.
Sterk Amsterdam – Best to go selection for Beer Amsterdam
Sterk is another takeaway store with a fantastic collection of unique beers and alcohol. We only go in here if we have an hour to kill since Victor gets mesmerized by all the options. Be prepared to walk out with more beer than you planned, so come prepared to stock your bike.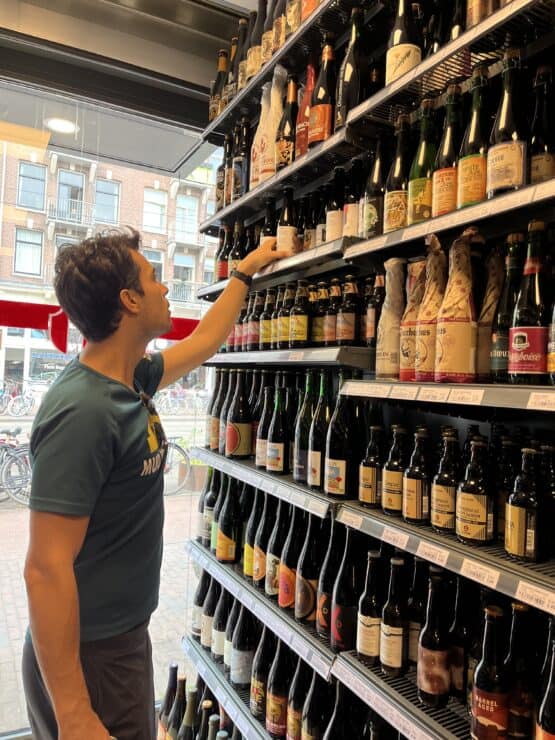 Gollem Aaan Het Water
Right next to the zoo, this small spot on the water is full of locals. It is a great place to go in the summer, with excellent beer and cider choices.
Two Chefs
Another local brewery, Two Chefs, is brewed right outside the city. They have two bar locations within the city to drink their selections: Amsterdam West and Amsterdam Zuid. They also sell in most grocery stores, so if you are looking for local beer pickup. Try the Funky Falcon beer Amsterdam!
Gebrouwen door Vrouwen Bar (Brewed by Women Bar)
A female-owned Dutch brewery with unique and delicious beers. The Gember Gold is my favorite. They also have a pumpkin beer, which is shockingly hard to find in Europe. Their Trickey Tripel is also fantastic. The vibe in their bar in the west is excellent. They have a room in the back, which is easy to rent out for a birthday, so we have gone to many birthday parties here.