Best 25 Breakfast and Brunch Amsterdam by Neighborhood
There is nothing like brunch with your friends on a sunny Saturday/Sunday morning. Amsterdam is an explosion of brunch locations that are very popular, especially during the summer on sunny days. Here is a list of my favorite best brunch Amsterdam places across the city by neighborhood listed below.
Here is our interactive google map so you can easily find something close to you!
Best Brunch Places in Amsterdam West and Jordaan, Baarjes:
Fort Negen
One of the best bakeries in Amsterdam. The bread is fantastic and the pastries are outstanding. Every pastry is worth standing in line. The coffee is excellent and it is my go-to place for coffee and Saturday morning extraordinary pastry. Try all the pastries and enjoy stuffed croissants that send you to the heavens.
No Man's Art Gallery
Very cool vibe to this restaurant that is not very crowded. You can usually book a table with just a day or two of notice which makes it my go-to for delicious food and drinks when the rest of the brunch places are too crowded. The service is super friendly and the food is great. It is also very close to Westerpark so it is great to brunch and go for a walk in the park. It is also a full restaurant and bar so you can check it out after brunch hours.
Local Hero
Local Hero is a nice cozy neighborhood café. They have delicious pancakes, a friendly staff, and overall amazing food. It has a great local feel with few tourists as you are a little far from the touristy areas.
Staring at Jacob
Chicken and waffles for Amsterdam! The cocktails are great as well at this canal side excellently located spot. Take a look at reservations ahead of time as it tends to book out.
Collins
The west location of the more famous Little Collins in De Pijp. The coffee is excellent and the food is great. Definitely recommend it if you are looking for a unique Aussie brunch.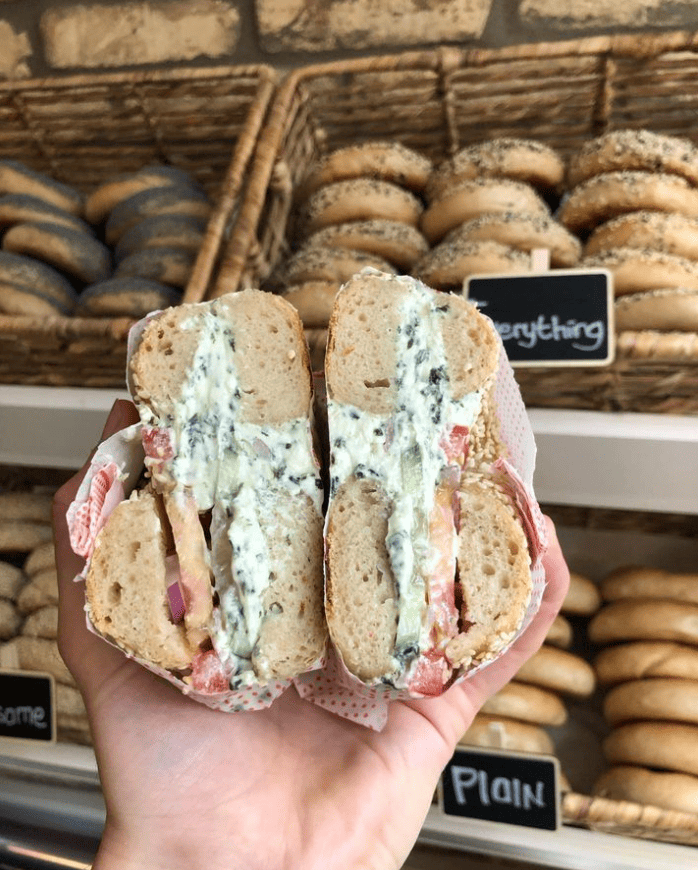 Dignita
The Dignita Westerpark location is my new favorite go-to brunch place. It is great for brunch with a friend followed by a walk around the park. They have a vegan forest dweller sandwich that is excellent and matcha fig pancakes that are amazing. Definitely recommend.
Flo's Appetizing Amsterdam
As an American, I am always on the hunt for a great bagel. These are the best I have found in Amsterdam. Super fresh with great toppings. Their cinnamon rolls are also awesome if you are craving something sweet. They can get busy on weekends so expect a line or head there early.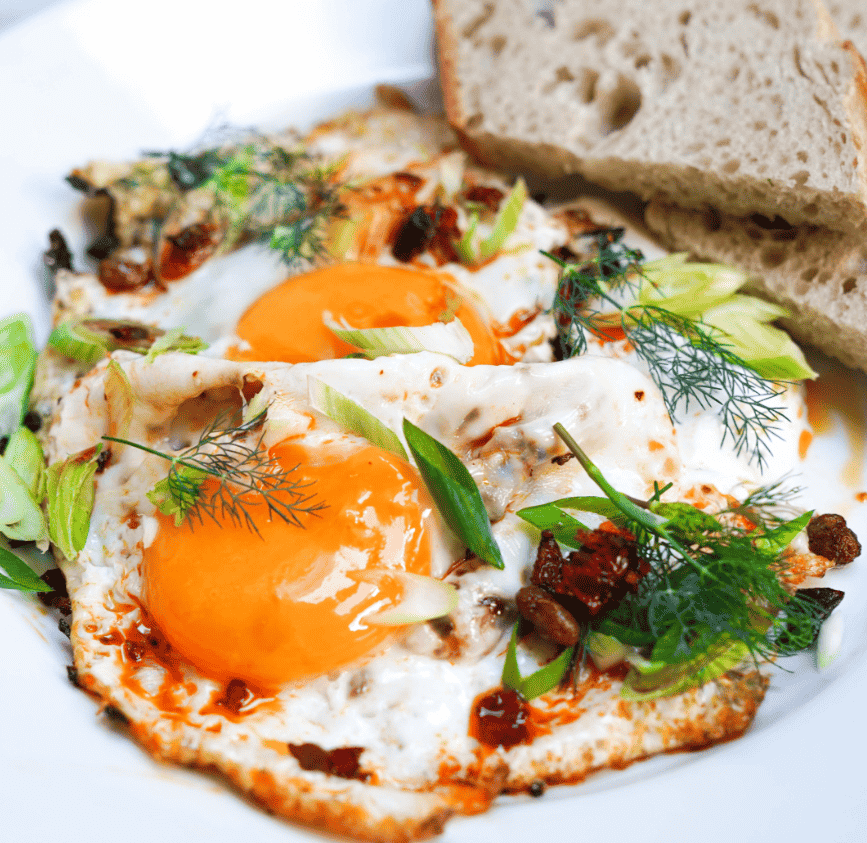 OKO Café
Very cute local café with outstanding food with Polish fusion food. They have very fair prices and the food is delicious. Try the pierogies, which are excellent. Very friendly staff and sometimes even a dog to greet you.
Ted's All Day Brunch
Popular since they serve decent brunch food and great cocktails all day until 17:00. Teds is a great stop for a quick brunch. They run the restaurant very efficiently to turn tables faster so great for a quick brunch but you will only have the table for an hour and a half so plan accordingly. Definitely need to book ahead.
Best Brunch De Pijp, Amsterdam:
Bakers and Roasters
A Kiwi and Brazilian couple created an inventive and delicious menu. I get the huevos rancheros every single time but my husband has explored their whole menu. It was our weekly go-to when we lived in this neighborhood. At both locations, you can track their waitlist online. De Pijp location can get a bit crowded. Check out their Kadijksplein location too.
Little Collins
One of the most popular places for locals in De Pijp. It is definitely worth the hype. The food is delicious with a small rotating menu of excellent food. It is definitely worth a visit. Go early or reserve ahead of time. The cocktails are excellent and the service is very friendly.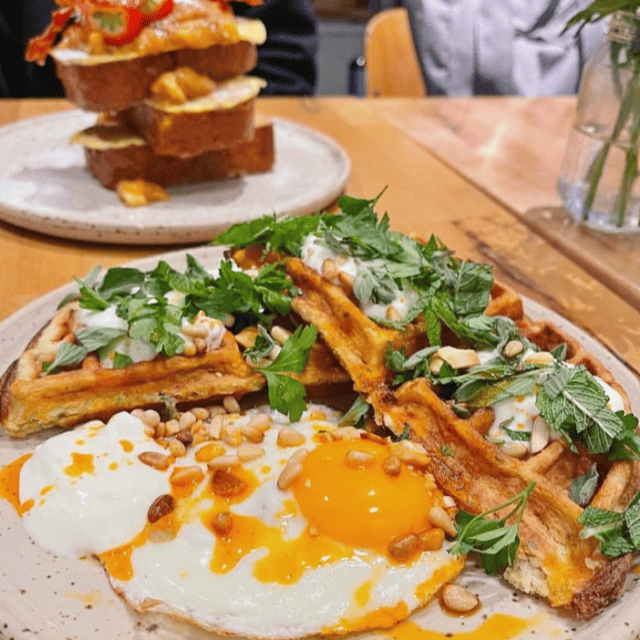 Scandinavian Embassy
Best coffee De Pijp and try their famous cinnamon buns with your excellent coffee! Definitely worth stopping in for a coffee and pastry.
Bali Brunch 82
Bali Brunch is a must-visit if you can get a spot. The Indonesian fusion food is incredible and the service is impeccable. It also has a great vegan brunch selection! Go for the banana pancakes!
Coffee & Coconuts.
Very cute place in the center of De Pijp that has great food, pastries, and coffee. The restaurant has a great design which leads to a great relaxed vibe. Try the almond croissant and the coconut coffee. Of course, coconut is in a lot of their dishes like the coconut pancake with coconut whipped cream. A hip spot worth stopping by.
Gs really nice place
Gs is a great boozy brunch Amsterdam spot in De Pijp. They also have a brunch boat (check the description below). The food is great with big portions and excellent bloody marys at their permanent spot in de Pijp. Dog friendly for small dogs as well which makes for an even more enjoyable brunch.
Best Brunch Amsterdam Central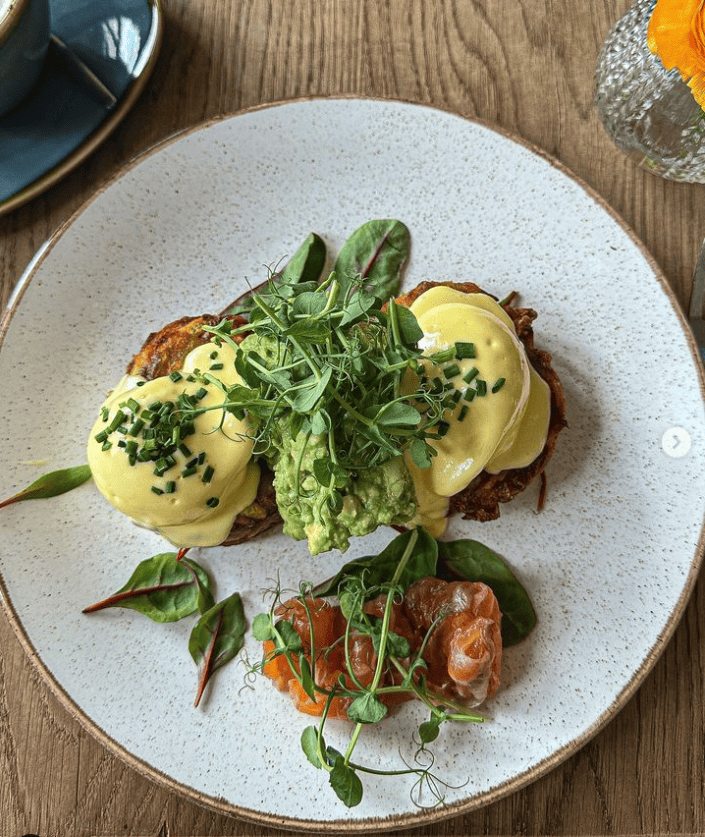 Bakers and Roasters – My favorite brunch spots in Amsterdam
A Kiwi and Brazilian couple created an inventive and delicious menu. I always get the huevos rancheros every single time but my husband has explored their whole menu. It was our weekly go-to when we lived in this neighborhood. At both locations, you can track their waitlist online. I like the Kadijksplein location more since it is less crowded and they have a large outdoor seating section on a canal if the weather permits. It is my favorite brunch spot in Amsterdam.
Box Sociaal
Great spot for good food and friendly service. It is next to the zoo so if you are over in that area it is a great choice! The staff is super friendly, the service is quick, and the food and cocktails are all delicious. Quite a few options for vegans/vegetarians as well.
Dignita
Definitely one of the best brunch Amsterdam. They serve brunch all day and have a few locations across the city. They have plenty of vegan/vegetarian options. Brunch dishes are tasty and well prepared, and the service is friendly. The venue is lovely and worth coming to regardless of the weather. On sunny days, sitting outside is a must to enjoy the cozy garden.
Gs Brunch Boat – Best Amsterdam Brunch Places for Tourists
G's Brunch Boat rides around the canals while serving brunch! It is only open on Saturdays and Sundays and is great for tourists to enjoy brunch while riding around the canals. The food is great and they offer a bottomless brunch. Definitely recommend for tourists!
Greenwoods
Greenwoods is a great choice in the center for a full English breakfast. The food is excellent and they have great service, especially for the center of the city. Even if it is busy, the service remains excellent and fast.
Bagels & Beans
If you want a quick breakfast, check out any of the Bagels and Beans locations across the city. Great for a quick breakfast the bagels are good and they pile onto the ingredients for excellent sandwiches. The Van Baerlestraat location is a great stop before visiting Van Gogh or Rijks since it is right next to Museumplein.
Cut Throat
Just off Dam Square, Cut Throat Brunch is great and well-located. They have great cocktails and excellent Caribbean Jerk Chicken. They have a bottomless brunch option which is always a group
Best Brunch Amsterdam Oost
Coffee Bru
Coffee Bru has some of the best coffee in the city. Their cakes are excellent and pair very well with their coffee. They have outdoor seating which is great in the summertime. Kids and dog friendly which is always great for a weekend morning. The place is cozy and the coffee keeps me going back.
The Cottage
The Cottage is as expected very British. They have all the English classics and a full English breakfast with normal, veggie or vegan options. They have a Sunday roast on Sunday, which is excellent. Definitely recommend it if you are a Brit missing home.
Drovers Dog
Drovers Dog is a very cute spot with great brunch options and tasty food. The service is excellent. Try the ricotta pancakes and the Aussie breakfast. Delicious food with fresh ingredients in a great setting. The terrace is great weather permitting for a brunch in Amsterdam.
Visiting Amsterdam? Check out our Amsterdam Itinerary!